Three Athletes To Be Named To USA Triathlon Hall Of Fame In 2011
Dave Scott, Dave McGillivray and Susan Bradley-Cox will be named to the USA Triathlon Hall of Fame. The trio will be honored Jan. 15, 2011, in Colorado Springs, Colo.
Heading out the door? Read this article on the new Outside+ app available now on iOS devices for members! Download the app.
Dave Scott, Dave McGillivray and Susan Bradley-Cox will be named to the USA Triathlon Hall of Fame. The trio will be honored Jan. 15, 2011, in Colorado Springs, Colo.
Six-time Ironman champion Dave Scott, one of the most recognizable names in triathlon history, standout age group triathlete Susan Bradley-Cox and legendary race director Dave McGillivray have been selected as the third class of the USA Triathlon Hall of Fame, which will be honored at a January 2011 banquet in Colorado Springs.
The third annual USA Triathlon Hall of Fame banquet will be held in conjunction with the 2011 USA Triathlon Race Director Symposium on Jan. 15, 2011, at The Broadmoor. The festivities will run from 6-9 p.m., and tickets are on sale now online for $50. The event, which has sold out in each of the past two years, will be limited to around 200 attendees.
"USA Triathlon is thrilled to welcome this well-deserving and diverse class into our hall of fame. Susan Bradley-Cox, Dave McGillivray and Dave Scott are outstanding representatives of the multisport lifestyle, and we are incredibly grateful for their contributions to our sport," said Chuck Graziano, chair of the USA Triathlon Hall of Fame Committee. "The hall of fame banquet has become a must-attend event on the multisport calendar, and we look forward to another full house this year."
The USA Triathlon Hall of Fame was founded in 2008, and this year's class will bring the total number of inductees to 13.
About the 2010 inductees:
Susan Bradley-Cox (age group triathlete):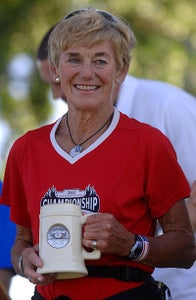 Arguably the most decorated female age-grouper in U.S. triathlon history, Susan Bradley-Cox is the only athlete to be a member of Team USA at every ITU Age Group Olympic-distance World Championship contested – from 1989-2010. In all, Bradley-Cox has participated in 22 ITU world championship events, earning 18 medals and 11 age group world titles. At the national level, she has competed in 25 USA Triathlon National Championship events and owns 11 national titles. Bradley-Cox was second in her age group at the 1986 Ironman World Championship, setting a masters' record in the process. Since beginning her triathlon career in 1982, she has competed in more than 200 triathlons. Bradley-Cox was named USA Triathlon Grand Master Athlete of the Year in 1997 and 1998 and was selected as Masters Triathlete of the Year by Triathlete magazine in 1997. Additionally, Bradley-Cox has served as the head coach of the Wildcat Masters Swim Team at the University of Kentucky for 19 years and has served as the Lexington (Ky.) triathlon coach for the Kentucky Leukemia/Lymphoma Society's Team in Training for 10 years. She is also a founding member of the steering committee for the Susan Bradley-Cox Tri for Sight Triathlon, which donates all proceeds to eye research at the University of Kentucky. Bradley-Cox resides in Lexington, Ky.
Dave McGillivray (contributor):
Already an accomplished endurance athlete, Dave McGillivray directed his first triathlon in 1982 – the Bay State Triathlon in Medford, Mass., which drew the sport's biggest names of the 1980s. Since then, McGillivray has served as the race director for more than 150 triathlons, including the Cape Cod Endurance Triathlon, which debuted in 1983 as what is believed to be the first ultra-distance event in the continental U.S. Additionally, McGillivray directed the second-ever ITU World Championship in 1990 in Orlando, Fla., and the 1998 Goodwill Games Triathlon in New York City. His New England Triathlon Series, which was comprised of one race in each of the six New England states, was one of the first triathlon series in the United States. McGillivray served as a member of the Tri Fed USA Board of Directors for seven years, was a member of the ITU Technical Committee for five years and has directed a number of ITU World Cup events in Bermuda and St. Thomas. McGillivray entered the 1980 Ironman after reading about the event in a 1979 Sports Illustrated article; he went on to complete the race eight times. Personally, he also completed the New England Run, a 1,522-mile triathlon around New England to benefit the Jimmy Fund of Boston. For 32 straight days, McGillivray swam a mile, biked 80 miles and ran 20 miles before finishing in front of 60,000 people in Foxboro Stadium. Also the director of the Boston Marathon, which he competes annually at night after his duties of race director have ended, McGillivray is the owner and president of Dave McGillivray Sports Enterprises, Inc. He resides in North Andover, Mass.
Dave Scott (pre-2000 elite triathlete):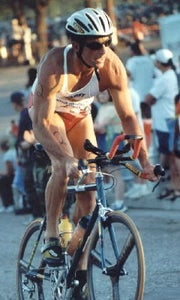 One of triathlon's most recognizable names, Dave Scott's career began with inception of the sport in 1976. Scott is a six-time Ironman world champion, crossing the finish line first in Kona in 1980, 1982, 1983, 1984, 1986 and 1987. Well known for his epic duels with Mark Allen, Scott was the first-ever inductee into the Ironman Hall of Fame in 1993 and celebrated his induction in 1994 by coming out of retirement to place second in Kona at the age of 40. Scott also finished fifth at the 1996 Ironman World Championship at the age of 42. He also was inducted into the Triathlete Hall of Fame in 1999. A native of Davis, Calif., Scott currently resides in Boulder, Colo., where he coaches many multisport athletes, ranging from age-groupers to elites. Additionally, Scott continues his athletic and business passions through his involvement in corporate presentations, clinic presentations, marketing, instructional DVDs and as an author for numerous publications. Scott's father, Verne, is also a member of the USA Triathlon Hall of Fame.