The Australian Emmas go 1-2-3 in Hamburg today
Emma Moffatt, Snowsill and Jackson put Australia back on the map in a breakthrough race for the country.
Heading out the door? Read this article on the new Outside+ app available now on iOS devices for members! Download the app.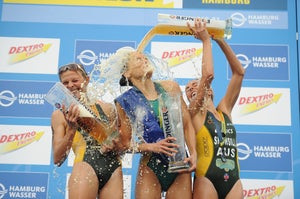 Reigning world champion Emma Moffatt won the ITU's Dextro Energy World Championship Series race in Hamburg today in an Australia and Emma sweep, with reigning Under-23 world champion Emma Jackson outsprinting reigning Olympic champion Emma Snowsill for second.
Like with the Australian men yesterday with Brad Kahlefeldt's win, it was a breakthrough day today for the Australian women, as Moffatt and Snowsill have both had disappointing seasons so far this year, and youngster Jackson has never before been on a World Championship Series podium.
"[It was an] absolutely wonderful day. Emma, Emma, Emma," Moffatt, who is coached by Kahlefeldt, who is also her boyfriend, told an ITU reporter. "…I'm really happy with my performance as well as the other two Emmas as well."
Chile's Barbara Riveros Diaz came in fifth, putting her in the lead in the overall World Championship Series ranking over Canada's Paula Findlay, who didn't race today.
The race began with a wetsuit swim, with Lucy Hall of Great Britain leading the pack out of the water.
She was quickly joined by a group of riders that included Riveros, Nicola Spirig of Switzerland, the United States' Sarah Groff and Erin Densham of Australia.
But the first chase pack, which included Snowsill and Moffatt, quickly caught that group.
Spirig's swim is notable, as she isn't known for it but is a fantastic cyclist. She often pulls the chase pack up to the leaders—a phenomenon that is known as the Spirig Train. Spirig, who finished 2010 ranked No. 2 in the World Championship Series, has been injured with stress fractures for the entire 2011 season and has used the time to work on her swim, according to the ITU.
Snowsill's swim is also notable, as she has greatly struggled with it this year, sometimes getting into T1 a minute or so behind the leaders.
"Yeah, the swim's been there in training and to put it together in a race has been a relief," Snowsill told an ITU reporter.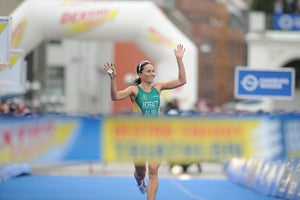 The wetsuit swim undoubtedly helped both Spirig and Snowsill.
The main pack of 30 or so riders set a respectable pace and gained about 20 seconds or so per lap on the chase group for the majority of the bike. By T2, the main group had created a 2:20-minute gap on the chase pack.
Early into the run a group that included Snowsill, Moffatt, Riveros, Jackson, Andrea Hewitt of New Zealand and Ainhoa Murua of Spain broke away from the field.
Riveros and Murua shortly fell off the pace and they began running in a group of three with Erin Densham of Australia.
Moffatt made a surge on Snowsill, Hewitt and Jackson in the penultimate lap and gapped the three women.
Moffatt held on to the gap for the rest of the run, finishing seven seconds ahead of Jackson and Snowsill. Hewitt finished fourth, 15 seconds off of Snowsill and Jackson.
In other notable performances, Densham finished seventh and Australia's Felicity Abram finished 16th, demonstrating just how difficult it is going to be to make the Australian women's Olympic team.
Spirig finished 12th and Groff, who became the first American woman to podium at a World Championship Series race when she came in third in Kitzbühel, finished 13th.
Finish
1.         EMMA MOFFATT       AUS     01:53:37
2.         EMMA JACKSON        AUS     +00:07
3.         EMMA SNOWSILL     AUS     +00:07
4.         ANDREA HEWITT      NZL     +00:22
5.         BARBARA RIVEROS DIAZ      CHI      +00:55
6.         AINHOA MURUA        ESP     +00:56
7.         ERIN DENSHAM        AUS     +01:06
8.         DANNE BOTERENBROOD     NED    +01:12
9.         JODIE STIMPSON      GBR     +01:13
10.       SVENJA BAZLEN        GER     +01:15
12.       NICOLA SPIRIG          SUI      +01:29
13.       SARAH GROFF            USA     +01:49
27.       GWEN JORGENSEN   USA     +02:55
48.       JILLIAN PETERSEN   USA     +07:03
Overall series rankings
1          Barbara Riveros Diaz            CHI                  2498
2          Paula Findlay                         CAN                 2400
3          Andrea Hewitt                       NZL                 2318
4          Emma Moffatt                       AUS                 2061
5          Laura Bennett                       USA                 1548
6          Helen Jenkins                                    GBR                 1546
7          Sarah Groff                            USA                 1500
8          Svenja Bazlen                         GER                 1369
9          Ainhoa Murua                       ESP                 1062
10       Jodie Stimpson                      GBR                 1039