Stoltz, Vanlandingham Take XTERRA World Champ Titles In Maui
South Africa's Conrad Stoltz dominated from early on in the bike, while the United States' Shonny Vanlandingham overtook three-time defending champion Julie Dibens of Great Britain to take the XTERRA World Championship
Heading out the door? Read this article on the new Outside+ app available now on iOS devices for members! Download the app.
South Africa's Conrad Stoltz dominated from early on in the bike, while the United States' Shonny Vanlandingham overtook three-time defending champion Julie Dibens of Great Britain to take the XTERRA World Championship. Stoltz has now won this race four times, while Vanlandingham, an XTERRA veteran, enjoys her first victory at this race.
American Seth Wealing was the first athlete onto Maluaka Beach after the 1.5km ocean swim with a time of 19:29. Fellow Americans Craig Evans and Branden Rakita were the next men out of the water a little more than ten seconds later. Stoltz exited only 20 seconds behind Wealing and quickly found his way to the front.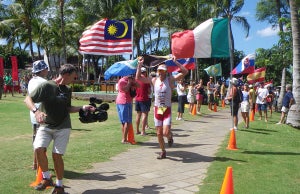 Stoltz took the lead at the famous "Heartbreak Hill" around mile four and went on to dominate the 3561 feet of climbing that make up the bike course. His 1:25:39 bike split was more than five minutes faster then the next competitor. France's Batelier, Austria's Michael Weiss and Switzerland's Olivier Marceau followed Stoltz into T2, but the lead for the man they call "caveman" was just too much. Stoltz sealed his victory with a 45:40 12-kilometer run.
Stoltz crossed the finish line in 2:31:07 to earn his fourth victory in Maui, his first since 2007. Batelier crossed the line for second; with Weiss replicating his 2009 finish in third.
Canada's Christine Jeffrey was the first women out of the water, exiting with the top pro men. Dibens was second into T1 nearly 30 seconds later, with France's Marion Lorbrlanchet following close behind.
Once on the bike, Dibens took charge and looked to be well on her way to her fourth-straight victory in this race. Despite holding a large lead over Vanlandingham in the early miles of the bike, Dibens was overtaken by the American near the end of the treacherous ride. Vanlandingham stormed into T2 with nearly a minute lead over Dibens.
Once on the run, it looked like Dibens was slowly working her way back to the front, but her efforts at the Ironman World Championship just two week prior caught up to her. Vanlandingham's 1:42:40 bike paired with a 51:20 run were enough for her first-ever XTERRA World Championship Title. Dibens crossed just over a minute later. Lorblanchet took her best-ever finish at this event, finishing in third.
XTERRA World Championships
Maui, Hawaii – Oct. 24, 2010
1.5km swim, 32km mountain bike, 12km run
Men
1. Conrad Stoltz (RSA) 2:31:07
2. Franky Batelier (FRA) 2:36:14
3. Michael Weiss (AUT) 2:36:45
4. Olivier Marceau (SUI) 2:37:47
5. Nico Lebrun (FRA) 2:38:50
Women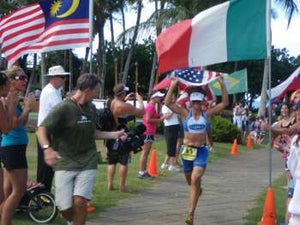 1. Shonny Vanlandingham (USA) 2:58:20
2. Julie Dibens (GBR) 2:59:32
3. Marion Lorblanchet (FRA)
4. Christine Jeffrey (USA)
5. Suzie Snyder (USA)