Stoltz, Carey Win Xterra Japan Championship
Four-time Xterra World Champ Conrad Stoltz from South Africa and Saipan multisport sensation Mieko Carey captured the eighth annual Xterra Japan Championship titles on a mystic afternoon in the Nikko National Forest in Marunuma, Japan.
Heading out the door? Read this article on the new Outside+ app available now on iOS devices for members! Download the app.
Four-time Xterra World Champ Conrad Stoltz from South Africa and Saipan multisport sensation Mieko Carey captured the eighth annual Xterra Japan Championship titles on a mystic afternoon in the Nikko National Forest in Marunuma, Japan.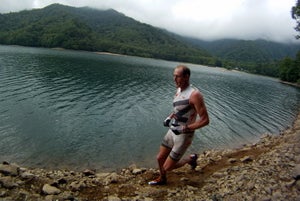 While the Xterra motto is "Mother Nature is your toughest competitor," perhaps nowhere on the planet is earth and nature so much a part of the experience than in the mountains of Marunuma.
The first rule in the official competitor handbook is to 'Love and care for nature', and in his welcome to competitor's race director Taro Shirato asked participants to "please feel the nature of Marunuma and the smell of earth through your entire body."
American Will Kelsay, in the fifth week of a six-week, six-country around-the-world Xterra adventure, took this advice to heart by literally hurling his body into the earth on numerous occasions with three big crashes on the bike to his credit. The reckless abandon served him well and nearly earned him the upset of the decade against four-time Xterra World Champion Conrad Stoltz.
"Will was chasing hard, and was close behind me and if he didn't crash so many times it would've been a lot closer," said Stoltz, whose winning time was 2:18:25, a little more than a minute ahead of Kelsay. "This is Will's course for sure. He is a really skilled rider, completely fearless, and he raced really well. He was just 30 or 40-seconds behind me off the bike and I thought he was going to catch me today because this run course is like a jungle gym and we all know Will is like a monkey."
The high-praise coming from the sport's biggest star was spot on as it was exactly those monkey-like characteristics that had Kelsay so close to the champ in the final moments of this epic adventure.
"I felt like a kid playing in the woods, jumping over stuff, ducking under logs, swinging over things, hoping off rocks. It was fantastic, I loved it," said an exuberant Kelsay after the race, explaining how he could pick a line and use his hands to grab branches and rocks to navigate though sections on the run.
"Everybody who races Xterra has to come do this race. It is absolutely amazing, like nothing I've ever done," said Kelsay. "Seriously, it is so awesome. I was crashing all the time and muddy. It was super challenging and hard, but fun the whole time. Even when I was climbing up the ropes on the run it was painful, but still fun."
Stoltz and the rest of the foreigners who made the trip agreed unanimously.
"I really enjoyed this race. It's beautiful, technical, challenging, scenic, the organization is exception, and the Japanese people are super polite and respectful. It was more than I expected," said Stoltz. "It's for sure the hardest race, even harder than Whistler. A lot of stuff I couldn't ride, and the penalty for failure is pretty big, but we all made it through and everyone is all smiles and filled with accomplishment at the end of the day."
Michael Hiscott from Great Britain, who finished in fourth behind Japanese mountain bike sensation Takahiro Ogasawara, said the race was "Superb. A marvelous race, more an adventure race than a triathlon and isn't that what Xterra is all about."
"Awesome race, best race there is," said fellow Brit Paul Davies, who placed fifth among elites. "Technical, brilliant bike course, wet and slippery, and the atmosphere is remarkable."
Amateur runner-up Fraser Morrison who traveled from Singapore to take in the race, said it was "absolutely fantastic, technical , interesting, and fun. You couldn't get a better environment than this. It's exactly how you'd imagine Japan to be, exactly, the clouds and the trees, the friendly people and the fantastic food."
Beyond the race itself foreigners and locals alike were treated to amazing hospitality, stunning scenery, and phenomenal meals.
"It's exactly what I wanted to see – traditional Japan, this was it," said Kelsay. "Eating whole fish head-to\-tail and everything. The resort is amazing, the culture is fascinating, and the people are friendly and inviting."
The field was also stacked with the best Japanese amateurs in the country, including former age-group Xterra World Champions Kimiko Matsuda and Keiji Matsuba, former Xterra Warrior award winner Tae Yoong Kim, Saipan Pro Mieko Carey who won the women's elite race for the third straight year, and a host of others.
After the race participants were treated to a feast of noodles and curry, succulent beef and pork, and specialties like tomato soup prepared by the property manager "Mr. Kawata-san." The nighttime awards ceremony was filled with joy and big prizes , and the slideshow at the end featured some brilliant photography showcasing the beauty of the host environment. A taiko-drum band and their dancers kept everyone's heart rate beating high through the night and got the crowd swinging their arms and legs to the beat.
Men
1 Conrad Stoltz RSA 2:18:25
2 Will Kelsay USA 2:19:41
3 Takahiro Ogasawara JPN 2:27:43
4 Michael Hiscott GBR 2:29:51
5 Paul Davies GBR 2:49:47
Women
1 Mieko Carey JPN 3:00:25
Race recap provided by Xterra.