Specialized Announces Triathlon Team
Heading out the door? Read this article on the new Outside+ app available now on iOS devices for members! Download the app.
Specialized has gotten on board with the new team trend in triathlon. The company has announced four new teams: A long course team, a short course team, an ITU development team and an XTERRA team. The four teams are made of up of some of the top names in the sport. Specialized is the first to categorize a team based on the athletes' specialties.
To learn more about the teams, read the below press release:
Poised to dominate the triathlon world in 2010, Specialized has launched its first-ever comprehensive triathlon team, with multiple athletes in each of the three major specialties: Long Course, Short Course, and Xterra. Hand selected by Bobby Behan, Specialized Global Marketing Manager for MTB and Triathlon, the team athletes represent the best in the business – from decorated vets to young, upstart pros.
"It's super exciting to be instrumental in the construction of this star-studded global team, many of which have inspired my own triathlon career," said Behan. "Collectively, the team has won every major title in triathlon from the Olympic Games to World titles in ITU, Ironman, and Xterra."
Long Course Triathlon Team
Chris "Macca" McCormack
Rasmus Henning
Philip Graves
Jordan Rapp
Desiree Ficker
Peter Reid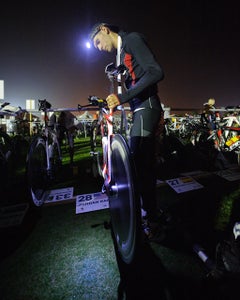 Long Course standouts Chris "Macca" McCormack, the 2007 World Ironman and 1997 ITU World Champion; Peter Reid, three-time Ironman World Champion; and Desiree Ficker, 2008 Ironman South Africa 70.3 champ, have all returned. "It is a great honor to represent the big S around the globe," said Peter Reid, longtime Specialized ambassador and athlete. "For more than 10 years I've been like the kid in the candy shop – my candy shop being Specialized, of course."
And this year they are joined by three more ringers. Jordan Rapp won the 2009 Ironman Arizona, smashing the bike course record. Philip Graves, also a cycling ace, is the youngest ever Ironman Champion (at just 20 years old) after winning in the UK last August. And Rasmus Henning – who just crossed over to Long Course racing after an accomplished ITU career– placed fifth in his first attempt at Kona last year, despite breaking his wrist two weeks prior and being told not to race.
The Long Course team will ride the new S-Works Shiv and S-Works Transition – bikes that Henning thinks will help him accomplish a huge goal. "I am really happy to be a part of Specialized for the 2010 season. My big goal this year is winning Ironman Hawaii, and I am certain that the professional team surrounding me with my bike set-up will be the best I have ever had."
Short Course Triathlon Team
Javier Gomez
Simon Whitfield
Lisa Norden
Gavin Noble
ITU Development Team
Leonardo Chacon Corrales
Barbara Riveros
Abrahm Louw
Specialized will also be diving head first into short course – a timely entry with the London Olympic Games only two years away. "The Olympic Games is the world's greatest sporting event, and the athletes competing in ITU triathlon are the ultimate testament to the athleticism that defines the Games," said Behan.
Racing on their new S-Works Tarmac SL3 and S-Works Amira bikes, the fearsome new squad will include: Olympic gold and silver medalist Simon Whitfield; Multiple World Cup winner and former World Champion Javier Gomez; and former World U23 Champion and current second-ranked woman, Lisa Norden.
Norden and Gomez are looking forward to their new toys and the benefits of a major sponsor. "My new Specialized S Works SL3 is so light," said Gomez. "You really feel that all your power is transferred directly to the bike, and you don't waste anything. And of course, it's beautiful!" Norden added, "Having someone at the race site looking after me and my equipment is huge – it's new to me and the sport."
Just as committed to grass-roots level racing as their international stars, Specialized has also teamed up with ITU Development Director Libby Burrell in support of the ITU Scholarship Program. Responsible for fostering the rise of stars such as Norden, the program was created, in part, to support national federations and regions where there are limited human and financial resources.
Xterra Triathlon Team
Conrad "The Caveman" Stoltz
Dan Hugo
Melanie McQuaid
Of course the team wouldn't be complete without Specialized veteran athlete Conrad "The Caveman" Stoltz or Melanie McQuaid – both three-time World Xterra Champions and both hungry for another podium. They are joined by Conrad's fellow South African and upcoming Xterra athlete Dan Hugo. All will be outfitted with S-Works Epic and S-Works Epic 29er bikes.
"I'm really excited to be part of such a diverse group of triathletes," said Stoltz. "Being part of a team feels really good; it's only logical to have such a phenomenal group riding the best bicycles out there."