Second Annual GOTRIbal Conference And Retreat Set For October
Because last year's GOTRIbal Conference and Retreat was such a success, it's returning for 2010.
Heading out the door? Read this article on the new Outside+ app available now on iOS devices for members! Download the app.
Because last year's inaugural GOTRIbal Conference and Retreat was such a success, it's returning for a second go in 2010. The 2009 event featured an appearance by Ironman world champion Chrissie Wellington just one week after her latest Kona victory, and this year looks to be equally as exciting.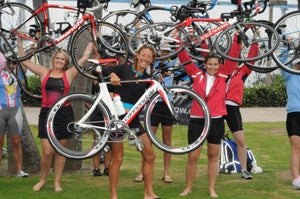 In a sport where many beginners struggle to overcome intimidation, GOTRIbal provides women with the opportunity to learn from their peers. The GOTRIbal movement started with the vision of founder Tanya Maslach. The group interacts through an online community at Gotribal.com. Aside from interactions on the Internet, women meet up with other local members in tribes.
"Triathlon can be very intimidating for those who are newbies," said San Diego tribe member Gail Scott. "GOTRIbal is a great group to get involved with and network with triathletes of all levels. It's amazing what tips and tricks you can pick up. If you have a question or concern you can post a question and someone will answer it in no time."
While the basis of the organization is about connecting and empowering women who do any endurance sport, the group also aims to improve the way women take on life in general. San Diego tribe member Laura Sasaki comments on why the group is about so much more than multisport:
"The organization is all about getting more females excited about triathlons. It's also about getting females healthy and building self-esteem, which no doubt transfers into every aspect of their lives. We have seen the most amazing transformations in females."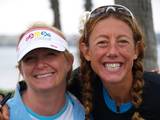 Members from tribes across the country will be gathering at the Hyatt Mission Bay Resort in San Diego, Calif., on Saturday, October 16. This year's event will feature appearances from several prominent members of the triathlon industry, including Lesley Paterson, Matt Fitzgerald and JT Lyons. Arizona Tribe Chief Brenda Cochran remembers last year's event:
"Last year's event was just plain and simple girl time. It was geared toward what women would appreciate. We talked wetsuits together, we were encouraged to ask any question, silly or not, about the 'female wetsuit experience.' Then we swam together, ran together and jumped in our cars and headed out to breakfast! Never in a million years did I ever think I would end up swimming, cycling and running with a bunch of other GOTRIbal women – laughing and just having fun!"
Colorado Tribe Chief Maria Slaughter sums up the GOTRIbal spirit:
"Go for it and have fun!! There is a race out there for everyone and GOTRIbal can help you find the race, help you train for it and help you demystify the event known as triathlon. We will support you every step of the way."
The 2010 event is open to all women, not just current tribe members. To learn more about GOTRIbal and the conference and retreat, visit Gotribalnow.com.