Road Trippin' Triathlete: My Favorites From The Drive Across America
After driving more than 3500 miles in nine days, I finally got back to the San Diego homeland a week ago. (Hoping that this doesn't make you hate me, I'll admit that my run the following morning included a rainbow over the Pacific.)
Heading out the door? Read this article on the new Outside+ app available now on iOS devices for members! Download the app.
Follow Triathlete magazine senior editor Jené Shaw as she drives cross-country in search of cool triathletes and interesting triathlon-related stuff throughout the nation. Click here to read the complete Road Trippin' Triathlete series.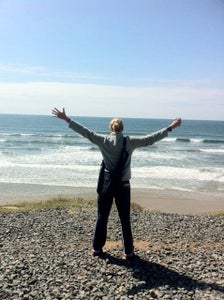 After driving more than 3500 miles in nine days, I finally got back to the San Diego homeland a week ago. (Hoping that this doesn't make you hate me, I'll admit that my run the following morning included a rainbow over the Pacific.) I am still in the process of moving apartments and playing catch-up at work, but before I forget, I wanted to pass along a few recommendations if you ever plan to take a triathlon-related cross-country trip:
My Favorite Workouts
Run: Tie between the Amasa Back Trail in Moab, Utah, and the trails of Rock Creek Park in Washington, D.C.
Ride: Anywhere in Boulder will win this prize, but the great company and tour of St. Louis I had made the city a highlight.
Swim: In the gorgeous 50-meter competitive pool at Ohio State University's McCorkle Aquatic Pavilion.

My Favorite Food
If you're in…
St. Louis: Eat breakfast at artisan-bread specialist Companion Bakery. Get the Best Darn Toast in St. Louis with butter & jam, or the oatmeal with your choice of toppings (I believe I had all five options).
Kansas City: Grab brunch at Eggtc. If they're on special that day, get a sweet potato pancake as an "appetizer" (can you do that at brunch? I don't care) and the Apple & Goat Cheese omelet—goat cheese, Granny Smith, walnuts and red onion chutney.
I'll also remind you to make the 20-minute trip to Smithville to eat dinner at Justus Drugstore. Call me goat-cheese obsessed, but how can you resist a salad with wild blackberry jam and house cured Berkshire bacon-wrapped goat cheese on top of it? Anything you get there is bound to be seasonal, local and incredibly unique. My chicken had sunchoke sage gravy with mashed potatoes that were "corn scented."
Boulder: Mateo is one of a few awesome restaurants on Pearl Street, and I'd highly recommend the tartine appetizer with salt-roasted beets, broccoli rabe pistou and local goat cheese (yet again) on grilled rustic bread. I love that they offer wine in carafes—perfect when you don't want (need) an entire bottle but you want more than a glass.

Moab: I really wanted to eat brunch at Love Muffin Café, but I went with my second option, Eklecticafé and loved my biscuits and gravy. It's exactly what you'd picture for the name—it's a little bit grungy, pretty funky and the menu has a lot of vegetarian options. It's in a small cottage-turned-restaurant on the main stretch of Moab.

Worth A Stop
• For all-things cycling in St. Louis, go to Big Shark and their sister store Little Shark for tri-related gear.
• Get a detailed swim analysis and lesson with 360-degree video cameras at SwimLabs Denver.

• Shop 'til you drop at Denver's TriBella.

• Sell your old equipment or bid on pros' stuff at The Pro's Closet in Boulder.
• Rent a mountain bike from Poison Spider and head out on one of Moab's many gorgeous trails.
Thanks for following along! And a big thumbs-up to everyone I met along the way—America has some great triathletes all over the country. Can't wait to meet more of you someday.
-Road Trippin' Triathlete/Jené Shaw