Q and A with USAT Collegiate Nationals Winner Kaitlin Shiver
I don't remember ever not balancing training and school since I competed in high school cross country and swimming in the same season.
Heading out the door? Read this article on the new Outside+ app available now on iOS devices for members! Download the app.
University of Florida student Kaitlin Shiver recently became the 2011 Collegiate National Champion. Inside Triathlon senior editor Jennifer Purdie chatted with her on the big win and juggling life as a student/triathlete.
Triathlete.com: Congrats on becoming the 2011 Collegiate National Champion. You had a great run leg in Tuscaloosa, building up almost a four-minute lead. What is a typical week in training like for you and did you do anything different that you think helped you pull off the win?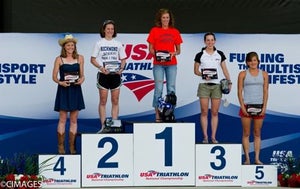 Shiver: Thank you very much. It was an experience I will never forget. During a normal week I usually train about 20 hours. I get in five to six days of training in each discipline as well as some strength workouts. My coach (Jennifer Hutchison) didn't change much going into this race compared to other races this season because it seems to work. Jennifer has done an amazing job getting me ready for races. For this race, the heat played a huge factor on the run and coming from Florida, I have had to the chance to train in very similar heat for a few weeks now. I think that really helped on race day.
Triathlete.com: You won the overall age group national title in 2009 in the same city. How was it being back this year compared to 2009?
Shriver: Comparing this year in Tuscaloosa to 2009 when I was there for Age Group Nationals is very difficult. I am a completely different athlete now and at a different point in my life. In 2009, I convinced my mom to go with me on a whim to kick off the end of summer before returning to my cross country season at Florida. My goal for that race was to win my age group. When I crossed the line and was told I was unofficially the overall winner, I thought there was a mistake. Now I have a coach and my
training is very triathlon focused instead of 1500M focused. I was also in Tuscaloosa this year with a team, which changes the dynamics completely. I love wearing the Gator uniform and racing for something other than just myself; Collegiate Nationals is a very unique event since it brings a team dynamic to an individual sport.
Triathlete.com: Tell us about your athletic background. How did you get started in triathlons?
Shriver: I started swimming on a club team when I was eight. When I was growing up, my parents wanted me to be active; they didn't care much that I compete. I think I tried every team sport imaginable and failed miserably at all of them due to my lack of hand-eye coordination. Swimming stuck with me and I really enjoyed it. When I was in middle school, I decided to run track since both my parents were runners and I grew up doing the kiddie runs at the local 5Ks. I didn't start training for running until high school when I decided to compete on the cross country and track teams for my high school. All through high school I swam and ran cross country during the fall and ran track during the spring. During my senior year, I accepted a cross country/track and field scholarship to the University of Florida. I ran at UF for three years before deciding that I wanted to become an elite triathlete. The summer before my junior year I did a few local triathlons and had a lot of fun and convinced my mom to go to Age Group Nationals with me. I had a completely different perspective on triathlons after that race, but was not willing to give up my dream of running. During my junior year I found myself thinking about triathlons a lot and I had a strong desire to swim and bike, which is why I made the switch to triathlon and have loved every minute of it.
Triathlete.com: You are majoring in exercise physiology at the University of Florida. How are you able to balance an athletic career with your educational pursuits?
Shriver: I think that if you focus and are great at managing your time, it's not that big of a task. If anything, having a sport to train for helps me to study and focus more. I don't remember ever not balancing training and school since I competed in high school cross country and swimming in the same season. As soon as I went away to college, I was traveling with the track team. There are times when it is stressful, but without training I would waste a lot of time every day.
Triathlete.com: How is the training in Florida? What do you do to combat the heat and humidity?
Shriver: I love training in Florida. I was born and raised here so I have never experienced training anywhere else. When it gets hot and humid, I try to run in the morning or in the evening and swim/bike during the day. I also have to make sure I am hydrated a lot more than during the winter months, but once you get used to it and adapt to it the training is great.
Triathlete.com: What goals do you have for yourself in the sport?
Shriver: I like to take each race as it comes, but I am starting to focus more on the draft-legal ITU style of racing. I hope to compete at the national and international level to eventually earn USAT funding.
Triathlete.com: What other goals do you have yourself outside of triathlon?
Shriver: I was just accepted into the physical therapy program here at University of Florida so I will be working to earn my doctorate over the next three years, which I am very excited about. I am also getting married in December, so I think my non-triathlon goal right now is to successfully finish the PT program without driving my fiancé insane.
[sig:JenniferPurdie]