This Pro Ran 4 Miles Uphill Sans Shoes with His Bike to Finish
This young pro became a symbol of perseverance when his bike suffered a seemingly race-ending mechanical.
Heading out the door? Read this article on the new Outside+ app available now on iOS devices for members! Download the app.
This young pro became a symbol of perseverance when his bike suffered a seemingly race-ending mechanical.
The winners may write history, but within those histories, the runners-up also have memorable tales. Take the International Triathlon of Cannes 2018, for example.
If you look at the final results, on the male pro podium you see Javier Gómez (ESP), Kévin Maurel (FRA), and Malte Plappert (GER). To find the name of Sam Laidlow (GBR with dual-French nationality) you have to scroll down to the last pro spot, next to a time of 7:20—almost three hours behind the winner, and slow, by any standards for the 2K swim, 107K bike, and 16K run event.
What you wouldn't expect is that this 19-year-old triathlete had been giving Gómez a hard time for a good 50 kilometers of the bike leg—before breaking his rear derailleur and saying goodbye to his dream of glory on the finish straight on the famous Promenade de la Croisette. But even when the chips were down, Laidlow showed true tri spirit—something some say is missing from the sport's pointy end. He didn't quit: Instead he put his bike on his shoulders and ran barefoot until T2 despite being still 27 kilometers away.
"My goal for the race was the top-10 and top-15 would have still been a decent race," Laidlow says. "I knew the bike was going to be the main thing, especially with all the hills. So I set off on my pace, but after only a few kilometers on the bike my saddle actually came down, and I had to carry on with the saddle a bit too low."
Despite being dealt a bad hand on the first climb, Laidlow closed his gap to France's Robin Pasteur (first out of the water ahead of Gómez), took the first descent well, and on the second ascent suddenly saw motorbikes and the profile of the Spanish five-time ITU world champion just ahead.
"I couldn't believe it," he says, "and I told myself I had to get the most out of it. It wasn't a question of only waiting behind, so I just carried on at my pace and did 50 kilometers on the front with Gómez just behind the draft legal limit."
On the last climb, Gómez finally overtook him, en route to another victory, and moments later Laidlow's rear derailleur sprung into his spokes.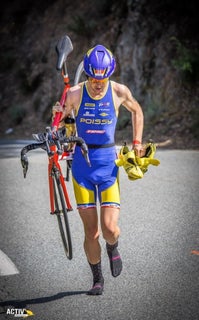 "The wheel was completely blocked, so I couldn't even push it," Laidlow says. "So I had to run up the last col (about 6 kilometers), and then I realized I had to find a way to get the wheel to turn if I wanted to finish it. So after having kind of fixed that, I freewheeled down for 10 kilometers and then pushed the bike for a further 11 kilometers to T2."
And although 99.9 percent of the athletes would have probably just accepted a lift back to T2 and DNF, he didn't. From afar, this may look similar to Jan Frodeno's "respect for the course," when the two-time Ironman world champion soldiered on in Kona last year, but Laidlow says that his motivation to keep going was different.
"The main reason is because a lot of people put a lot of support into me: my family, my club, and my friends. There are also a lot of sacrifices I made, and I didn't want to quit straight away. My dad drove me all the way up to Cannes and he coaches me every day and the same for my club. There were 19 of us, and I was the only pro and wanted to do well for the club (Poissy Triathlon)."