Pro Field For Abu Dhabi International Triathlon Announced
The best field of long course pro triathletes outside the Ironman World Championship in Kona will come together in the United Arab Emirates on March 12 for the Abu Dhabi International Triathlon (ADIT).
Heading out the door? Read this article on the new Outside+ app available now on iOS devices for members! Download the app.
The best field of long course pro triathletes outside the Ironman World Championship in Kona will come together in the United Arab Emirates on March 12 for the Abu Dhabi International Triathlon (ADIT). Sixty-one elite athletes, including defending champions Eneko Llanos of Spain and Great Britain's Julie Dibens, will compete in the 3K swim, 200K bike and 20K run touring the sites of Abu Dhabi.
The stacked line-up also includes Ironman world champions and Aussie rivals Chris McCormack and Craig Alexander, who will go head-to-head for the first time since they raced one another Kona. All together, the international field of pro athletes holds more than 50 Ironman titles and over 100 national titles.
"This is a powerful line-up that truly lives up to our call to amateurs to 'Compete With The Elite'," said Faisal Al Sheikh, Events Manager, Abu Dhabi Tourism Authority, which presents the event. "The best the sport has will be in Abu Dhabi which is a ringing endorsement for an event which is only in its second year."
All eyes will be on McCormack and Alexander, who have drawn attention for their longstanding rivalry, which will further play out on March 12 on the streets of Abu Dhabi. It's yet to be seen if the 200K bike leg will offer an advantage to McCormack, known for his cycling strength.
"I love new races in new destinations, especially one with as much mystique as Abu Dhabi," said Craig Alexander. "This will be my first race of the season and my first competitive race in the Middle East."
Other top contenders in the men's race include Llanos; Luxembourger Dirk Bockel, who finished second last year; and Rasmus Henning of Denmark, who rounded out the podium in third.
"I had a great experience in Abu Dhabi last year and hope to return and improve my third place finish," said Henning. "The race course is world-class, which is reflected in the quality of athletes it has attracted this year. There will be a lot of athletes who will want to finish in the top three but will have a hard fight ahead of them."
Also joining the men's field: nine-time Ironman New Zealand winner Cameron Brown, winner and course record-holder of 2010 Ironman Wisconsin Joe Gambles and multiple Ironman champion Raynard Tissink of South Africa.
The women's field will be equally deep. Leading the pack is Julie Dibens, ADIT defending champion, 2009 Ironman 70.3 World Champion and three-time Xterra World Champion ('07, '08, '09). Diben's will be challenged by Leanda Cave, a world champion with a string of 70.3 podium finishes to her credit.
"It's an epic event that plays to my strengths of the swim and bike," said Cave. "I love a challenge, which is exactly what this course is. I am also looking forward to exploring the culture and sites of Abu Dhabi."
Other female pro entrants include Jo Lawn, seven-time Ironman New Zealand champion; Caroline Steffen, ITU Long Distance Triathlon World Championship and second-place finisher at the 2010 Ironman World Championship; three-time Xterra champion Melanie McQuaid; two-time World Duathlon Champion Catriona Morrison; and Ironman South Africa winner Sonja Tajsich.
In addition, Team Abu Dhabi returns to the race with a squad led by 2005 Ironman World Champion Faris Al-Sultan. Teammates include Paul Ambrose, Jan Van Berkel, Swen Sundberg, Kristin Moeller and Rachel Joyce (who is back to prove she is in top condition after a shocking accident at last year's ADIT).
"My disappointing exit from last year's race has just made me more determined to come back and race well in Abu Dhabi this year," said Joyce. "It's going to be another stacked field and I'm looking forward to racing some of the best in the world, and of course, my goal is to get as close to the top of the podium as possible."
The pros will vie for a piece of the $250,000 prize purse, with $50,000 awarded to both the male and female winner.
THE PRO LIST: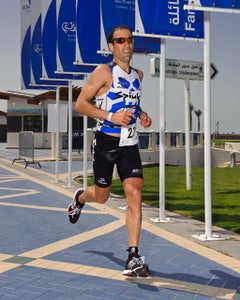 Men
Craig Alexander
Faris Al-Sultan
Paul Ambrose
Björn Andersson
Stephen Bayliss
Cesar Belio
Luke Bell
Tim Berkel
Dirk Bockel
Timo Bracht
Cameron Brown
Massimo Cigana
Kieran Doe
Joe Gambles
Pedro Gomes
Justin Granger
Rasmus Henning
Ben Hoffman
Martin Jensen
Eneko Llanos
Paul Matthews
Chris McCormack
Luke McKenzie
Romans Melderis
Omar Nour
Graham O'Grady
Jordan Rapp
Bryan Rhodes
Josh Rix
Andrew Starykowicz
Rasmus Stubager
Sylvain Sudrie
Swen Sundberg
Kevin Taddonio
Raynard Tissink
Edo van der Meer
Frederik Van Lierde
Marino Vanhoenacker
Matty White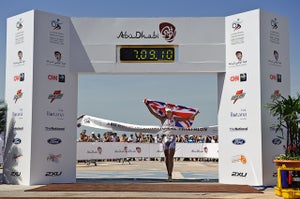 Women
Leanda Cave
Julie Dibens
Heather Gollnick
Belinda Granger
Jessica Jacobs
Rachel Joyce
Jo Lawn
Emma-Kate Lidbury
Kristin Lie
Amy Marsh
Melanie McQuaid
Kristin Möller
Catriona Morrison
Angela Naeth
Edith Niederfriniger
Rachael Paxton
Lisa Ribes
Caroline Steffen
Christie Sym
Sonja Tajsich
Inka Wachter
[sig:JuliaPolloreno]