Olivier Marceau and Eimear Mullan shine the brightest at TriStar111 Mallorca
Heading out the door? Read this article on the new Outside+ app available now on iOS devices for members! Download the app.
(press release) 17 APR 2011, Portocolom / Spain from TriStar Mallorca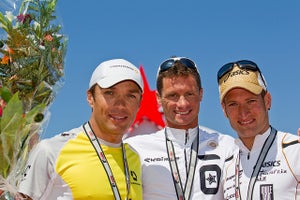 Olivier Marceau (SUI) is the winner of the inaugural TriStar Mallorca, Marcel Zamora (ESP) and Normann Stadler (GER) placed second and third, respectively. Eilean Mullan (IRL) won her first race as a professional athlete before Tamsin Lewis (GBR) and Heidi Jesberger (GER). The triathlon race over unique distances in the authentic village of Portocolom, Mallorca, was an opportunity for many of the sport's greatest athletes to test their shape at the beginning of the season.
TriStar Mallorca has met all expectations today with more than 350 participants and one of the best casts of the stars of the sport of Triathlon. Olivier Marceau was the winner of the first edition of Mallorca TriStar111 on a fun day packed with suspense, which has brought thousands of spectators to the Club Nautico Porto Colom in Felanitx, Mallorca.
"The race was much harder than I thought and the bike course is really demanding," said Marceau, who finished in 3:40:29. It's Marceau's second TriStar victory after TriStar Monaco in September last year.
Spaniard Marcel Zamora, who finished in 3:40:56, added: "The climb up to Sant Salvador is beautiful, and although the race is not easy I had a lot of fun end enjoyed it a lot today to race all those other world class athletes."
"After I crashed on the bike I could not keep the pace on the run, unfortunately, but it was a great race to start the season, regardless," said two-times Ironman World Champion Normann Stadler after finishing in 3:41:24.
Eilean Mullan from Ireland had her first go as a professional athlete, and it might be we'll see her name more often in the future. She managed to keep up British Tamsin Lewis' pace on the bike and was the stronger runner in the end. "I always loved running, now I need to learn to cycle," said Mullan, who finished in 4:10:27, with a twinkle in her eyes.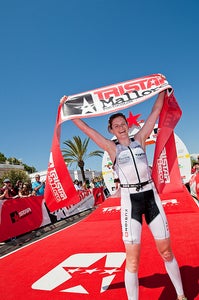 "She is just the best runner," said Tamsin Lewis, second in 4:12:22. Germany's Heidi Jesberger came in third almost a quarter hour later in 4:26:21. "I think I was just too timid on the descents. Anyway it was a wonderful race experience and I look forward to more," she said after the race.
TriStar55.5 Mallorca, which also took place today, offered the same race with the half distance, especially for beginners and fans of short distances. Richard Calle Martinez from Barcelona, won in 1:57:04, and VILLALONGA LLUFRIU Catalina Villalonga Llufriu from Palma de Mallorca won the female category in 2:29:17.
TriStar Mallorca supports ASPANOB, a local cancer care charity, together with Livestrong™. Thorughout the race weekend, funds are collected on spot and online in order to help ASPANOB held cancer affected children and their families.