Norden Overtakes Moffatt To Take Hamburg Women's Title
Heading out the door? Read this article on the new Outside+ app available now on iOS devices for members! Download the app.
After an early season full of injuries and missed training, Sweden's Lisa Norden entered today's Dextro Energy Triathlon ITU World Championship Hamburg just looking for a decent finish. She did more than that, winning in a thrilling sprint to the line over reigning ITU World Champion Emma Moffatt of Australia. It was revenge for Norden, who finished second to Moffatt at this race last year. Ireland's Aileen Morrison finished a surprising third, by far the best result of her career.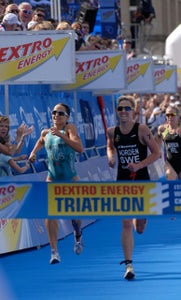 "This exceeded all of my expectations," Norden said. "I came here just hoping for a top ten finish so I could score some world rankings points, but I really didn't expect to win. It's absolutely amazing."
With her runner-up finish, Moffatt takes over the lead in the Dextro Energy Triathlon ITU World Championship Series Rankings, with three races left to decide the 2010 ITU World Champion.
"It's a little disappointing to come so close to winning, but I'm still really happy with second today," Moffatt said. "I didn't expect to be leading the Series after today, but it's a great surprise."
A total of 66 women took to the River Alster to kick things off, with American Laura Bennett and Moffatt going right to the front. The leaders were unable to force much of a break, and after 18:16 in the water, they hit T1 with a gap of only a few seconds on a group of over 20 women. The only major player absent from the front bunch was Aussie Emma Snowsill, who exited the swim 50 seconds back of the leaders.
After the first of eight flat and technical bike laps, a lead group of nine women emerged, led by a pair of Aussies, Annabel Luxford and Moffatt. The first chase pack, led by Norden, was 20 seconds back after lap one, but the Swede was clearly pushing hard to close the gap.
The strong riding from the Norden paid off, as she pulled the chasers up to the lead pack on lap four, forming a new lead group of 26 women. The extra riders helped the lead bunch pull even farther ahead, building an advantage of 40 seconds on the rest of the field by with 15K left to ride.
The leaders continued to grow their advantage on the final two laps, entering the second transition with a gap of over two minutes on the chasers. In typical fashion, Moffatt moved right to the front at the start of the run, towing a group of 10 other women with her. The reigning world champ slowly ratcheted up the pace on the first two laps, as a number of women fell off the back of the lead bunch. After 5K of running, the lead group was down to only eight women, with Moffatt still pushing the pace at the front. Right behind Moffatt were Norden, Morrison, South African Kate Roberts and Kiwi Andrea Hewitt.
As the leaders headed toward the finishing chute, Moffatt tried to shake off Norden, but the Swede showed the same sprinting form that led her to a runner-up finish in the 2009 ITU World Rankings. With only 100 meters to go, Norden put in a huge kick, pulling a few meters ahead of Moffatt and Morrison and neither could respond. Norden broke the tape in 1:53:53, with Moffatt crossing the line less than a second later. Morrison rounded out the sprint, another two seconds back.
"Every race this year I've had a sprint finish and I haven't done to well in them, so I really didn't want to sprint today," Moffatt said. "I wished I could have strung it out a little more before the finish, but those girls were too strong today."
Morrison finished fifth at the ETU European Championships in her native Ireland two weeks ago and continued her hot streak with her first Series podium finish today.
"I feel like I'm in a dream right now–I seriously do. I don't know what just happened," Morrison said. "That is by far the best finish of my career. To be in a sprint with Emma and Lisa was unbelievable. I couldn't be happier right now."
Rounding out the top five were Roberts of South Africa in fourth and Vicky Holland of Great Britain in fifth. Presenting the medals after the race was two-time Olympic skating gold medallist Katarina Witt.
The Series continues next weekend with round five in London.
"Today's race gave me so much confidence heading into next weekend in London," Norden said. "I really wasn't feeling too good about my run before today, but now I feel things are starting to turn around."
Dextro Energy Triathlon ITU World Championship Hamburg
Hamburg, Germany
July 18, 2010
Elite Women Results
1. Lisa Norden (SWE) 1:53:53
2. Emma Moffatt (AUS) 1:53:53 +0
3. Aileen Morrison (IRL) 1:53:55 +2
4. Kate Roberts (RSA) 1:53:57 +4
5. Vicky Holland (GBR) 1:53:57 +4
6. Andrea Hewitt (NZL) 1:53:59 +6
7. Laura Bennett (USA) 1:54:04 +11
8. Sarah Groff (USA) 1:54:36 +43
9. Ainhoa Murua (ESP) 1:54:40 +47
10. Felicity Abram (AUS) 1:5458 +1:05
Dextro Energy Triathlon ITU World Championship Series Rankings (after race 4 of 7)
1. Emma Moffatt (AUS) 2110
2. Mariko Adachi (JPN) 2106
3. Barbara Riveros Diaz (CHI) 2082
4. Andrea Hewitt (NZL) 1868
5. Daniela Ryf (SUI) 1725
Race recap provided by ITU.