Nico Lebrun And Melanie McQuaid Win XTERRA USA Championship In Utah
Heading out the door? Read this article on the new Outside+ app available now on iOS devices for members! Download the app.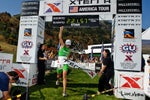 Nicolas "Nico" Lebrun chased down the defending champ Conrad Stoltz during the last quarter of the run while Melanie McQuaid held off a hard-charging Shonny Vanlandingham to capture the men's and women's XTERRA USA Championship titles on an absolutely epic day in Northern Utah's Wasatch Range.
Fall is in full swing in this part of the country and the magnificent array of colors painting the mountainside around the world-class Snowbasin Resort was nothing short of breathtaking.  Perhaps the only thing more explosive was the burst of energy Lebrun unleashed on Stoltz heading up the last major climb of the run less than two miles from the finish.
"I felt really strong on the run," said a jubilated Lebrun shortly after he crossed the finish line.  "It's a very big day for me.  I've come to the U.S. four times before for this race and have never been very good."
This season Lebrun took the XTERRA America Tour quite literally, spending the last six months traveling coast-to-coast racing the Cup Series and exploring the country.  As a result, he came in fresh with a solid base of training and zero jet leg.
"This course was perfect for me, and I had a lot of confidence coming into it," said the 2005 XTERRA World Champ who grew up climbing around ski resorts in the French Alps.
The race started out predictably enough with Seth Wealing leading the charge in the mile-long swim in the calm and cool but comfortable waters of Pineview Reservoir, followed shortly after by the "Big Fish" Christine Jeffrey and some 40-seconds later out popped Stoltz, Branden Rakita, and Craig Evans.
Out on the bike things changed quickly as Conrad "the Caveman" Stoltz evaporated Wealing's early lead by the second mile and put nearly a minute into the entire field.   It was 50-seconds to be exact, and the next riders to arrive added even more colors to the already vibrant scene with Josiah Middaugh in blue, Nico Lebrun in green, Mike Vine in orange, and Branden Rakita in black all riding wheel-to-wheel.  Early speed credit also goes to Middaugh and Lebrun, who exited the swim more than minute-and-a-half after Stoltz and caught up quick.
By mile eight the landscape had changed again as Stoltz had put another 20 seconds on Middaugh and Vine, but Lebrun had taken 20 seconds back and was now only half-minute behind the 3x XTERRA World Champion from South Africa.
"Today I was riding really skinny and fast tires and my plan was to go very hard on the climbs but be conservative on the downhills so I would not crash," said Lebrun, long known as one of the sports premier climbers.  It was a solid strategy, especially considering this 30-kilometer bike course climbs and climbs and climbs with some 3,000 feet of uphill from the reservoir to the top of the course (it's 4,600-feet elevation at the swim start and 7,600-feet at the top of the bike).
On the other end of that spectrum is Stoltz, who has the power to climb but his solid 6-foot-3 frame requires a lot more effort to propel up a mountain. "This is the anti-Conrad course," explained Stoltz.  Nevertheless, any time the trail got flat and the very few times it went down Stoltz pinned it and even his fellow pros call describe his fearless riding as "simply amazing".
As proof, despite all the ground Lebrun made up on the ascent Stoltz still took a minute lead out onto the run after his final rush down to the transition area.  The good news for Lebrun, and the bad for Stoltz, was there's still a lot more climbing on the run.
At mile 1.3 Lebrun had gained 13 seconds, in the next 15 minutes he made up the other 47, and for good measure added another 52 ticks to cross the line with a winning time of 2:21:57 – Stoltz 2:22:49.
"Maybe for the first time ever I'm content with second," said Stoltz, who with the finish secured an unprecedented 7th XTERRA U. S. Pro Series title.  "Considering the injuries I had this year and my sketchy training as a result I'm very happy to keep it all together and still win the series.  Plus, Nico is just a Billy goat, and he was the strongest guy out there today."
Behind those two Josiah Middaugh did everything in his power to stave off Mike Vine, who came within seconds of getting past, to hold on for 3rd – top American in the race and in the Pro Series now for the fifth time in six years.  Both Middaugh and Vine tipped their caps to the guys ahead "They crushed it today," said one – and – "they really nailed it," said the other.
Wealing, who said he did "pretty darn good" for how bad he was feeling, finished in 5th, and five other Colorado guys rounded out the top 10 with Rakita, Cody Waite, Ryan Ignatz, Brian Smith (fresh off a grueling adventure race in China last weekend) and Will Kelsay.
XTERRA USA National Championship
Ogden, Utah – September 26, 2009
Men
1. Nico Lebrun (FRA) 2:21:57
2. Conrad Stoltz (RSA) 2:22:49
3. Josiah Middaugh (USA) 2:26:08
4. Mike Vine (CAN) 2:26:40
5. Seth Wealing (USA) 2:30:44
Women
1. Melanie McQuaid (CAN) 2:48:37
2. Shonny Vanlandingham (USA) 2:49:24
3. Leslie Patterson (GBR) 2:50:34
4. Carina Wasle (AUT) 2:51:00
5. Jenny Smith (USA) 2:55:23
Press release provided by XTERRA.