NFL Star Rallies Pro Athletes To Race Triathlons For Charity
Heading out the door? Read this article on the new Outside+ app available now on iOS devices for members! Download the app.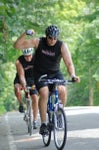 Written by: Bethany Leach
Picture a 6-foot 6-inch former NFL offensive lineman setting his 310 pounds atop his old mountain bike—which, admittedly, had served as a coat rack in his garage—to compete in a sprint triathlon. That's just what retired New England Patriot Max Lane did for charity.
"It's very funny," said Jackye Colligan, the director of Lane's To the Max Foundation. "He definitely catches people's attention."
After retiring from the NFL seven years ago, Lane became somewhat of a local celebrity in Massachusetts and attended local charity events, usually including fancy dinners, silent auctions or golf tournaments. However, the tickets to the events usually cost between $500 and $20,000 a ticket, Colligan said. Lane felt he was losing touch with many donors because the cost of tickets "priced out a lot of people that would like to contribute," he said.
So Lane started the To the Max Foundation, an organization with the goal of raising funds in creative ways to distribute to some of his favorite charities. To raise the funds, the organization hosted its first event, a tailgate party outside of the Patriots' Gillette Stadium last fall. The event included a live band, an open bar, a barbecue and more than 100 attendees. The event led to about $10,000 donated to charities. Lane also convinced former Patriots linebacker Ted Johnson to pedal 70 miles with him last week to raise money for Alzheimer's research.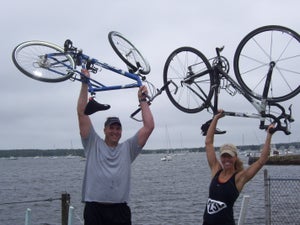 Now, Lane is organizing a team of former professional athletes, including former NHL Boston Bruins players, to race in the Fantastic Nantasket Triathlon in Hull, Mass., on Sept. 27. To find teammates, Lane generally approaches professional athletes in his network of friends or at charity events, such as golf tournaments, and asks them if they're interested. When they start making excuses, Lane said, he tells them, "Look at me. If I can do it, you can do it."
The money raised from the sprint triathlon will go toward two organizations: The SeatSwap and Hull's athletic department. The SeatSwap is a nonprofit organization that allows ticketholders to donate tickets to sporting events, and the tickets are given to children who wouldn't normally be able to attend. The event will also be raising money for the athletic departments at the schools in Hull, where the race will be held. The department is at financial risk of eliminating all sports programs for students.
The Fantastic Nantasket race was Lane's first triathlon, and he placed 43 out of 45 in the Clydesdale category. "Triathlon is a humbling experience," Colligan said. "These guys go from being the best at what they did to finishing last in triathlons."
Nonetheless, he finished the race with a sense of accomplishment and was proud that he had run the full three miles without walking. He was happy just to finish, but he hopes to beat his time this year. "I'm gonna have my game face on this time," he said.
Lane became interested in racing just last year. "After football was over in 2002, I didn't want to work out because I had spent my entire life working out. I turned into a couch potato, put on some weight," he said. After a staff infection that sent him to the E.R., Lane decided it was time to maintain his health better. After a trip to the doctor, the 38-year-old was told that he needed to work on his cholesterol. He started working out with Colligan, an endurance athlete who raced in Olympic-distance triathlons and the Boston Marathon. When she encouraged him to race for charities and to start a foundation that could distribute funds to them, he started the To the Max Foundation, which was approved as a 501(c)3 organization at the beginning of 2009.
Lane hopes to work up to Olympic-distance triathlons. "What I like about triathlons is that you're doing three things in short intervals, so it never gets boring," he said. "You're always trying to do more and improve your time."
For more information or to donate, visit Tothemaxfoundation.org.