Nationally Syndicated Frazz Cartoonist Pens Triathlon Lifestyle Book
Heading out the door? Read this article on the new Outside+ app available now on iOS devices for members! Download the app.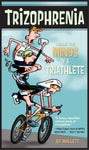 Jef Mallett's Trizophrenia offers the first book to explain why we do it.
Award-winning and nationally syndicated cartoonist Jef Mallett has published the first book to explore the triathlon lifestyle. Trizophrenia: Inside the Minds of a Triathlete celebrates the seemingly obsessive-compulsive rituals of the triathlete. With the same humor and insight that readers love in his Frazz comic strip, Mallett delves into the intoxicating subculture of the sport that is three sports. Trizophrenia will be available in bookstores, bike and tri shops, and online this month in the U.S., Canada, U.K., and Australia.
Peter Sagal, host of NPR's Wait Wait… Don't Tell Me! and a recent first-time triathlete, describes Trizophrenia as "a funny, heartfelt, serious work of evangelism." Trizophrenia celebrates the triathlon lifestyle. Eat, swim, eat, work, eat, run, eat, go to bed early. Get up at dawn and do it all over again. The schedule of a triathlete demands focus and coordination, but with three sports, a job, and a family, it can be a lot to juggle.
Yet life is better when you are a triathlete. Starting with the alluring excitement (and terror) of the beginner, Mallett's sweeping text and amusing illustrations bring to life the countless conundrums a triathlete embraces-from the grit of training to the glorious rewards of racing. Mallett's light-hearted declaration of love for his sport will convince anyone that life is more worth living when you're a triathlete.

About Jef Mallett
Jef Mallett is the cartoonist of the award-winning and nationally syndicated comic strip Frazz, which runs in over 160 newspapers in the U.S. and Canada and at comics.com/frazz. Jef has published three collections of Frazz illustrations, Frazz 3.14159…, Frazz, Live at Bryson Elementary, and 99 Percent Perspiration. He also illustrated Jamie Smith's book, Roadie: The Misunderstood World of a Bike Racer. Jef writes a regular column for Inside Triathlon and Triathlete magazines and is a contributing artist for VeloNews magazine. Jef has been racing triathlons on and off since the early '80s, alternating between triathlon and bike racing. He finished his second Ironman in September. For more information on Jef and his work, please visit jefmallett.com.
About VeloPress
VeloPress is an endurance sports and fitness publisher with books on cycling, triathlon, running, swimming, nutrition and diet, yoga, and the histories and personalities of our sports. VeloPress authors are highly qualified, trusted experts. Our training books help both serious athletes and beginners to build skills and fitness while our human interest books inspire greater appreciation of our sports. VeloPress is the book publishing division of Competitor Group, Inc., publisher of VeloNews, Triathlete, Inside Triathlon, and Competitor magazines and producer of the Rock 'N' Roll marathon and half-marathon series and the Muddy Buddy adventure series.
Media review copies, excerpts, author interviews and events:
Dave Trendler, Marketing and Publicity Manager, (303) 245-2138, dtrendler@competitorgroup.com