Macca's Back: Chris McCormack To Race ITU WCS Kitzbuhel
Ironman World Champion Chris McCormack to Finally Make His ITU Return
Heading out the door? Read this article on the new Outside+ app available now on iOS devices for members! Download the app.
Reigning Ironman World Champion Chris "Macca" McCormack of Australia is on the start list for the ITU's Dextro Energy World Championship Series Event in Kitzbühel, Austria, set for Saturday, June 18.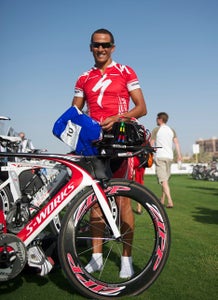 McCormack, who was an ITU short-course world champion in 1997 but who was unfairly left off the Australia 2000 Olympic team in Sydney, made big news back in February when he announced that he would forgo attempting to defend his title in Kona to attempt to make the 2012 London Olympics.
He had hoped to be on the start line at the World Championship Series' Sydney leg, which was held in early April, but he chose not to race because of a calf injury, he told triathlete.com at the time.
McCormack has a tough row to hoe if he wants to qualify for the Olympics. Australia can at most qualify three men for the Olympics, and as of right now, there are three men who are legitimate medal contenders for London: Courtney Atkinson, Brad Kahlefeldt, and Brendan Sexton. While Australia's qualification criteria is almost entirely discretionary, McCormack will most likely have to prove that he is either more of a medal contender than one of his three rivals or that he can somehow help one of them win a medal for Australia if he serves as a domestique.
McCormack also has no ITU points as of right now and is being given a discretionary spot into Kitzbühel. He must quickly prove that he is worthy of that spot if he is to continue getting discretionary spots.
McCormack knows what he is up against, however.
"I've been quite open that I don't want to rob some other kid of their dream if I can't be a player. I don't want to be that guy," he told triathlete.com back in April. "I think I can do it, but don't do me any favors because I want the best guys to go. I've got nothing to hide."
McCormack has also been candid that he realizes he's got a lot of work to do if he wants to compete with Spain's Javier Gomez and Great Britain's Alistair and Jonathan Brownlee, who can swim, bike and run with the best of the best and who are capable of finishing their 10Ks in under 30 minutes.
"It's quite interesting to be going into a race with a different mindset. Most of the time, I think, 'I want to kill these guys. I want to win.' But now I just need to beat as many guys as I possibly can," McCormack said back in April. "I don't think in these early stages I can be competitive with Javier and Alistair. It's one thing to watch it, and it's another to feel the pace and intensity. People tell me I've got to run sub-30 minutes. I can tell you right now I can't do that."
Going into Kitzbühel, McCormack is at the distinct disadvantage of having just finished an Ironman; he won Challenge Cairns on June 5.
But if there's anything that the wily McCormack has taught the triathlon world over his long career, it's that you can never count him out.
You can watch his return to the ITU on https://triathlonlive.tv. Or look for reruns on Universal Sports if you live in the United States.
Subscribe to Inside Triathlon magazine for the most in-depth ITU and Olympics coverage, or purchase a recent issue by clicking here.