Macca Faces Off On ESPN's "Outside the Lines"
Chris McCormack appeared on ESPN's "Outside the Lines" last month to discuss the notion of pushing the body to the limits with Dr. Oz. In the interview, host Bob Ley asks Macca about the mindset of "if you're not injured, you're not training hard enough."
Heading out the door? Read this article on the new Outside+ app available now on iOS devices for members! Download the app.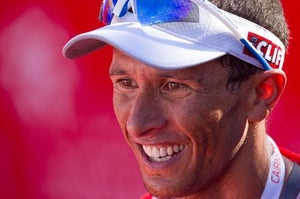 Chris McCormack appeared on ESPN's "Outside the Lines" last month to discuss the notion of pushing the body to the limits with Dr. Oz. In the interview, host Bob Ley asks Macca about the mindset of "if you're not injured, you're not training hard enough."
He responded by saying, "In all endurance sports, it's part of the mindset. Endurance sports by its definition, or by name, is about taking your body as far as you possibly can without breaking, and then not breaking and getting the race done. I've always disagreed with that mindset. People out there used to say, 'he's not injured, he's not training hard enough.' I found that remarkable."
Dr. Oz says the life expectancy of people who push themselves hard all the time is shorter. He believes the cut-off for exercise is around 13 hours a week, which isn't a problem for most Americans, but is certainly alarming for many iron-distance triathletes—especially McCormack, who trains 25–30 hours a week (which, he says, is on the lesser scale compared to many endurance athletes). Oz says the oxygen stress on the body is the main culprit, but eating fruits, vegetables and antioxidants can help off-set the damage.
Watch the video on Macca's Facebook page.
https://www.facebook.com/video/video.php?v=10150232817331268