LeadmanTri Moves From Vegas To Tempe
Life Time Fitness will move its spring Leadman race from Las Vegas to Tempe.
Heading out the door? Read this article on the new Outside+ app available now on iOS devices for members! Download the app.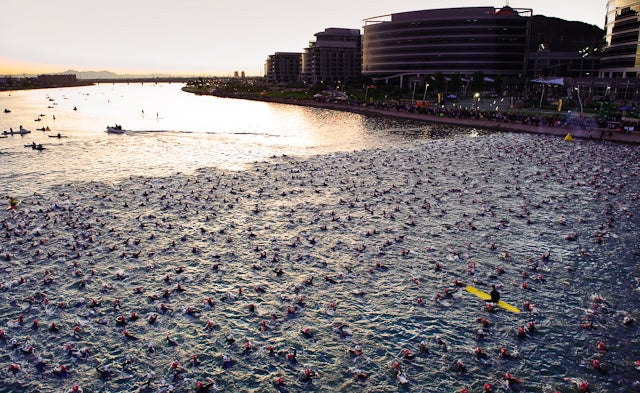 Tempe, Ariz. is establishing itself as a mecca for triathletes. In addition to hosting Ironman Arizona every November, the city will be the site of the newly-created LeadmanTri Marquee on April 14, 2013.
After much discussion with triathletes and community officials, Life Time Fitness made the decision to move the spring Leadman race from Las Vegas to Tempe. The event, which will feature the 125K distance, will also include International and sprint distance courses and a Life Time Tri Kids Fun Run.
"After receiving overwhelming feedback from the triathlon community about having one, high quality long-course race in the area, LeadmanTri Las Vegas has merged with LeadmanTri Marquee," shared Karen Jayne Leinberger, Public Relations Manager for Life Time Fitness. "We merged two events that were close geographically and in date to put together the greatest event that area has ever seen."
The reaction from triathletes has been tentative. Brian Folts, a Phoenix triathlete, has raced LeadmanTri Las Vegas in the past and is uncertain the new venue will live up to the Leadman brand's reputation:
"Lake Mead is a beautiful area and the course was challenging with the hills. The final run up into Boulder City was also very challenging. I fail to see what will be 'epic' about the new course."
PHOTOS: LeadmanTri Epic 125 Las Vegas
Triathletes previously registered for LeadmanTri Las Vegas may transfer their entry any Life Time Fitness event or receive a full refund if they do not wish to race LeadmanTri Marquee.
However, Leinberger is confident the race will continue to build on its success from 2011 and 2012.
"Life Time's ability to put together a full weekend of events in the Tempe market surrounding LeadmanTri Marquee will ensure a first class and enhanced participating and spectator experience."
Life Time's Leadman event in Bend, Oregon, has been confirmed for 2012 and 2013, and will host a 125K and 250K distance race on Sept. 21. Life Time is in the planning stages of adding a third LeadmanTri venue in 2013. Details have not been released yet, but an official announcement is expected in the coming weeks.