Last Weekend Now: Kat Matthews Storybook Return and a 21-Second Podium Spread in Texas, O' Donnell Wins in Peru at 42 Years Old, and More
Last weekend we had top-tier professional racing from Texas to Taiwan and Peru to the Canary Islands. Here's who broke the banners and made the bucks at the biggest races from the past two days.
Heading out the door? Read this article on the new Outside+ app available now on iOS devices for members! Download the app.
Last Weekend Now is your weekly commentary on what's happening in pro triathlon, brought to you by Brad Culp. (Ed note: So yell at him if you don't like the comments.)
With the pro race season nearly in full swing, pros are already racing (surprisingly, very) fast in destinations across the globe. World championship slots are being locked down early, familiar names are back on the podium, and one speedy female Brit is back to running "men's times" again. Read on for more.
Matthews Caps Comeback With Superb Run at Ironman Texas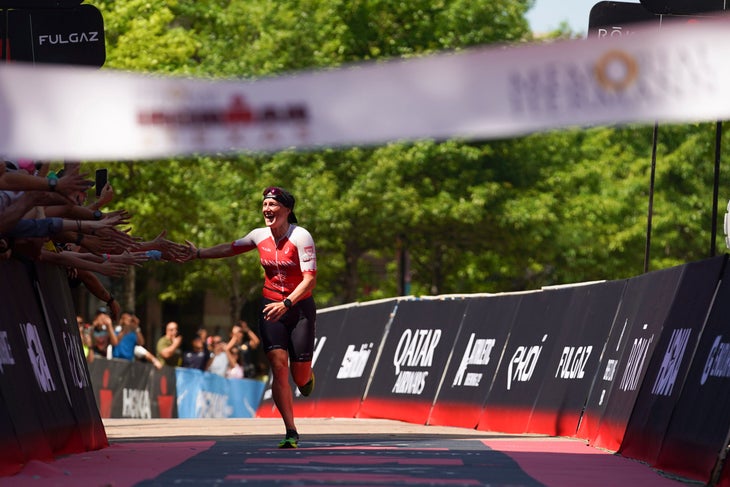 Out of all those destinations, the biggest and best field of the weekend ended up in suburban Houston. That was thanks to 10 world championship slots up for grabs, as well as a cool $28K for the winners.
Seven months after being hit by a car while training in—checks notes—Texas, Britain's Kat Matthews returned to the proverbial scene of the crime and put in one of the best performances of her career. Her 2:49:31 marathon was the best of the day by 10 minutes, and it got her to the finish two minutes ahead of Denmark's Maja Stage Nielsen, who led throughout most of the marathon.
It's the second time Matthews has clocked a 2:49 split; the last one coming in a runner-up effort to Daniela Ryf at Ironman Tulsa in 2021. But this one comes just seven months after fracturing her skull and spine. It's a remarkably quick comeback, and it looks like Kat Version 2.0 is even stronger than the one that ascended to the top of the sport in just three years of racing prior. Considering she's still a relative newcomer, Matthews is likely just scratching the surface of what she's capable of and can still get a lot faster.
The runner-up finish for Nielsen is perhaps the best result of her 10-year professional career. She's placed in the top 15 at the world championships five times in those ten years, and now has her slot for this year's women's race in Kona locked down. Same goes for American Jocelyn McCauley, who finished third after breaking away with Nielsen on the bike. The remaining two Kona slots went to Americans Lauren Brandon and Danielle Lewis.
Von Berg Makes Late Pass for Win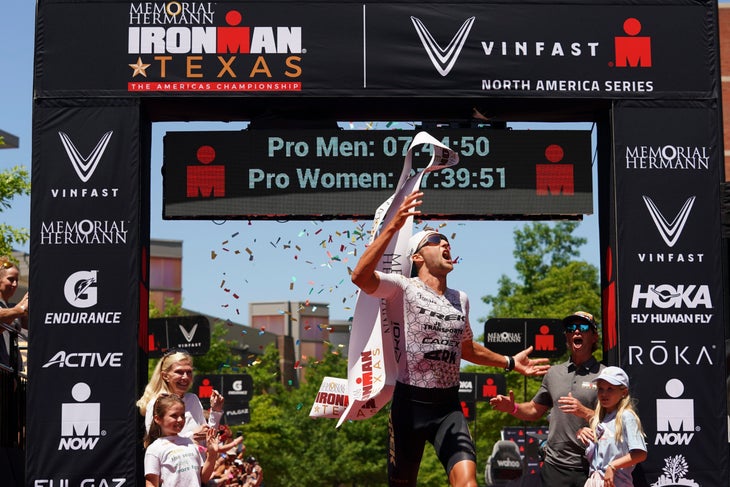 American Rudy Von Berg won the second full Ironman of his career with a last-minute pass of Poland's Robert Wilkowiecki. Both men spent the final miles of the marathon holding off surging American Matthew Marquardt, who was racing in the first pro race of his career after finishing as the first amateur in Kona last year. The top three men finished the day separated by just 21 seconds.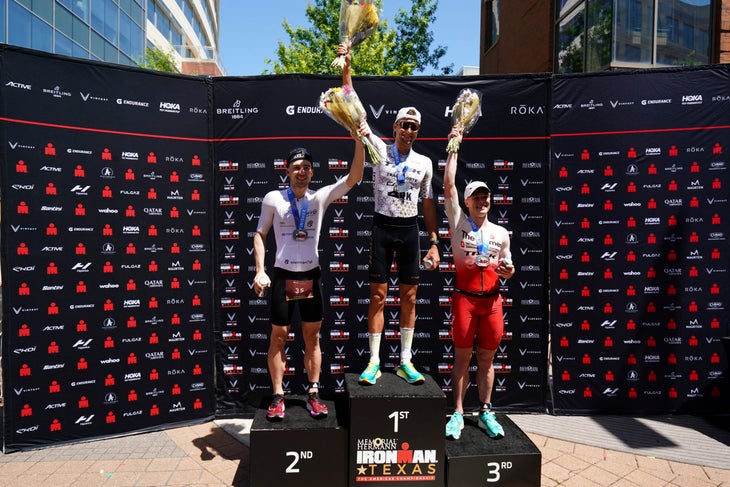 For Von Berg, it means a trip back to Nice—his ancestral homeland—and the place where he won his debut Ironman a year ago. He also won the 2018 edition of Ironman 70.3 Nice, and finished third at the 70.3 world champs on that course a year later. He is very familiar with swimming, biking, and running in the French Riviera (must be nice!) and should have a bit of a homefield advantage at this September's men's Ironman world championship.
The final two Kona slots went to France's Arnaud Guilloux and Canadian Cody Beals.
O'Donnell, Oliveira Take 70.3 Peru
At 42 years young, Tim O'Donnell took his first win since 70.3 Augusta way back in 2018. He rode away from the field along with American Dylan Gillespie, before breaking away three miles into the run and holding off a hard-charging Igor Amorelli of Brazil, who passed Gillespie to take the runner-up spot. Both O'Donnell and Imorelli qualify for this year's 70.3 World Championship, which is set for the end of August in Lahti, Finland.
Brazilian veteran Pamela Oliveira has won 11 races throughout her career, but for just the second time, she's a champion somewhere other than her home nation. She led start to finish, with nearly nine minutes to spare between her and Argentina's Romina Biagioli, who takes the second ticket to Finland, should she choose to accept it.
O'Donnell and Oliveira received just $2,500 for their winning work, so hopefully they got a free hotel and breakfast while visiting Lima—and maybe they got to climb Machu Picchu or something.
Haug Wins Big, Laidlow Wins Small in Gran Canaria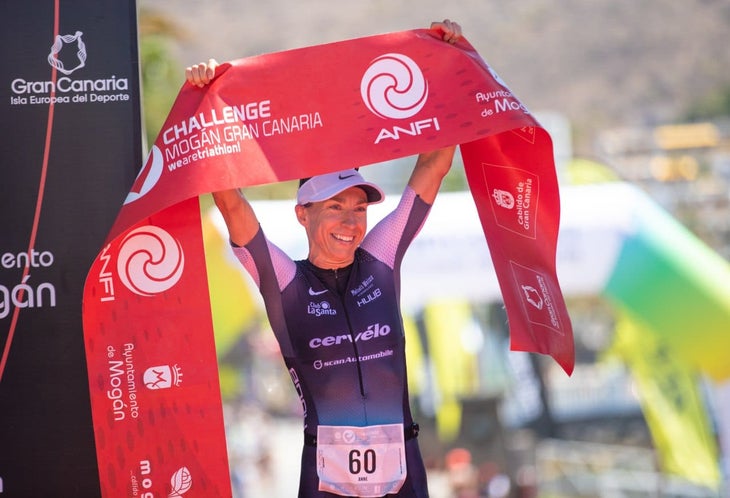 The popular training grounds of Gran Canaria, in Spain's Canary Islands, brought out a few of the superstars of the sport, including the woman who looks to be the early favorite to win her second Kona title.
Germany's Anne Haug ran nearly eight minutes faster than her closest competition over 13.1 miles at Challenge Gran Canaria, and everything seems to be clicking for the woman who is somehow ranked just fifth in the world. Haug has now been appointed queen of the Canary Islands after also winning 70.3 Lanzarote last month. The Netherland's Diede Diedriks finished second.
The men's pro field was 40-deep, which is impressive for a race with only 19,000 Euro up for grabs, including 3,500 (or roughly $3,800 USD) for the winners. Kona runner-up Sam Laidlow took home the biggest check, narrowly holding off a charge from fellow Frenchman Mathis Margierier. Just 13 seconds separated the countryman at the finish, with Aussie Aaron Royle a minute behind for third. Perhaps the most eye-popping split of the day was the 1:06:37 run by fourth-place finisher Antonio Benito Lopez of Spain.
Kiwis and Aussies Take Over Taiwan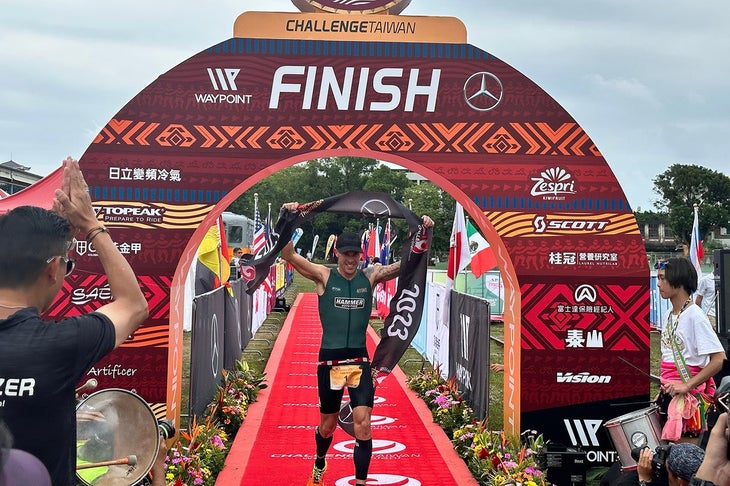 It's been a busy couple of weeks of racing on the island that China just can't quit, and last weekend a few of Australia's top triathletes took to Taiwan for the Challenge Taiwan Half, with 20,000 Euro up for grabs and a much smaller pro field than Gran Canaria.
New Zealand's Amelia Watkinson turned the women's race into an exhibition, posting the fastest splits of the day across all three disciplines to win by more than 23 minutes over Aussie Dimity-Lee Duke. Watkinson has now finished on the podium at 14 of her last 15 races, and she has six wins in that stretch that dates back to the beginning of 2020.
The men's wasn't much more of a contest, with Aussie Caleb Noble also swimming, biking, and running faster than his competition to time trial his way to victory. He had a little more than three minutes' cushion on countryman Jack Sosinski. It's just the second win of Noble's career, and his first on an island other than Australia.