Last Weekend Now: Jorgensen's World Cup (Re)Debut, a Wilde Win, and Hard Racing Down Under
The unofficial start to the North American professional triathlon season isn't until next weekend at 70.3 Oceanside, but there was still plenty of action on the other side of the globe. Brad Culp recaps the New Plymouth World Cup, Hell of the West, and 70.3s in Geelong and Davao.
Heading out the door? Read this article on the new Outside+ app available now on iOS devices for members! Download the app.
Last Weekend Now is your weekly commentary on what's happening in pro triathlon, brought to you by Brad Culp. (Ed note: So yell at him if you don't like the comments.)
The unofficial start to the North American professional triathlon season isn't until next weekend at 70.3 Oceanside, but it's still the busiest time of year Down Under, with three professional races taking place between New Zealand and Australia, plus one more in the Philippines. Here's a quick rundown of what went down at each race, so you're not the only one at the office water cooler who isn't completely caught up on the world of professional triathlon.
Jorgensen 14th in World Cup (Re)Debut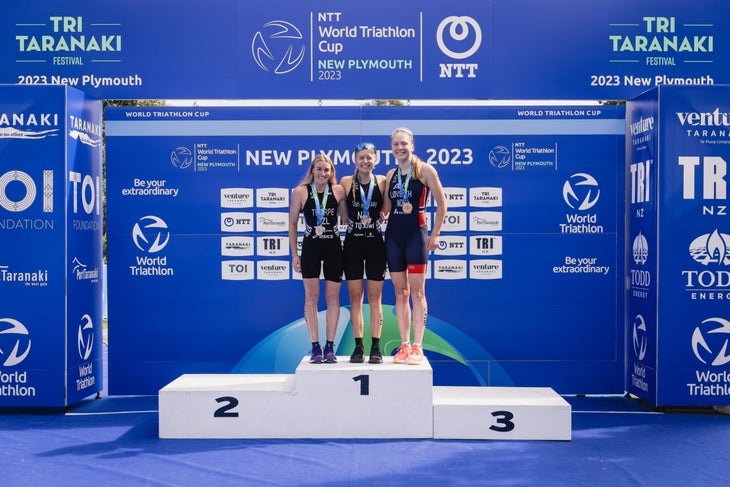 The rules for receiving a mention in this column are that you either have to finish on the podium or be the owner of a gold medal. Gwen Jorgensen finished 11 places off the podium in her first World Cup (and second race) since returning to triathlon after five years as a professional runner. It's also been five months since the birth of her second kid, so just toeing the line at the World Cup level is a feat beyond which us mere mortals can fathom.
But, as is always the case, Olympic gold medalists have higher standards, and Jorgensen was less than impressed with herself. In a video posted on her YouTube channel over the weekend, she said in part: "That sucks. I'm not going to come out and say that's great, because I don't think that's great. I'm disappointed with it but that's the reality."
Never mind that she was one of two 80s babies in the 53-woman field. (Shout out to 1983-born Juri Ide of Japan, who was racing professionally before most of the field was born.) As one would expect, the brightest spot in the bleak race for Jorgensen was her run, clocking 16:25 for 5K, which was the third-best split of the day and only 13 seconds slower than race winner Nicole Van Der Kaay of New Zealand.
Van Der Kaay is low-key having the best year of any professional triathlete in the world so far. She's five for five in 2023, which is extraordinarily hard to do in World Triathlon racing, even at the Continental and World Cup levels. The last time we saw a woman win five consecutive World Triathlon races, she went on to win a gold medal, become a professional runner, have two kids, and then return to triathlon in hopes of making another Olympic team. So there's really no pressure on Van Der Kaay.
Nine seconds behind Van Der Kaay was countrywoman Ainsley Thorpe, who was eight seconds ahead of Norway's Solveig Løvseth. The last time we saw a Norwegian earn their first career podium in New Plymouth, he went on to win a gold medal, then become perhaps the greatest long-course triathlete in history, then return to World Triathlon racing in hopes of defending gold. So there's no pressure on Løvseth, either.
Wilde Back on Track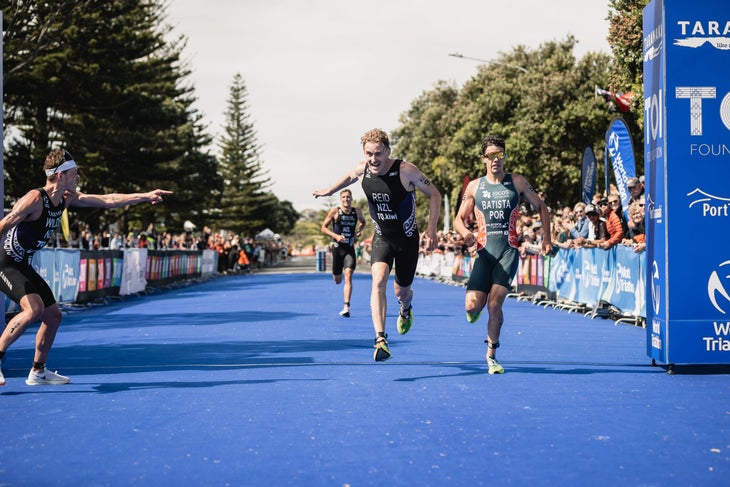 The other Olympic medalist in New Plymouth was Tokyo bronze winner Hayden Wilde, who rebounded from a disappointing 46th place finish at the WTS season opener in Abu Dhabi with a win on home soil. His 14:30 5K was 30 seconds better than anyone else who made the front pack, and it earned him a 35-second margin of victory, which is a ton in a sprint distance World Cup.
Fellow Kiwi Tayler Reid was second, winning a very close sprint finish over Portugal's Ricardo Bautista.
World #1 Gentle Wins Hell of the West
Some of Australia's top long-course athletes traveled away from the coast—which almost no one does—to the rural town of Goondiwindi for one of the toughest and only non-coastal triathlon venues on that giant island.
PTO World Ranking #1 Ashleigh Gentle made easy work of everyone except countrywoman Ellie Salthouse, who had a small lead out of the water before surrending it on the bike and finishing nearly four minutes back. The unique 2K/80K/20K course is right in Gentle's wheelhouse, and it's basically the same as the distance as the PTO events she hopes to dominate once again in 2023. Dominating PTO races is currently the best way for a pro triathlete to get rich.
PTO #7 and Kona fourth-place finisher Max Neumann won the men's race with ease, finishing eight minutes up on Kieren Storch. Josh Amberger was third to complete the all-Aussie podium.
Phillips and Thek Continue to Roll at Geelong 70.3
Fourteen hundred miles south and west of Goondiwindi, the rest of Australia and New Zealand's long-course pros competed in the Melbourne suburb of Geelong, which looks like the much nicer destination on Google images.
Fresh off his win at Ironman New Zealand three weeks ago, Kiwi Mike Phillips made it two for two in 2023. Once again his strategy of riding way faster than everyone else and holding on for dear life on the run proved effective—even holding off a ripping 1:10:15 half marathon from runner-up Steve McKenna of Australia.
Phillips entered the weekend ranked #75 in the world, but should see a big bump with his second win of the season. McKenna started the weekend #41 and may crack the top 40, but will still be on the outside of a top-30 invite to the PTO European and US Opens.
Aussie Grace Thek is working hard to crack the top 30 and will be very close after the world #35 won her second race of the season. This had a stronger field than Challenge Wanaka and that should help her case for the top 30, but we won't know until later today because the algorithm apparently works Hawaiian hours.
Thek finished two minutes ahead of Czech Radka Khalefeldt, who started the weekend ranked #69, and a runner-up in Geelong won't be nearly nice enough to get her close to the precious top 30 bubble. World #39 Lotte Wilms of the Netherlands finished third, another two minutes behind Khalfeldt, and probably won't get much closer to an Ibiza invite with that result.
Crowley and Azevedo Ride to Wins at Davao 70.3
https://www.facebook.com/SarahCrowley111/posts/pfbid02HBnQbx9FuryN8Gp695eQpaDo29NGzSaNWDmcjPgbR6J6JuQQh5AhjDfn9ErMpZSrl?__cft__[0]=AZV-9GOyOgsimDeUR5Q4wgmbMAmscOf-8OEVGPK0r4vI_lBVz-ngdVHxQrFHqeCdFwI2tIxhnYdICqHhzq1VQdePVEpGnno45d4cO1qgN2slfgO_6f7Ad4PBuFdWM4KrG7MHppnJ-ykzVa3USLlgf-zgrn8zQ5xmnBMwSubQ9SGLvSpWYk82qelogz27nIvEd7Hb04TL2Vd9yAnQFcr1BuXpduUh4YEGEFAYlVMU-AgA_g&__tn__=%2CO%2CP-R
Racing for the first time since winning Ironman Western Australia in December, Aussie Sarah Crowley kicked off her 2023 campaign with a win on the southern Philippine island of Mindanao. Crowley had a fun race with American Lauren Brandon, who held on to a two-minute lead out of the water for nearly the entire bike. Crowley added two minutes on the run to win by as much, with Lottie Lucas another two minutes back. Lucas is a Brit based in Dubai who represents the UAE internationally, and is one of a handful of professional female triathletes in the UAE's growing federation.
The men's race was a bit closer, with Portugal's Felipe Azevedo riding away from the field and then hanging on for dear life to finish 79 seconds ahead of Serbia's Ognjen Stojanovic. Azevedo finished 15th at 70.3 worlds last year and is #46 in the PTO rankings for now. This should help a bit, but the strength of field wasn't much. Taiwan's Tuan Chun Chang finished third. Sports like baseball and basketball still don't acknowledge Taiwan as a country. In 2023. That's crazy.
Check back next week for a recap of the massive race in Oceanside, with a start list that includes Jan Frodeno, Ben Kanute, Jackson Laundry, Sam Long, Leo Bergere, Chelsea Sodaro, Kat Matthews and Paula Findlay. Early hot take: There are 73 pro men racing. That's way too many dudes.