Ironman Arizona Press Conference Quotes
Heading out the door? Read this article on the new Outside+ app available now on iOS devices for members! Download the app.
A few of the top athletes racing at Sunday's Ironman Arizona gathered at Tempe Beach Park to answer a few questions from moderator Michael Lovato. Athletes in attendance include Canadian Samantha McGlone, Australian Kate Major, Great Britain's Leanda Cave, South Africa's Raynard Tissink, American Jordan Rapp and Australian Richie Cunningham.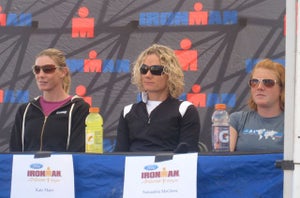 Canadian Sam McGlone on choosing to race Ironman Arizona after a successful race in Kona (fifth place): "I was very happy with my performance in Kona, but I had not raced a whole lot this year because I was dealing with injury the first part of the year. It took me a long time to get back. I felt like I did all that training just for one Ironman. So, I figured I would for the two for one and get another race out of it. I really didn't do too much training in between the two. I sat around for the first couple of weeks, then worked hard for two weeks, and then sat around again. Hopefully that plan will serve me well on Sunday."
Australian Kate Major on coming back to Arizona after winning the inaugural race in 2005: "Well I'm a little older since I won here in 2005. But, hopefully like a glass of wine I'll get better with age. We got in early and checked out the course and I remember certain parts, but I was amazed by a couple of the hills. Everyone says this course is flat, but its challenging. The course has changed a little bit since I won, and so have I. It's always nice to come back to a place where you have some good memories."
American Jordan Rapp on his charity efforts leading up to the race: "I've decided to work with World Bicycle Relief. They send bicycles to students in Africa. My goal was initially to raise $15,000 to sponsor an entire school, which is made up of 100 kids and the time to train two mechanics to take care of the bikes. I thought that would be a huge reach, but I reached it pretty early. I had a donor offer to match all of my donations up to a million dollars. Now were trying to get to $22,500 so that we can double that and sponsor three entire schools. I've had some sponsors help out with donating things to give away. It's very exciting. The donations keep coming in."

Rapp on his tightly contested third place finish at the April 2008 Ironman Arizona: "It was a good lesson for me. I gave that race away on the swim. I swam about two minutes slower than I would in most of the races I've done. If you would have added two minutes to my time I would have had a pretty comfortable win, especially given out late everything happened. Most people think the swim is just a pre-cursor to an epic day on the bike and run, but that's really where I gave the race away. It's really forced me to become more tactical about my swim. It was a hard one to lose, but I think it made me a better athlete."

Great Britain's Leanda Cave on her second place finish last year: "Last year was a bit of a strange race because Joanna Zeiger was leading throughout the race. She pulled out early in the run and left me in the lead. I held onto that lead for quite some time and everyone thought I was going to win. Heleen (Bij De Vaate) came out of nowhere and passed me with about six miles to go. I have to say she was moving about twice as fast as me. I really couldn't do a whole lot to fight. I'm excited to be here again this year. This is my last race of the year, which is great incentive to have a good day. "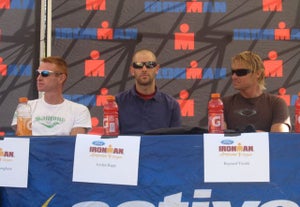 Australian Richie Cunningham on racing his first Ironman in a number of years: "I'll probably go out pretty conservative. I did Clearwater last weekend and I'm still a little sore. I'm going to take it as easily as I can and hopefully hold onto to the front group as long as possible, and see what happens at the end of the race."
Raynard Tissink on competing in back-to-back Ironmans twice in one year. (Ironman Louisville and Wisconsin, and Ironman Florida and Ironman Arizona): "My training is geared towards the second Ironman. The first one is tough because you basically have to train through it. I finished eighth in Florida and had a pretty tough day. I trained right up to the race. Hopefully it will work again (like it did with Lousville and Wisconsin), but I must admit that I don't feel the same as I did between Louisville and Wisconsin. You never know. It doesn't really matter how you feel leading up to the race. It all really depends on how you feel in the last part of the run."