Ironman 70.3 Boise Won By Hoffman And Tisseyre
Heading out the door? Read this article on the new Outside+ app available now on iOS devices for members! Download the app.
Ben Hoffman and Magali Tisseyre win Ironman 70.3 Boise
With a noon start time, point-to-point bike course and low 50-degree water temperature, Ironman 70.3 Boise is truly a unique race. Both the men's and women's races featured proven 70.3 racers, but Ben Hoffman and Magali Tisseyre showed that they were the class of their respective fields.
Men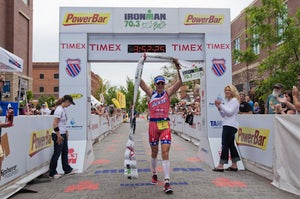 Kyle Leto exited the 1.2-mile swim through the frigid Barclay Bay with nearly a 3 minute advantage over the chase pack containing the race's strongest cyclists, including last year's runner-up Ben Hoffman, Paul Ambrose, Trevor Wurtele and Matt Lieto. Wildflower champion and super-runner Jesse Thomas was lurking another minute behind.
Ben Hoffman ripped through the hilly ride four full minutes faster than Lieto and Wurtele, with Thomas, Ambrose and Guy Grawford another minute back. Hoffman set out onto the 13.1-mile run in the lead and started ticking off six-minute miles. With Thomas nearly seven minutes back, Hoffman needed a consistent but not spectacular run to secure the win. He did exactly that, crossing the line with a 1:18:33 run split. Nicholas Thompson, not Jesse Thomas, ended up ripping through the run course. He passed six men with the day's fastest run, but a 1:13 wasn't able to get within two minutes of Hoffman. Jeff Symonds came through next, with Paul Ambrose and Jesse Thomas rounding out the top five.
Women
Annie Warner was the first to get relief from the frigid water and ran into T1 at 26:07. Magali Tisseyre and Heather Wurtele were the next to finish the swim, with bike specialist Heather Jackson another minute back. The race figured to be a match up between Tisseyre and Jackson, but Tisseyre is considered the stronger runner so the Ironman 70.3 California runner-up Jackson would probably need a lead heading into the run in order to take the win. Jackson pressed on the bike, but didn't have her usual speed and actually lost time to both Tisseyre and Rachel McBride.
Tisseyre, the bubbly Canadian, hit the run with a lead and never looked back, logging the day's fastest run to cross the line and win Ironman 70.3 Boise. Heather Wurtele proved that she has already recovered fully from her Ironman St. George win five weeks ago by nearly matching Tisseyre's run to secure second place. Rachel McBride held Jackson at bay on the bike and the run after swimming three minutes faster than her to add up to a third place finish. Jackson and Annie Warner earned fourth and fifth.
// Aaron Hersh
Ironman 70.3 Boise
Boise, Idaho – June 11, 2011
1.2-mile swim, 56-mile bike, 13.1-mile run

Men
1. Ben Hoffman 3:52:4
2. Nicholas Thompson 3:54:48
3. Jeff Symonds 3:55:26
4. Paul Ambrose 3:57:50
5. Jesse Thomas 3:59:06
Women
1. Magali Tisseyre 4:18:28
2. Heather Wurtele 4:20:41
3. Rachel McBride 4:22:14
4. Heather Jackson 4:26:06
5. Michelle Wu 4:26:54