Inside the April Issue of Triathlete Magazine
Heading out the door? Read this article on the new Outside+ app available now on iOS devices for members! Download the app.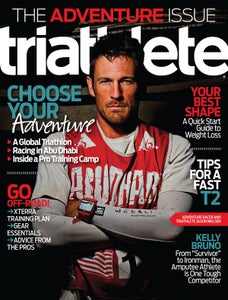 How do you train for an Xterra race? What latest gear do you need to survive the great outdoors? And what's the best way to lose weight? All of these questions and more are answered in the April issue of Triathlete.
Writer, adventure racer and ultrarunner Adam Chase took on the Abu Dhabi Adventure Challenge with triathlon great Sheila Taormina. Both came away with sage advice that can benefit any triathlete.
Your first off-road Xterra triathlon can be challenging— but life-altering. Triathlete Lesley Paterson presents an eight-week training program for tackling your first Xterra.
Speaking of adventure, Hillary Biscay left her teaching job and Ph.D. program to pursue her pro triathlon career. Before tackling numerous Ironmans, her training journey took her from Switzerland to Brazil to Thailand. We have her first-person account of this amazing journey.
Plus, we show you how to lose weight to train, introduce you to the first family of Everest and the only participant in the World Triathlon, as well as all our monthly advice on nutrition, swim, bike and run techniques, and access to the pros.