Industry Update: Inside Advanced Sports' Purchase of Oval Concepts
Heading out the door? Read this article on the new Outside+ app available now on iOS devices for members! Download the app.
Triathlete Magazine senior editor Jay Prasuhn caught up with Advanced Sports Brand Manager Steven Harad to discuss the thoughts behind the purchase, as well as what it means for the Kestrel, Fuji and Oval Concepts brands and their future in the triathlon industry.
Written by: Jay Prasuhn
Triathlete: What is Kestrel/Fuji's interest in purchasing Oval Concepts?
Harad: Oval has been on our radar for some time.  Although we currently sell parts and accessories from Fuji, Kestrel, SE, and Breezer, Oval provides us with a unique brand of parts that reaches consumers that our current offerings don't reach. Oval products will be used on our Fuji, Kestrel, Breezer, and Terry Bicycles.  Oval also provides us with a very strong parts brand that is well established in the market both in the United States and abroad.
Triathlete: I'm sure much of the decision was based around the product. Can you speak to just what it is about Oval Concepts bars, as a product line?
Harad: The entire Oval Concepts line of bars, stems, and posts are very impressive.  Morgan Nicol has spent a lot of his time developing the line.  The bars are quite impressive.  There is no one who can't be fit on an Oval Bar. We have more adjustments than any bar on the market and with the Jetstream technology.  We also believe its the fastest.  From basic clip on bars to the custom 921 bar, I have to say we hit both the time trial and the Triathlon market quite well.
Triathlete: Will Morgan Nicol, the founder of Oval Concepts, have continued involvement or share?
Harad: We will use Morgan's expertise, as well as our own engineers', as we develop more projects. He is currently consulting with us as we transition as well as doing his own thing.  Morgan is also looking to consult with other companies, not just Oval Concepts.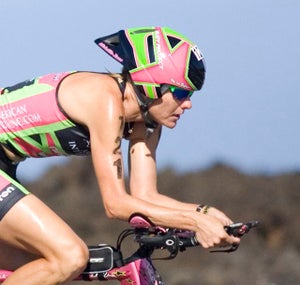 Triathlete: Will many of the signature athletes like Michellie Jones still be representing the brand, despite her own bike affiliations? Who are the athletes that will retain product sponsorship?
Harad: Absolutely. Michellie is great and I had a chance to speak with her about the plans. She simply said she loves the bars and wouldn't want to use anything else. We also are working with Dede Greisbauer who races for Kestrel and currently uses Oval bars and stem.  We are also putting contracts out to Cait Snow, Virginia Berasategui, Sandra Wallenhorst, and a few others.  On the road side, we expect to be in the Tour this year with Footon Servetto Fuji.  I'm really excited to have this level of commitment from some top athletes and teams as we move forward with Oval.
Triathlete: Will there be any new signings of athletes you have existing relationships through via Kestrel and Fuji Bicycles?
Harad: Yes. Of course our first athletes we approached are our Kestrel and Fuji athletes.  We are in talks with a few of them and expect to make some announcements soon. I expect to have another tall guy out there with me representing Oval Concepts if that's a hint for you!
Triathlete: Do you feel like bringing your staff in on the sales side can help grow the brand, and what are some of the things you're looking at to help grow the brand, from a presentation and distribution standpoint?
Harad: Morgan and his wife Simona have done an excellent job taking Oval Concepts to where it is today.  Advanced Sports is a much larger company with a sales and marketing team that will help take Oval Concepts to the next level.  We will continue the current distribution in the United States and sell exclusively through Quality Bicycles, BTI, and Hawley.  Our ASI sales team will support the brand but we will not change the distribution. We will simply support the brand by showing it to more dealers.  We also have a great list of international distributors in place thanks to Morgan's hard work.  Oval Concepts is well represented in many countries and we also plan on expanding into countries where the ASI brands are already selling.
Triathlete: Will pricing be the same?
Harad: Pricing really shouldn't be affected.  Our goal is to stay competitive in the marketplace and continue to expand the product line.  We are already working on many additional products to support the current line and we expect to debut them at Eurobike and Interbike for 2011 production.
Triathlete: When might we see Oval spec'd on the Kestrel and Fuji bikes?
Harad: 2011 will be the first time Oval will be spec'd on Kestrel, Fuji, Breezer and Terry Bicycles.  We were just in Taiwan working on our 2011 spec and had the opportunity to work out the details on what Oval products fit on specific bikes.