Hugo, Wasle Win Xterra South Africa Championship
Dan Hugo and Carina Wasle open the season with victories at today's Xterra South Africa Championship.
Heading out the door? Read this article on the new Outside+ app available now on iOS devices for members! Download the app.
South Africa's Dan Hugo and Austria's Carina Wasle open the season with victories at today's Xterra South Africa Championship.
Men's Recap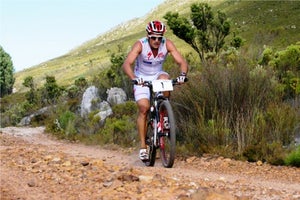 There's no place like home for Xterra star Dan Hugo as the 25-year-old won the eighth running of the Xterra South Africa Championship at the Grabouw Country Club in the Western Province for the third time in four years today.
Hugo, who's hometown of Stellebosch is less than an hour away from the course, finished the 1.5km swim, 25km mountain bike and 10km trail run in 2:15:30 – nearly four minutes ahead of runner-up Kent Horner.
Hugo, who picked up his first Xterra championship win in Grabouw in 2008, also won here last year. The sports rising star now has six championships to his credit, including three on his home course, plus Xterra A Mexico and Brazil championships last year, and the Xterra Northwest Cup in Idaho in 2009.
Hugo's biggest challenger on the day, four-time Xterra World Champion Conrad Stoltz, pulled early due to illness. Stoltz spent much of the last few weeks laying low with bronchitis. "Besides feeling very disappointed, Conrad is doing fine and in good spirits," said Xterra SA communications director Jacky McClean.
According to Hugo, winning on home ground in the company of family and friends is an awesome experience. "Today's event drew an epic crowed. I had a good swim, exiting the water a head of Conrad Stoltz. I pushed hard to ensure a smooth transition onto the mountain bike discipline, knowing that it wouldn't be long before Conrad closed in. I was saddened by the news of Conrad having to withdraw from the race due to illness, but that is the nature of the sport. I no longer had to push myself to the limit and just maintained a steady pace. The run discipline was great. Being welcomed home by the largest crowed that Xterra Grabouw has ever attracted was just a memorable experience," said Hugo.
For the second straight year Kent Horner came in second, and Nico Pfitzenmaier from Germany finished third.
Women's Recap
In the women's race, Austrian Xterra standout Carina "Ini" Wasle won the Xterra South Africa Championship for the second time in three years, having also won in 2009. The victory marked a terrific start to an early season Xterra World Tour adventure that will take her to the inaugural Xterra Philippines Championship next week, and the Xterra Saipan Championship the week after.
Wasle now has seven Xterra championship wins to her credit since winning her first of three Xterra Germany titles back in 2005 (she also has two Xterra Czech Championships).
"I had a very good race today," said Wasle. "After a great swim, I exited the water in second place behind Carla van Huyssteen. Managing to catch her within the first 5km of the mountain bike discipline, I kept a steady pace and basically lead until the finish. I enjoyed the run discipline the most as it included a lot of up-hill running. The DUESOUTH XTERRA Grabouw is one of my favourite events. It features extremely beautiful landscapes, while the people are really friendly. I am definitely going to try my best to be back next year."
For the second straight year Michelle Lombardi came in second, while Carla van Huyssteen finished third.
Xterra South Africa Championship
Grabouw Country Club, Western Cape, South Africa – Feb. 26, 2011
1.5km swim, 25km mountain bike, 10km trail run
Men
1. Dan Hugo (RSA) 2:15:30
2. Kent Horner (RSA) 2:19:22
3. Nico Pfitzenmaier (GER) 2:22:13
4. Lieuwe Boonstra (RSA) 2:26:31
5. Justin Porteous (RSA) 2:26:34
Women
1. Carina Wasle (AUT) 2:41:47
2. Michelle Lombardi (RSA) 2:44:59
3. Carla Van Huyssteen (RSA) 2:46:55
4. Susan Sloan (RSA) 2:50:57
5. Tanya Rabie (RSA) 3:05:53
Race recap provided by Xterra.