Gambles, Kaye Capture Inaugural Amica Championship
Heading out the door? Read this article on the new Outside+ app available now on iOS devices for members! Download the app.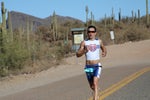 Joe Gambles and Alicia Kaye became the first-ever winners of the Amica Championship. The inaugural Amica Championship, a sprint triathlon, debuted this morning under picture perfect skies at Lake Pleasant Park, Arizona.
Gambles of Boulder, CO, finished the half-mile swim, 17-mile bike and 5k run in a winning time of 1:06:04.7.
Gambles, 27, entered the Amica Championship in an effort to get a sprint distance under his belt before he competes in the 2009 Ironman 70.3 World Championships in Clearwater, FL in two weeks. Gambles won two Ironman 70.3 events this summer. The Australian native captured both the Lake Stevens Ironman 70.3 and Vineman Ironman 70.3 and set course records in each race. He won Lake Stevens in 3 hours, 56 minutes and took the title at Vineman in a record-setting 3 hours, 49 minutes.
He was pleased with his performance today.
"I had a great summer and have been training really hard for Clearwater. My goal is to podium there. I needed to get a sprint (triathlon) in before Clearwater," said Gambles. "This was a great course – scenic and challenging. I pushed hard out there today. There was a lot of good competition here. The swim was great. When I came out of the water, I could see the other (top pros) just ahead of me."
He took over the lead three miles into the bike and never looked back. He was in command the remainder of the race, finishing two minutes and 24 seconds ahead of runner-up Kevin Collington (1:08:28.7).
"It was a great race," said Collington, 25. "I felt strong coming out of the water. When Joe came by me on the bike (mile three), I worked as hard as I could, but he's so strong I couldn't catch him."
California's Chris Foster, 27, placed third in the Men's Pro Division with a time of 1:08:41.1.
Alicia Kaye, 26, was the first female to cross the finish line at Lake Pleasant Park this morning. Kaye became the top female at today's Amica Championship with her winning time of 1:16.34.
"I came in here with the goal of winning. This was a super hard race and the competition was really good. I wanted to compete in a high pressure," said Kaye of Maynard, MA. "I just kept chasing the boys (male pros) out there the best I could. I was really pleased today."
Kaye said the course, which featured a big hill on the bike course, was extremely challenging.
"The race was tough, but really well organized. I felt safe and when you feel safe on the course, you are able to focus," said Kaye. "This race is only going to grow from here. The course was beautiful. The backdrop is stunning."
Malaika Homo, 31, was the runner-up in the women's pro division. Homo, Salt Lake City, Utah, finished in 1:18:39.7.  Kaye's training partner, Amanda Felder, was third (1:19:07.5).
A mix of professionals, amateurs and first-time competitors were among the hundreds of triathletes who competed at the inaugural Amica Championship at Lake Pleasant Park.
Today's Amica Championship was the culmination of the inaugural Amica Triathlon Series, a sprint distance series of events held throughout the country. This new national sprint triathlon series, which featured seven races, debuted in the spring with the Amica TexasMan Triathlon in Dallas, TX. Additional events were held throughout the spring and summer in Boulder (CO), Nashville (TN), Charlotte (NC), Portland (OR), Niantic (CT) and Las Vegas (NV).
The overall male and female winners at each Amica Tri Series event were each granted a complimentary entry to the 2009 Amica Championship. In addition, the top 10 finishers in each age group at the events received invitations to compete in today's event.
Race recap provided by Amica Championship.