Excitement Builds For Saturday's XTERRA USA Championship
Saturday's Xterra USA Championship features several intriguing story lines. Perhaps most notable is the return of seven-time Tour de France winner Lance Armstrong to triathlon.
Heading out the door? Read this article on the new Outside+ app available now on iOS devices for members! Download the app.
Saturday's Xterra USA Championship features several intriguing story lines. Perhaps most notable is the return of seven-time Tour de France winner Lance Armstrong to triathlon.
See the complete race preview, provided by Xterra, below:

Men's Preview
Can Lance run? Will DeBoom stay close enough on the bike? Is there enough technical riding and running to bring out the best in the Caveman? Could this be the race that makes Josiah a household name? Perhaps the Frenchman will peak at just the right time? Maybe Seth will have the magic day? Or is this the race Hugo busts out of the shadow of his mentor and becomes the champion?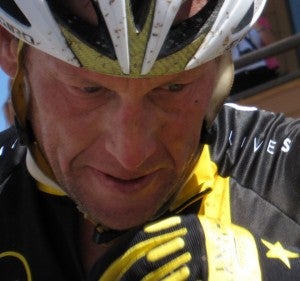 Thank goodness races aren't decided on paper, as the questions on "who can do what?" at this year's Xterra USA Championship are simply too difficult to answer. One thing is for certain, a pair of 40-year-old Xterra rookies, Lance Armstrong and Tim DeBoom, ignited a firestorm of interest into what was already off-triathlon's national treasure.
The other wildcard is a brand new 7+ mile Sardine Peak Trail that extends the mountain bike course to one of the Wasatch Range's most visible peaks at 7,300-feet. The 360-degree views that span from east to west are nothing short of breathtaking.
Combine more than 1,000 of the world's best athletes with one of the nation's best courses, perfect weather, and a community brimming with excitement and support and you have all the right ingredients for an intense showdown at Snowbasin Resort near Ogden, Utah. Yet, intense isn't the right descriptor – fun is.
"More than a decade ago I saw a picture of Steve Larsen running his bike through a creek in Richmond, Virginia and said 'wow', that looks like fun, so I applied my fitness to Xterra and I really enjoy it," said defending USA Champ Conrad "the Caveman" Stoltz, who is shooting for Xterra U.S. Pro Series title number nine on Saturday. "I think that's the same thing that draws Lance Armstrong here. I presume he's coming here to have fun and enjoy."
It's most certainly the reason Tim DeBoom is here. "Oh yeah, the fun factor, and you know it's for real when you see a guy like Conrad stick around the sport for 10 years," said the two-time Ironman world champ who is making his Xterra debut on Saturday.
Indeed, the overwhelming majority of the men's pro field have been in the mix for years, and it may be that experience – the time put in on racing against each other and at high speeds and on this mountain – that will make all the difference. The humble and soft spoken Josiah Middaugh, a true mountain man of all season and the six-time Xterra national champ, is certainly hoping so.
Women's Preview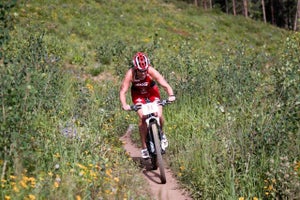 On the surface it seems that this is Melanie McQuaid's race. She's won here the last three years, is in great shape, confident and determined.
Lesley Paterson, however, has progression on her side. She was fourth here in Utah in 2008, third in 2009, and second last year.
"It suits me no doubt, lots of climbing, not too technical, and I race well at altitude," said the fiery Scottish triathlete, who is also a film producer and writer. "This is my year to win it maybe, who knows!"
Perhaps, but what if a miracle happens, and the reigning Xterra world champ Shonny Vanlandingham is able to overcome the aches and pains associated with a torn anterior cruciate ligament in her left knee?
"I tore my ACL five weeks ago, 90% off the femur," said Vanlandingham, who has a custom brace that will do its best to keep her from further injuring the knee. "I really just want to finish the race, and don't have the same expectations of winning as I did five weeks ago but I'm an athlete, I love to compete, and I am a woman of faith. And, I do believe in miracles so it's not totally out of my mind that I could win this race. I do believe it's possible."
Vanlandingham has surgery scheduled on Oct. 7, so she won't be able to race the Xterra World Championship in Maui, but she will attend to support her fellow athletes and the sport.
While those are the premier three in the women's race, the field is stacked and deep. Watch out for Kelley Cullen – a mountain biker with mountain credentials – and Sara Tarkington, who is another great climber. Emma Garrard from nearby Park City has had a great season, as has Canadians Danelle Kabush and Christine Jeffrey, who will lead them all out of the water.
Everywhere you turn there is a pro contender here in Utah, and they are all wearing smiles and having fun. Only two, however, can ultimately walk away with the biggest grin – and the title of Xterra USA Champion. Who will they be?
Check back Saturday for a complete race report and photo gallery of the race from Ogden, Utah.
Related Content:
Photos: Lance Armstrong's Gary Fisher Super Fly Elite 29er
The Caveman Looks Forward To Xterra USA, Racing Lance Armstrong
Lance Armstrong Confirms Xterra Race Plans