Endurance Sports Company To Be Featured On ABC's "Shark Tank"
The Clean Bottle will be featured on ABC's "Shark Tank" this Friday, Jan. 20 from 8:00-9:00 p.m.
Heading out the door? Read this article on the new Outside+ app available now on iOS devices for members! Download the app.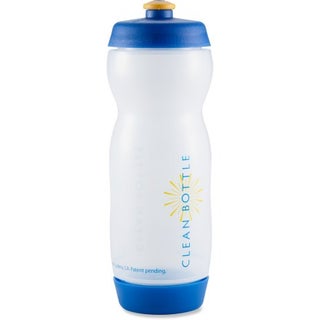 The Clean Bottle will be featured on ABC's "Shark Tank" this Friday, Jan. 20 from 8:00-9:00 p.m, with NBA legend Bill Walton supporting Clean Bottle's pitch to the "Sharks".

See the press release below:
Clean Bottle, the revolutionary water bottle that unscrews at both ends foreasy cleaning, will be featured on the Season Premier of ABC's Shark Tank. In this episode, Clean Bottle owner David Mayer teams up with his biggest supporter, NBA Champion and sports commentator, Bill Walton, to impress the panel of judges as he pitches the Clean Bottle. The season premiere of "Shark Tank" airs Friday, Jan. 20, 2012 (8:00-9:00 p.m.) on the ABC Television Network.
Clean Bottle was designed by David Mayer, an Ironman triathlete and Stanford graduate from Silicon Valley, California. Mayer had the idea for Clean Bottle after constantly struggling to clean out the gunk and mold from the bottom of his water bottle. "As an athlete I was always using water bottles, but they were impossible to clean," said Mayer. "One day while I was on a bike ride the idea hit me – if I could unscrew the bottom as well as the top, then the bottle would be much easier to keep clean."
Working from his garage and entirely self-funded with limited resources, Mayer has paved Clean Bottle's path to success through unique and sometimes wacky grass roots marketing. In the summer of 2010, Mayer made his first trek to the legendary Tour de France, where "Bottle Boy" was launched. Dressed head to toe as a giant Clean Bottle, he chased riders up the toughest climbs of the race, snagging valuable TV air time and visibility. "The intent was to just go out and have some fun and generate a bit of awareness, but I ended up selling over $70,000 in Clean Bottles overthose 2 weeks," says Mayer. As a result of word of mouth, additional grassroots efforts and aggressive social media, Clean Bottle can now be found in over 4,000 retail stores and major distributors throughout the US and Europe including REI, Performance Bicycle, Dicks, 24 Hour Fitness, Sports Chalet and GNC.
"I love my bike. I live to ride, and I ride to live," says Walton. "The Clean Bottle is a dream come true in so many ways, none more important than the dynamic and visionary entrepreneur Dave Mayer, who embodies all the attributes in life that I admire. Dave and his Clean Bottle have changed my life and the world for the better. What a genius, what a product. I am lucky to know him, proud to use his remarkable product, and privileged to be riding the Clean Bottle tsunami. Throw it Down, Big Man!"
Ever the environmentalist, Mayer and Clean Bottle donate 10% of proceeds to eco and cycling friendly charitable organizations including Water.org, Challenged Athletes Foundation and the Nature Conservancy. "Clean Bottle isn't just a career for me, it's a cause. I want to give back a portion of profits to charities and organizations that I am passionate about," says Mayer.