Dibens, Llanos To Return To Abu Dhabi To Defend 2010 Titles
Spain's Eneko Llanos and Great Britain's Julie Dibens, the champions of the inaugural Abu Dhabi International Triathlon, will defend their men's and women's crowns in the race's second running on March 12, 2011.
Heading out the door? Read this article on the new Outside+ app available now on iOS devices for members! Download the app.
Spain's Eneko Llanos and Great Britain's Julie Dibens, the champions of the inaugural Abu Dhabi International Triathlon, will defend their men's and women's crowns in the race's second running on March 12, 2011. The 2010 race was named one of our top 10 moments of 2010.
See the press release below: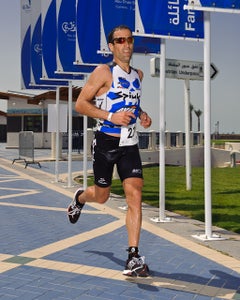 With general participation numbers for the event's second edition having already smashed the 1,100 mark – eclipsing last year's figure of 800 entries with three months to go – Llanos and Dibens head an impressive field of 45 world elite racers now confirmed for the Abu Dhabi city start-line.
Buoyed by knowledge of how best to clinch victory in the emirate, the defending champions have welcomed the challenge of testing their individual mettles against an even tougher field as they bid for the lion's share of the Abu Dhabi Tourism Authority (ADTA) organised triathlon's US$250,000 prize purse.
After beating a host of world favourites to win the 223kms 'pure power' race in a combined time of 6:34:37 last year, Llanos, who came from behind to edge Luxembourg's Dirk Bockel by nearly a minute, revealed that a dedicated winter training programme has him in perfect shape for a fresh Abu Dhabi assault.
"I always feel very strong at the beginning of the season, I get in shape quite easily and the race in 2010 was demonstration of that," said the 35-year-old Spaniard, who finished seventh in October's 2010 Ironman World Championship, the sport's pinnacle competition. "I'm sure I will be strong again this year and, although I expect tougher competition, I am hopeful that I will retain my Abu Dhabi title.
"The course and distances really set this event apart and I believe it will only continue to grow in stature as a must-win race. As a season opening event, it manages the right blend of difficulty, competition and experience to make it both enjoyable and challenging. Also, the fact that the course runs through some great landmarks such as the Grand Prix circuit certainly makes it one of the more memorable races of the year."
Traditional short-course expert Dibens, from Salisbury in south England, clinched her first major long distance win in Abu Dhabi with an emphatic wire-to-wire performance. The 35-year old, who represented Great Britain in the 2004 Olympics, is eager to repeat the feat in an event dubbed an 'instant classic' by the world's media.
"The Abu Dhabi event has become one of the world's premier races in such a short time and I look forward to defending my title in 2011. The female field is shaping up to be one of the best in 2011 so I know competition is going to be fierce. Last year I truly pushed through my own personal barriers to win, which helped define the rest of my season. Now I know what to expect, I'll be better prepared for the conditions and course," said Dibens, an Ironman 70.3 and Xterra Triathlon World Champion and a world record holder in the 70.3 distance.
"To see the overall field increase so significantly this year is a great boost for the sport and with its warm temperatures, crystal clear waters and great hospitality, I would not be surprised to see more people using the emirate as a training base throughout the winter as they prepare for this event."
Building on the outstanding success of the inaugural Abu Dhabi International Triathlon, organizers are seeking to attract more than 1,500 international athletes for the second edition, virtually doubling the field.
To date, more than 1,100 athletes representing 48 countries have signed up, with the race's international billing supported by first time representation from Brazil, the Channel Islands, China, Denmark, Greece, Ireland, Kazakhstan, Malaysia, Norway, Oman, Pakistan, Peru, Philippines, Portugal, Slovenia, Turkey, Taiwan and Vietnam.
"To have Eneko and Julie back on the start-line for 2011 throws down the gauntlet to all the other athletes – this will be a very difficult race to win," said Faisal Al Sheikh, Events Manager, ADTA. "In just over a year, the Abu Dhabi International Triathlon has established itself as a benchmark event and a deserving host of the season-opening round. Strong showing here can serve as catalysts for the rest of an athlete's season. Julie and Elanos are testament to that.
"Equally important is the global appeal this event now commands. Sign-up for our second race has been extremely encouraging and adding so many new countries to the participation list is a telling gauge of how the event's popularity is spreading locally and internationally."
Regarded as an 'instant classic', the debut Abu Dhabi International Triathlon found immediate appeal with professionals and amateurs alike thanks to its specialised format, with a finishing running leg shorter than typical Ironman events, allowing athletes to recover faster and compete more often.
In addition, a city-wide course that weaved through many of the emirate's iconic landmarks also struck a chord with racers, blending lung-bursting performance athletics with stunning vistas. This year the course again boasts an eye-catching route, including a cycle sprint around the stunning Yas Marina Circuit, home of the 2010 Formula 1™ Etihad Airways Abu Dhabi Grand Prix.
This year's event will be raced across three lengths. Professionals will contest a 3km swim, a 200km cycle and 20km closing run. The shorter version, at half the length, has a 1.5km swim, a 100km cycle and a 10km run, with both courses eligible for a share of the $250,000 prize purse.
Finally, for the 2011 edition, ADTA has also launched a unique 'sprint' distance as an entry platform for aspiring athletes. Comprising a 750m swim, 50km bike and 5km run, the new 'sprint' course is aimed at boosting uptake from novice racers across the Arabian Gulf and can be raced as an individual or as a team.