Dextro Energy World Championship Series Kitzbühel Preview
Chris McCormack's return to the ITU and a strong contingent of racers should make this weekend's Kitzbühel race one for the ages.
Heading out the door? Read this article on the new Outside+ app available now on iOS devices for members! Download the app.
Although there are some big names who are noticeably absent from the ITU's Dextro Energy World Championship Series race in Kitzbühel, Austria, this weekend, the race—and Australia's Chris McCormack—still promises to offer fans plenty of drama. Click here to learn how you can watch the race.
Men
As we've all heard by now, Kitzbühel will serve as reigning Ironman world champion Chris McCormack's return to the ITU. The 1997 ITU short-course world champion announced earlier this year that he would forgo defending his title in Kona to attempt to qualify for the 2012 London Olympics for Australia.
McCormack, who won iron-distance race Challenge Cairns less than two weeks ago, has made it clear that he's under no illusions that he will contend for the title this weekend.
"It's quite interesting to be going into a race with a different mindset. Most of the time, I think, 'I want to kill these guys. I want to win.' But now I just need to beat as many guys as I possibly can," McCormack told Inside Triathlon back in April.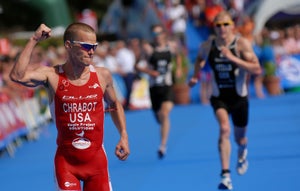 Kitzbühel is known to be one of the more cyclist-friendly races on the ITU circuit, and last year Great Britain's Stuart Hayes won the race by making a break on the bike with three other athletes, including Americans Matt Chrabot and Greg Bennett, who are both racing this weekend. It was the first World Championship Series win in Hayes' career, and Chrabot's fourth-place showing was the best for an American in 2010.
Hayes and other strong cyclists, including Great Britain's Alistair Brownlee, will likely look to duplicate last year's winning strategy.
Brownlee, who won the most recent World Championship Series event, in Madrid, will look to recapture his Kitzbühel title. Last year, Brownlee came in 40th in Kitzbühel after winning it in 2009, as he was still recovering from an illness that famously made him collapse at the ITU's 2010 London race.
Other racers to look out for include Australians Courtney Atkinson and Brad Kahlefeldt, Brits Tim Don and Will Clarke, New Zealand's Bevan Docherty, Canada's Simon Whitfield, Switzerland's Sven Riederer, and France's David Hauss, all of whom are among the many podium contenders this weekend.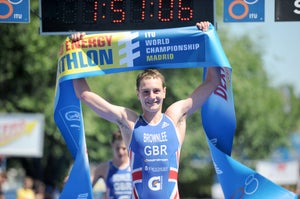 Noticeably absent from the men's field is Javier Gomez—the defending short-course world champion and current world No. 1 is preparing for the European Championships, to be held in his hometown of Pontevedra, Spain, on June 25—and current world No. 2, Great Britain's Jonathan Brownlee, who has earned the silver at both World Championship Series events this year.
Defending Olympic champion Jan Frodeno of Germany and breakout Australian star Brendan Sexton will also skip Kitzbühel this year.
Women
So far, the 2011 women's World Championship Series has been the Paula Findlay show.
This weekend, Findlay, who is from Canada, will look to defend her title in Kitzbühel as well as break 2010 short-course world champion Emma Moffatt's record for most World Championship Series wins.
Right now, Findlay is tied with Australia's Moffatt with four. But unlike Moffatt, it has only taken Findlay five tries to get her four wins.
Despite Findlay's recent success, she remains surprised after every victory.
"I still feel like an underdog every time I come into these races, and I am still star struck by seeing the Emmas [Emma Moffatt and Emma Snowsill] and everyone, so it's just amazing to be winning. I'm very happy," Findlay told the ITU after her victory in Madrid.
There will be a strong contingent of American women in Kitzbühel this weekend.
Sarah Haskins, a 2008 silver medalist at the short-course world championships, will make her 2011 World Championship Series debut in Kitzbühel. Haskins won the first World Cup of her career earlier this year in Monterrey, Mexico, and is coming off of wins at St. Anthony's Triathlon in St. Petersburg, Fla., and the Capitol of Texas Triathlon in Austin, Texas.
Americans Laura Bennett and Sarah Groff will look to better their top 10 finishes in Madrid two weeks ago, when Groff came in seventh and Bennett came in eighth. And Jillian Petersen will look to better her 39th-place showing.
Other athletes who are among the many podium contenders include 2008 short-course world champion Helen Jenkins of Great Britain, Chile's Barbara Riveros Diaz, 2011 Escape from Alcatraz winner Nicky Samuels of New Zealand, and former world No. 1 Felicity Abram of Australia.
Reigning Olympic champion Emma Snowsill of Australia, who has struggled this season with a 42nd-place showing in Sydney and a 21st-place in Madrid, will skip Kitzbühel this year.