Chicago Tri Q&A With Laurel And Rebeccah Wassner
Triathlete.com took an opportunity to sit down with Rebeccah and Laurel Wassner the day before the Lifetime Chicago Triathlon.
Heading out the door? Read this article on the new Outside+ app available now on iOS devices for members! Download the app.
Triathlete.com took an opportunity to sit down with Rebeccah and Laurel Wassner the day before the Lifetime Chicago Triathlon. The twins both continue to improve and excel at the Olympic distance, with their most recent success coming with one, two finishes at the New York City Triathlon. We chatted with the pair about dealing with injuries, life in New York City and what it would take to beat fellow American Sarah Haskins at a race like tomorrow's Chicago Tri.
Triathlete.com: Rebeccah, you've had a rough year with injuries. Can you walk me through your season so far?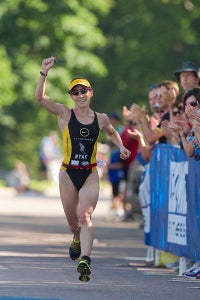 Rebeccah: My season got off to a pretty late start. This is only my third race this year. I've been injured since last year's LA Triathlon in October. For most of the year, the focus has been just working up to being able to run again. Until about May, running was not even an option. Around June, I began the process of being able to run again, not with the goal of running fast, but just to be able to run at all. Luckily, I was able to get through two 10ks back to back at Lifetime and NYC, which were both my longest runs of the year. Since then, I've been gearing up to do real run workouts again, and things are getting there. It takes time though and for now I'm content to chase Laurel around the trails. She's been running fast this year so, I know If I can be with her for a sprint finish at the end of a 10 mile run, then I'm making progress.
Triathlete.com: Is there any sense that maybe you're fresher because you've done very little hard training and racing to this point in the season?
Rebeccah: I hadn't been able to run until after the Philadelphia Triathlon. After that I started to be able to run more than a half hour at a time. I haven't been able to do what I would call real workouts. I've been able to do some tempo workouts, but not the kind of thing where I know I'm in great shape and be able to run 5:20/mile pace. Now that it's the end of the season and it's getting towards championship season, I feel like I'm just getting into that.
Triathlete.com: Can you talk about the experience of finishing first and second at the New York City Triathlon?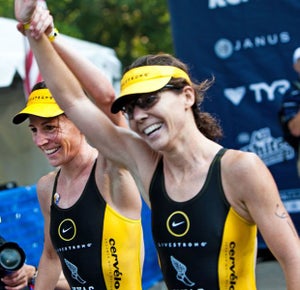 Rebeccah: It was a huge thrill for us. Last year I won and thought 'what could be better?' And this year's win was even better because we were both on the podium.
Laurel: All I wanted to do was get third to make the podium. To get first and second was amazing. When I got into the second position I thought 'wow, this is actually happening.' People always said to us that we could be the first two finishers, but I wasn't sure if I was up to that level. But, it happened and it was a great experience.
Triathlete.com: Laurel, it seems like you've shown steady improvement over the last couple of years. How do you feel about where you're at right now?
Laurel: I'm definitely in the best shape I have been in my short triathlon career. I got some great training in Tucson in the winter this year. That was the first year I really trained during the winter and it helped. I've gotten experience from being a pro now for three years. I've also realized the importance of the bike. I knew that if I could just cut a couple of minutes off of my bike time I could be competitive with everyone else, and hopefully that will show at tomorrow's race. Just being able to be in the race in the later stages has helped me to at least have a chance.
Triathlete.com: You both choose to live and train in New York City. How does that work?
Rebeccah: It's hard, but I have a house upstate. When we get sick of the city we can do all of the training we want up there. It's a great place to train. It's almost a little secret that no one else knows about. We have great people to train with. It's close enough to the city that we have all of the benefits of being in a large city, but we get to train in the mountains.
Laurel: We're able to have a balance. If I lived in Boulder or somewhere else where I was surrounded by triathletes, I'm not sure if I could make it. We do get to go to training camps in other parts of the country during the winter, which is nice.
Rebeccah: We also have a lot of family in the New York City area, so having that support is nice.
Triathlete.com: Rebeccah, you are very competitive in the Olympic distance. Do you have any desire to try to qualify for the Olympics?
Rebeccah: I did a lot of the ITU races with USA Triathlon and I never really took to it. As soon as I started doing non-drafting races, I realized that it is a different sport. You have to be good at swimming, biking and running. In ITU racing I sometimes feel like I'm running so fast, but am so far behind. It was a nice break to see my hard work pay off in non-drafting racing. That said, with the 2012 Olympics coming up I feel like I have to go back and try. It's going to be very difficult for me to get back into because I don't have any ITU points. It is the Olympics and I feel like I have to do everything I can to try to get there. Both of us are going to try to do some ITU races at the end of this year.
Triathlete.com: What do you think it will take to beat Sarah Haskins in a race like the Chicago Triathlon?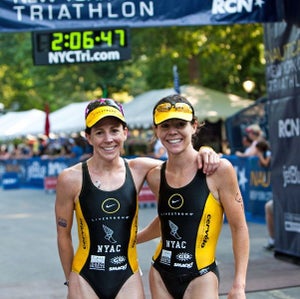 Rebeccah: She's a good friend of mine. We've trained together for years. The key to beating Sarah would be to be healthy with no injuries. She's one of the best all around triathletes in the world and a great person and competitor. To challenge someone like that, you have to be at the top of your game.
Triathlete.com: Laurel, you balance a job with your training schedule. What's that balance like?
Laurel: I'm a photographer and a photo editor. I worked in magazines for about ten years before I was a professional triathlete. Now I do freelance work. I actually had to miss out on the Lifetime Fitness Triathlon in Minneapolis this year because I had a job lined up. I was bummed about it, but in the end it worked out well because I got to sit on my butt that weekend and the New York City Triathlon was the following weekend. It's a balance. With a lot of races coming up, I'm taking a break from the freelance side. I'm hoping I'll be able to build my business in my off-season. I enjoy being able to have a creative outlet.