By the Numbers: 2023 Men's Ironman World Championships Nice
2,000+ age-groupers, 43 pros, 17 hours, and 1 epic challenge - we've got all the numbers behind this weekend's 2023 men's Ironman World Championship event in Nice, France.
Photo: Triathlete, Nigel Roddis/Getty Images
Heading out the door? Read this article on the new Outside+ app available now on iOS devices for members! Download the app.
On September 10, Nice, France will serve as host for the men's Ironman World Champs for the first time ever (the women will race in Kona on October 14 as part of Ironman's trial of a two-day, two location format). And while this French Riviera jewel is no stranger to triathlon (the city hosted its first long-distance triathlon in 1982), there will be plenty of newness in this epic event. Here's some of what to expect on Sunday.
Nice, France Weather
66 degrees F Average low in Nice on September 10.
82 degrees F Average high in Nice on September 10.
72 degrees F Average water temp of the Mediterranean Sea on race day.
0% Chance of rain in Nice on race day.
62% Predicted humidity on race morning.
6.3 mph Average daily wind speed in Nice on September 10.
68 degrees F Low in Nice on September 10, 2022.
81 degrees F High in Nice on September 10, 2022.
7:04 a.m. Expected sunrise in Nice on September 10.
Men's Ironman World Championships Nice Course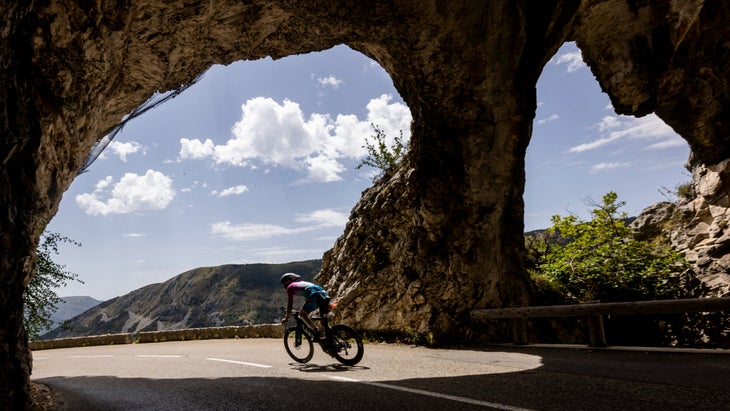 2 hours, 20 minutes Swim course cut-off.
6 turns in the double-rectangular 2.4-mile swim course.
46 minutes Expected time of the first pro swimmer in normal conditions.
1 loop in the 112-mile bike course.
7,963 feet Total elevation gain on the bike course.
4 hours, 30 minutes Minimum expected bike split from the fastest pro. 
10 hours, 50 minutes Bike course cut-off (time based on the start of the swim).
305 feet Total elevation gain on the 26.2-mile run.
4 loops complete the run course (each 6.5 miles long).
17 hours The current cut-off for total race time.
1 minute Required stop-and-wait time in the penalty tent for any non-drafting and littering violations, like blocking or using unauthorized equipment.
5 minutes Required wait time in the penalty tent for drafting and littering violations.
25 seconds The time a competitor is allowed to pass a cyclist (and avoid a drafting call) on the bike course.
Ironman World Championships Nice Men's Pro Race
6:50 am Time of the men's pro start (12:50 a.m. Eastern U.S. time; 9:50 a.m. Pacific).
$375,000 USD Professional prize purse distributed among the top 15 finishers, with the top three receiving $125,000, $65,000, and $45,000, respectively.
$3,000 USD The earnings for each 15th place pro, the final spot eligible for a cash prize.
43 Professional men on the 2023 start list.
7 French pro athletes on the start list—the most represented of any other country. (Germany and the US both follow with 5). 
0 Ironman World Championships won by a French athlete. (In 2022, Sam Laidlow became the first Frenchman to podium at the event with his second-place finish in Kona.) 
2 Returning world champions in the field: Germany's Jan Frodeno (winner in 2015, 2016, and 2019) and Patrick Lange (winner in 2017 and 2018).
42 Age of Frodeno, who, if he wins, will become the oldest Ironman world champion in history. 
2:30:27: Lange's marathon split from Challenge Roth in June, making him the favorite for the fastest runner in the field. 
Humans of the 2023 Men's Ironman World Championships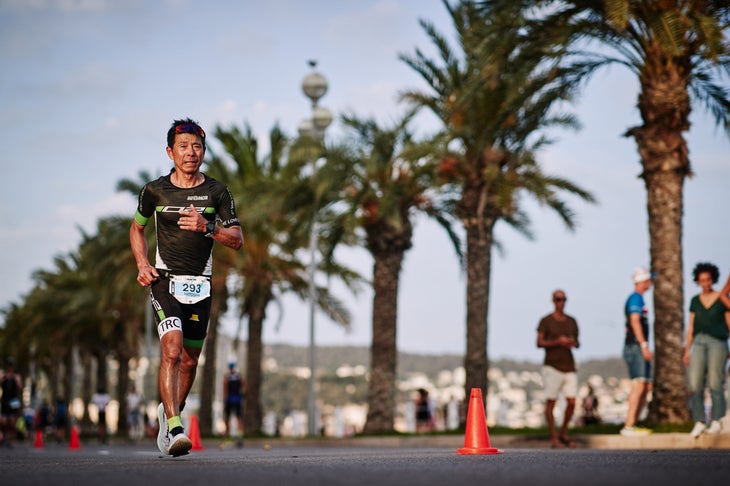 2,000-plus Athletes registered to compete.
10 years since age-grouper, cancer survivor, and Nice native Cyril del Pistoia received a life-saving bone marrow transplant. He'll compete in the 35-39 category.
16 Age when Oregon resident Michael Collins, son of Ironman founders John and Judy Collins, finished his first 140.6, in 1979. He'll compete in the 60-64 category in Nice.
79 Age of Japan's Ryuji Nakagawa, the oldest competitor in the field. 
18 Age of  Nicholas Catullo of McKinney, Texas, the youngest competitor in the field. 
4.0 GPA held by age-grouper and Georgia Tech engineering major Colin Wegner, who'll race in the 18-24 division.
8:41:11 2022 Ironman World Championships finishing time of China's Miao Hao, the fastest returning age-grouper in the men's field. 
1 World Championship already won this year by Physically Challenged athlete Jean Marie Buchot (the Frenchman, who lost his right arm in a cycling accident, took top honors in his division over the 70.3 distance in Lahti last month). He'll try to go two-for-two on Sunday.