5 Most Family-Friendly Races
Heading out the door? Read this article on the new Outside+ app available now on iOS devices for members! Download the app.
Sometimes you want your family to see you race. Sometimes your family wants to see you race. Whatever the circumstances, being a tri spectator isn't as easy as watching arena football, Ultimate Fighting, or anything else that involves more contact and takes less time. So you owe it to your support crew to choose races that allow sidekicks to have a little fun. The Rev3 Triathlon Series was launched last year in Middleburry, Conn., and redefined the meaning of "spectator-friendly." The race takes place at the Quassy Amusement Park, which opens its doors to family and friends of athletes on race day. While you suffer on one of the toughest half-iron courses in the Northeast, your loved ones get to enjoy some of the best coasters in the region.
Revolution3 Quassy
Location: Middlebury, Conn.
2010 Date: June 5-6
Distance: 1.2-mile swim, 56-mile bike, 13.1-mile run/1.5Kswim, 40K bike, 10K run
Website: Rev3tri.com
Best of the rest…
Magic Mountain Man
Location: Castaic Lake, Calif.
2010 Date: Oct. 10
Distance: 1.2-mile swim, 56-mile bike, 13.1-mile run
Website: Renegaderaceseries.com
Hy-Vee Triathlon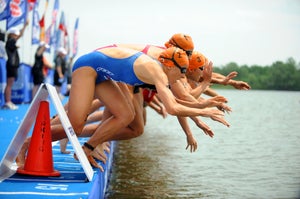 Location: West Des Moines, Iowa
2010 Date: June 13
Distance: 1.5K swim, 40K bike, 10K run
Website: Hy-veetriathlon.com
St. Anthony's Triathlon
Location: St. Petersburg, Fla.
2010 Date: April 25
Distance: 1.5K swim, 40K bike, 10K run
Website: Satriathlon.com
Musselman Triathlon
Location: Geneva, N.Y.
2010 Date: July 9-11
Distance: 1.2-mile swim, 56-mile bike, 13.1-mile run
Website: Musselmantri.com