2023 Nice Ironman World Championships: The Men's Contenders
Our up-to-date breakdown of the top contenders for the podium at this year's Ironman World Championships men's event in Nice.
Photo: Alexander Koerner/Getty Images, Daniel Karmann/picture alliance, Al Bello/Getty Images, Ezra Shaw/Getty Images
Heading out the door? Read this article on the new Outside+ app available now on iOS devices for members! Download the app.
Big races have deep fields, and few races are bigger than the Ironman World Championship. Just take a look at the start list for the men's pro race this weekend, and you'll find it nearly impossible to pick just one clear contender for the crown. With such talent lining up to battle for their share of the $375,000 prize purse, it's hard to draw the line between favorites for the win, contenders for a podium finish, and athletes who could snag a top 10 on a good day. Based on an athlete's previous results at big events, we look at four athletes with a good chance of winning in Nice on Sunday, September 10, and a few wildcards who could make their way onto the podium. 
Unfortunately, the race in Nice will be missing a few favorites worth noting: The winners of the last two Ironman World Championships, Kristian Blummenfelt (winner of the 2021 World Championship, held in St. George, Utah) and Gustav Iden (winner, Kona 2022), are focusing on the 2024 Olympic Games in Paris and short-course racing. Max Neumann, last year's fourth-place finisher, had a bike crash after winning the PTO European Open that turned out to be more serious than initially thought, and he couldn't build his form in time for the race.
Let's look at who could break the tape in Nice.
Vive la France! Visit our Nice Central hub for news, analysis, history, photo galleries, and so much more – new stories added daily from our team on the ground at the men's 2023 Ironman World Championship.
Men's 2023 Ironman World Championship Contenders
Section divider
Jan Frodeno
42 years old, Germany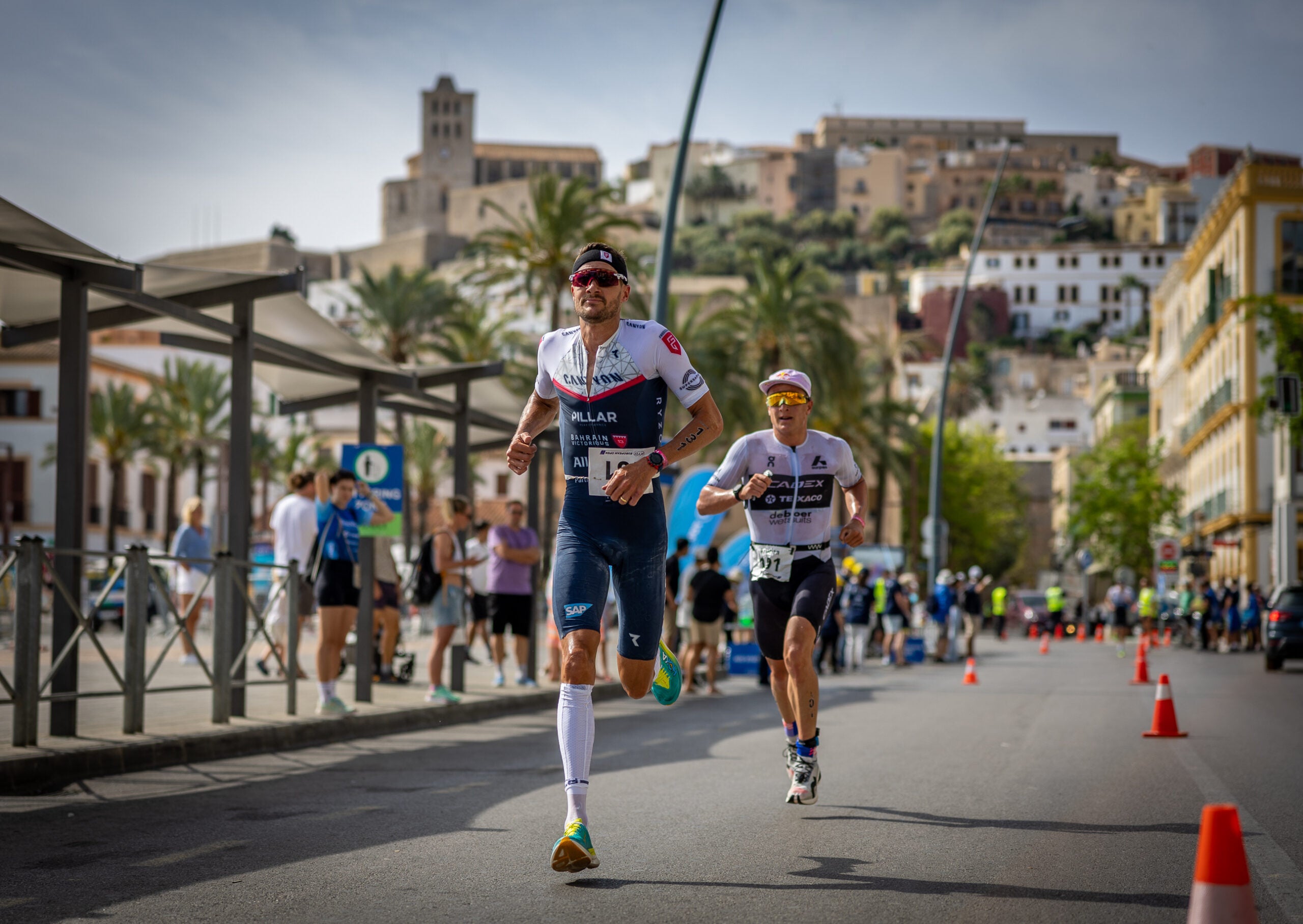 | | |
| --- | --- |
| Swim | ★★★★★ |
| Bike | ★★★★ |
| Run | ★★★★ |
| Overall | ★★★★★ |
| Winning odds | 20% (4 to 1) |
| Kona 2022 | DNS (injury) |
Who he is:
When Jan Frodeno won Kona 2019 with a new course record, it was widely accepted as one of the best-ever performances. It also added to his impressive palmares across all distances: Olympic gold medal at Beijing 2008, 70.3 World Champion in 2015 and 2018, and Kona Champion in 2015, 2016, and 2019. He also held the fastest iron-distance time at one point, with a 7:35 from Roth 2016 and a 7:27:53 at the 2021 Battle Royale exhibition.
Why he could win:
Frodeno doesn't really have a weakness – he can swim, bike, and run with almost anyone. In his Kona wins, he's always been among the lead contenders off the bike and then proved to be the strongest runner of them. His results in 2023 have shown that he can still race with the very best: After what was reportedly a very short preparation, he finished fourth at the PTO European Open on Ibiza in May, followed by another fourth at Ironman Hamburg. (In Hamburg, he and the rest of the lead group saw a deadly motorbike accident, limiting how much you can read into the results.) He was back at his best in August, winning the PTO U.S. Open in typical "Frodo fashion": He was just seconds off the lead in T2 and then outran other big names like Magnus Ditlev or Kristian Blummenfelt—faster than anyone within five minutes of him in T2.
Having decided that 2023 would be his last season, he made it clear that he was disappointed when Ironman announced in late 2022 that the 2023 men's World Championships wouldn't be held in Kona. Nonetheless, he says Nice 2023 will be his last pro triathlon – and he will want to close off his pro career with another big win.
Why he might not:
Obviously, the last three years with COVID and injury worries have put a big question mark on what Frodeno will be able to do in Nice. All he has to show for 2022 is a DNF early on the run at Challenge Roth. In addition, he's now 42 years old, and with a win in Nice he'd become the oldest Ironman world champion. Does he still have the overall best package, or will a strong biker such as Ditlev or a strong runner such as Lange take the Nice title?
Section divider
Magnus Ditlev
25 years old, Denmark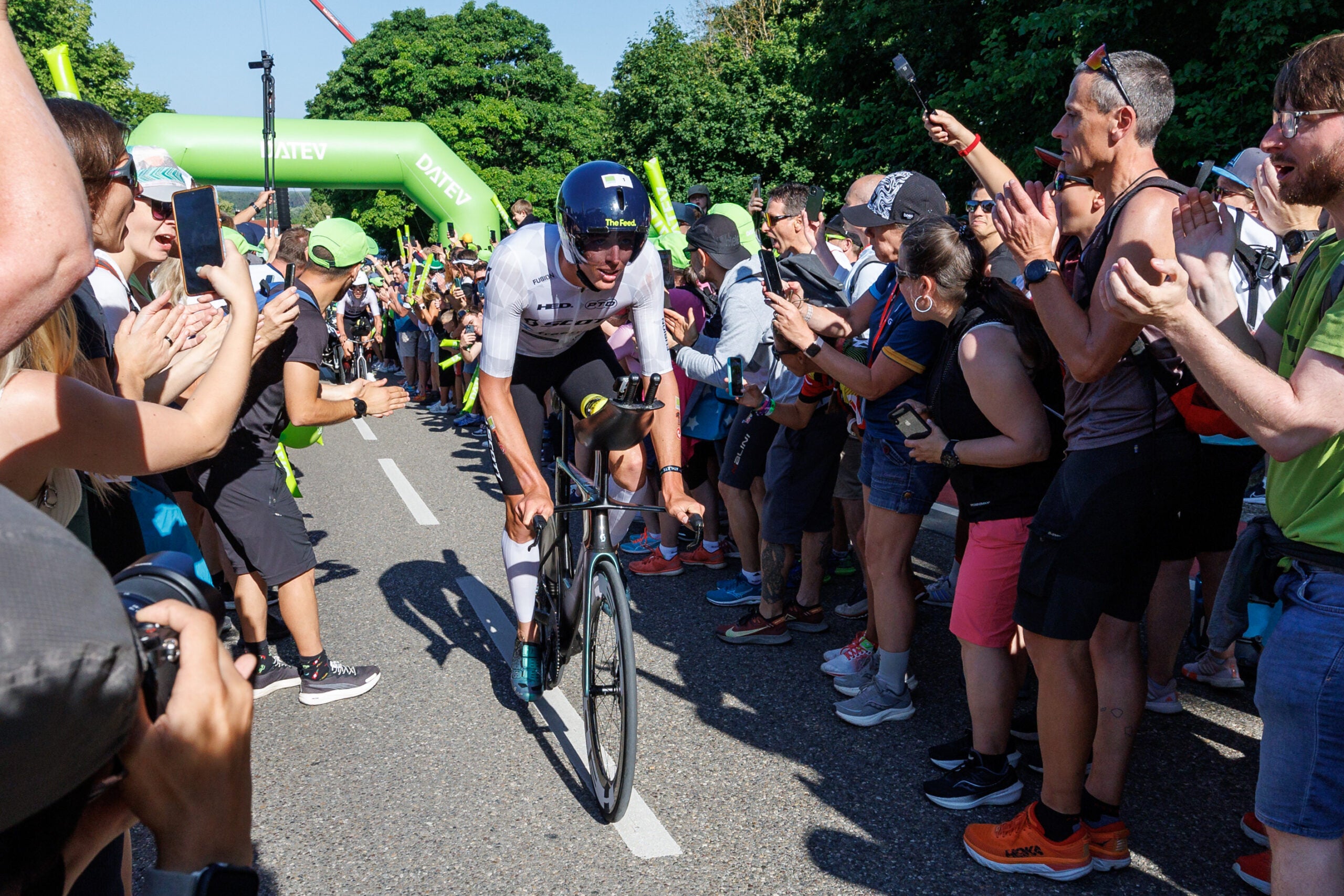 | | |
| --- | --- |
| Swim | ★★★ |
| Bike | ★★★★★ |
| Run | ★★★ |
| Overall | ★★★★★ |
| Winning odds | 20% (4 to 1) |
| Kona 2022 | 8th (after bike penalty) |
Who he is:
Magnus Ditlev is only 25 years old, but he has established himself as one of the best long-distance athletes. He won Challenge Roth in 2022 and 2023 against stellar fields, the latter by breaking the old course record (considered by some as the fastest time on the full distance) held by Jan Frodeno by a full ten minutes. Sebastian Kienle compared this record-setting performance to the moon landing – something people will still talk about ten or twenty years later.
Why he could win:
Ditlev was always one of the strongest athletes on the bike. Even though he is a towering 6 feet, 5 inches, he has a great aerodynamic position on the bike, and no one was able to match his power in Roth. The swim used to be a bit of a weakness, but he worked a lot on it over the winter with a dedicated stroke coach always on deck. The results are promising: In Roth, he was within seconds of other strong swimmers such as Sam Laidlow or Daniel Baekkegard. For Nice, the focus will be the likely duel between Ditlev and Frodeno: Can Ditlev ride away, and how much time might he put into Frodeno? With a 2:37 marathon in Roth, even a small lead into T2 would put him in a great position for his first World Championship title.
Why he might not:
Ditlev might have shown in Roth that he can race fast, but it's unlikely he can dominate in Nice in a similar way. Someone in the field might push the pace in the swim, and he may lose contact with the front group. The first climbs might create a new, smaller front group early, and Ditlev would need more time and extra energy to get to the front of the race. Also, the bike course in Nice is a different story than Kona or Roth, putting much higher demands on climbing and bike handling. How will he fare against lighter athletes in the climbs and those willing to take extra risks in the downhills? He will want to start the run a few minutes ahead of athletes who have run stronger in the past. He might end up in a similar position to Sam Laidlow last year who was caught just a few kilometers before the finish line.
Finally, the big question around Ditlev: Has he done too much in the first half of the year? He ran into issues in his last race before Nice, the PTO U.S. Open in Milwaukee, and had to pull the plug late on the run. Was that just a little bump in his Nice prep – or an indication that he's a bit battle-worn?
Section divider
Patrick Lange
37 years old, Germany
| | |
| --- | --- |
| Swim | ★★★★ |
| Bike | ★★★ |
| Run | ★★★★★ |
| Overall | ★★★★★ |
| Winning odds | 15% (6 to 1) |
| Kona 2022 | 10th (after bike penalty) |
Who he is:
Patrick Lange burst onto the long-distance triathlon scene in 2016 when he finished third in Kona, breaking Mark Allen's run course record. He won the Ironman World Championships in 2017 and 2018, both years catching stronger bikers in the marathon. He was also the first athlete to go sub-8 in Kona.
Why he could win:
Lange will be comfortable in the mountains on the Nice bike course: He lives in Salzburg in the Austrian Alps and regularly trains with Pro Tour riders. With his mountain bike background, he will also be able to handle the descents in Nice. His coach, Björn Geesmann, has a solid cycling background and knows how to get Patrick's biking to another level. We may have seen a small glimpse in Patrick's last pre-Nice test race when he won Allgäutriathlon, a smaller German race with significant climbing in the Alps, posting the second-best bike split against strong bikers.
In his best discipline, Lange was close to breaking the 2:30 barrier in the marathon in his last two races: In Israel he ran a 2:30:31 to win the race and in Roth a 2:30:27 to finish second behind Ditlev. He's made it clear that running sub-2:30 is a goal he's working toward.
Why he might not:
In addition to his strong run, Lange is typically also a front-pack swimmer. So clearly, his main challenge for a good result will be the bike leg. In Roth, he lost 12 minutes to Ditlev. Check the Nice tracker if Lange is falling back on the initial climb. His worst-case scenario would be to bleed time across the whole bike leg and then to reach T2 somewhere around 20th place, more than ten or twelve minutes behind the leaders. A top five or even a podium might still be possible then, but at least one of the many athletes in front of him will have a good day, making a win almost impossible.
Section divider
Sam Laidlow
24 years old, France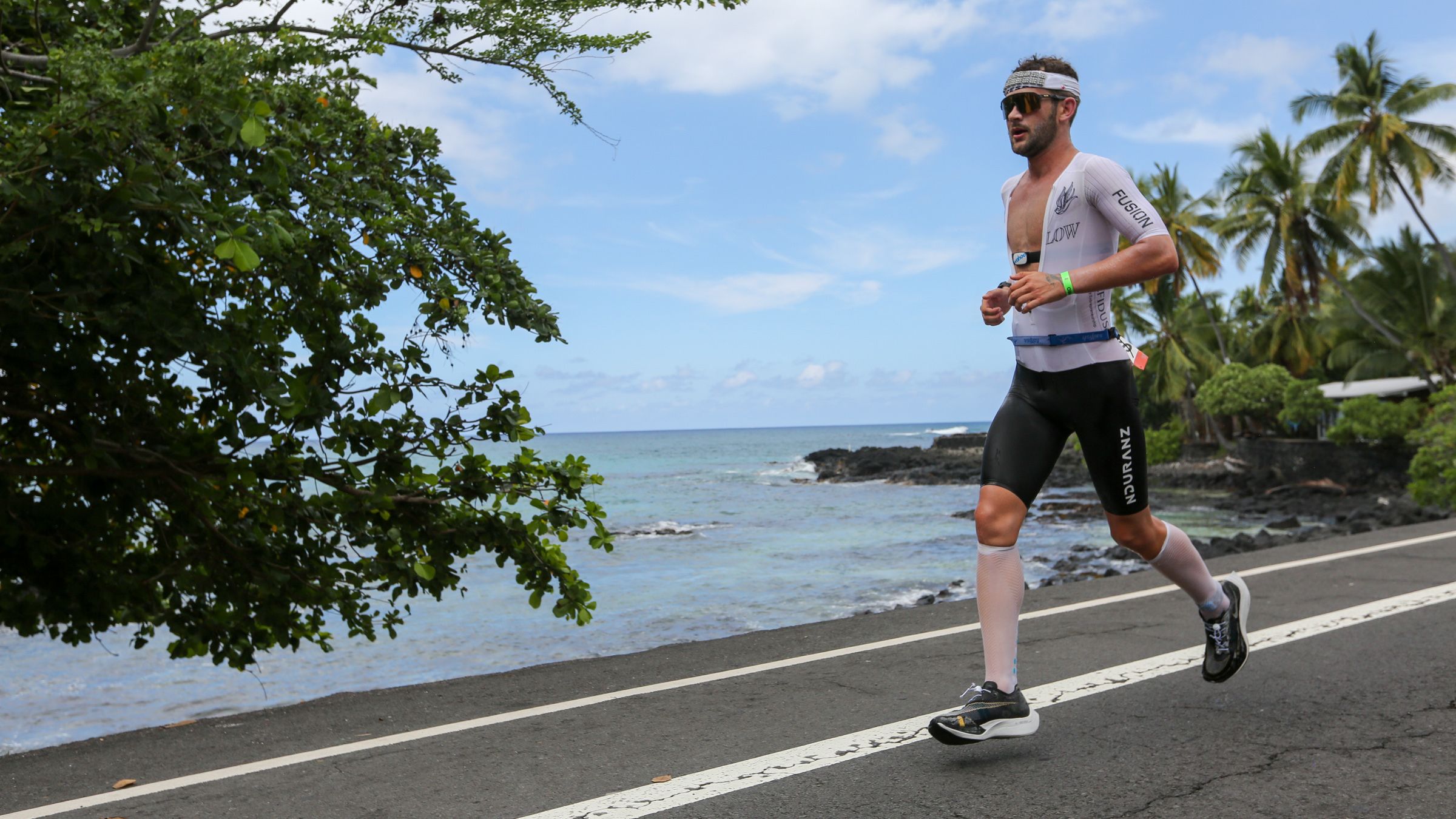 | | |
| --- | --- |
| Swim | ★★★★★ |
| Bike | ★★★★★ |
| Run | ★★ |
| Overall | ★★★ |
| Winning odds | 10% (9 to 1) |
| Kona 2022 | 2nd |
Who he is:
Sam Laidlow played a big role in the Kona 2022 race: He rode away on the bike and set a new bike course record. As he often had issues on the run, even with a six-minute lead into T2 almost no one saw him as a serious podium contender. But then he ran a steady 2:44 marathon to close off the 2022 World Championships, and Gustav Iden had to give his best to run him down in the final section on the Queen K.
Why he could win:
At Challenge Roth, Laidlow once again showed his bike strength, riding sub-4 hours with Magnus Ditlev. He also won Challenge Gran Canaria (beating Patrick Lange) and Challenge London. It would be foolish to ignore him in Nice, since he always finds something extra in big races. Maybe none of the favorites are willing to chase him on the bike, allowing him to build a huge lead. How much time can they give him on the bike and still be confident to run him down in the marathon?
Why he might not:
So far, 2023 has not been a good season for Laidlow. He struggled with calf issues on the run in Roth and had frustrating DNFs at Ironman Lanzarote and the PTO Asian Open. Once again, he enters the World Championship with no one knowing what to expect of him.
Wildcard 1: Braden Currie
37 years old, New Zealand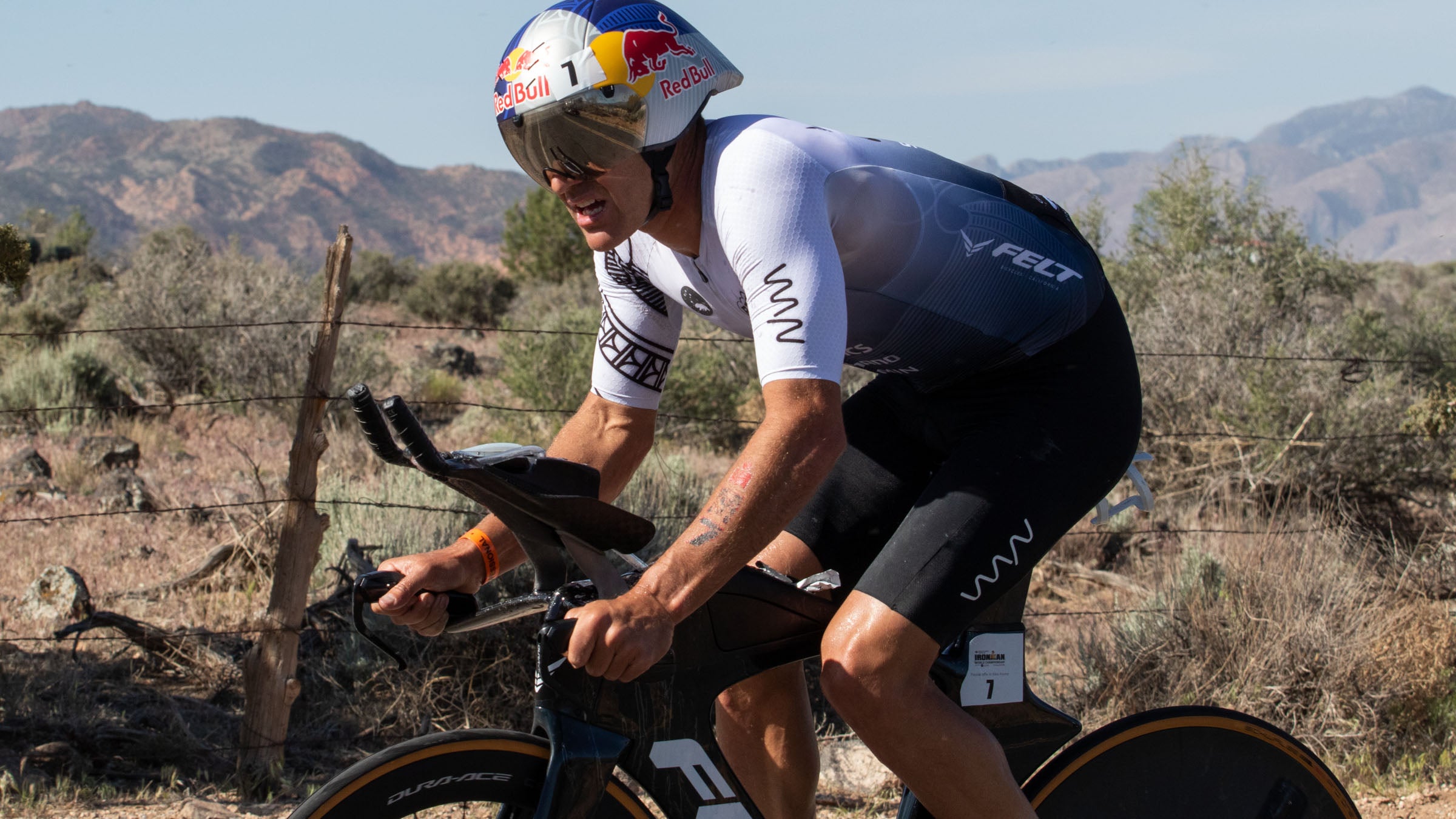 | | |
| --- | --- |
| Swim | ★★★★★ |
| Bike | ★★★ |
| Run | ★★★ |
| Overall | ★★★★ |
| Podium odds | 10% (9 to 1) |
| Kona 2022 | DNF |
There are only two podium finishers from the last two Ironman World Championships racing in Nice. Sam Laidlow (second in Kona) and Braden Currie (third in St. George). Currie got sick a few days before Kona 2022 and DNFed early on the bike. When he's healthy for Nice 2023 (fingers crossed!), he can be a serious podium threat. His win at Ironman Cairns with a 2:37 marathon showed that he may even improve on his third place from St. George.
Section divider
Wildcard 2: Joe Skipper
35 years old, Great Britain
| | |
| --- | --- |
| Swim | ★ |
| Bike | ★★★★ |
| Run | ★★★ |
| Overall | ★★★★ |
| Podium odds | 10% (9 to 1) |
| Kona 2022 | 5th |
In recent years, Joe Skipper was fine-tuning his Kona race plan, steadily improving to a fifth-place finish last year. The demanding bike course in Nice may help Skipper make up the four to five minutes he typically loses in the swim, and the less severe climate in Nice may allow him to run a bit more aggressively than in the Kona heat and humidity. Is Skipper the athlete who can benefit the most from the move to Nice?
Section divider
Wildcard 3: Rudy von Berg
29 years old, USA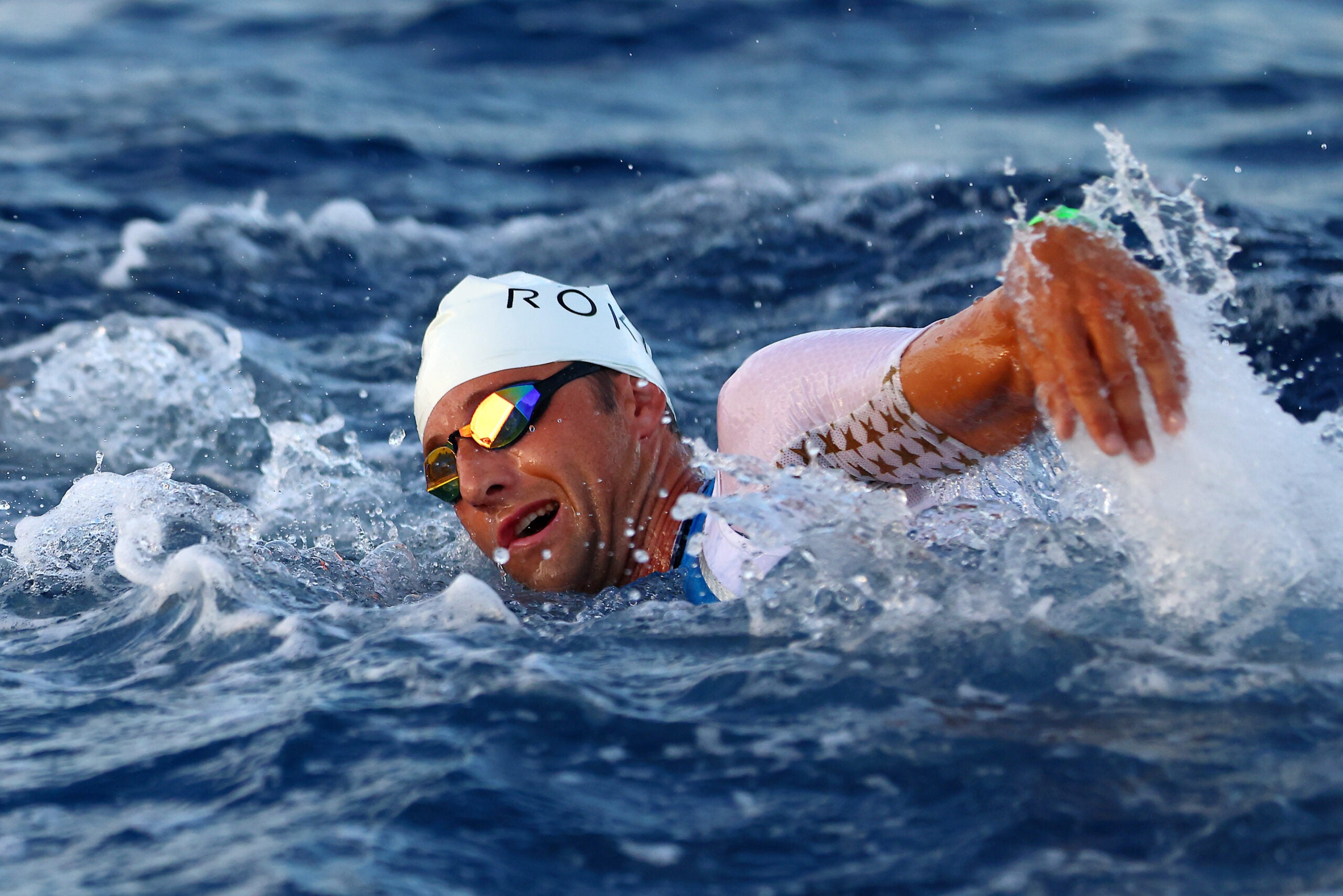 | | |
| --- | --- |
| Swim | ★★★★★ |
| Bike | ★★★★ |
| Run | ★★ |
| Overall | ★★★★ |
| Podium odds | 10% (9 to 1) |
| Kona 2022 | 20th |
Rudy von Berg has grown up in the Nice area and is probably the athlete with the best course knowledge. At the Nice 70.3 Worlds in 2019 he rode away from the leaders in the final descent and led into T2, eventually finishing third. In 2022, he won his Ironman debut in Nice on almost the same course as the World Champs. In early June 2023, a bike crash broke his collarbone, but he's now back to full training. Even without a prep race before Nice, he can be expected to play a very active role in this year's event.
Section divider
Wildcard 4: Clement Mignon
24 years old, France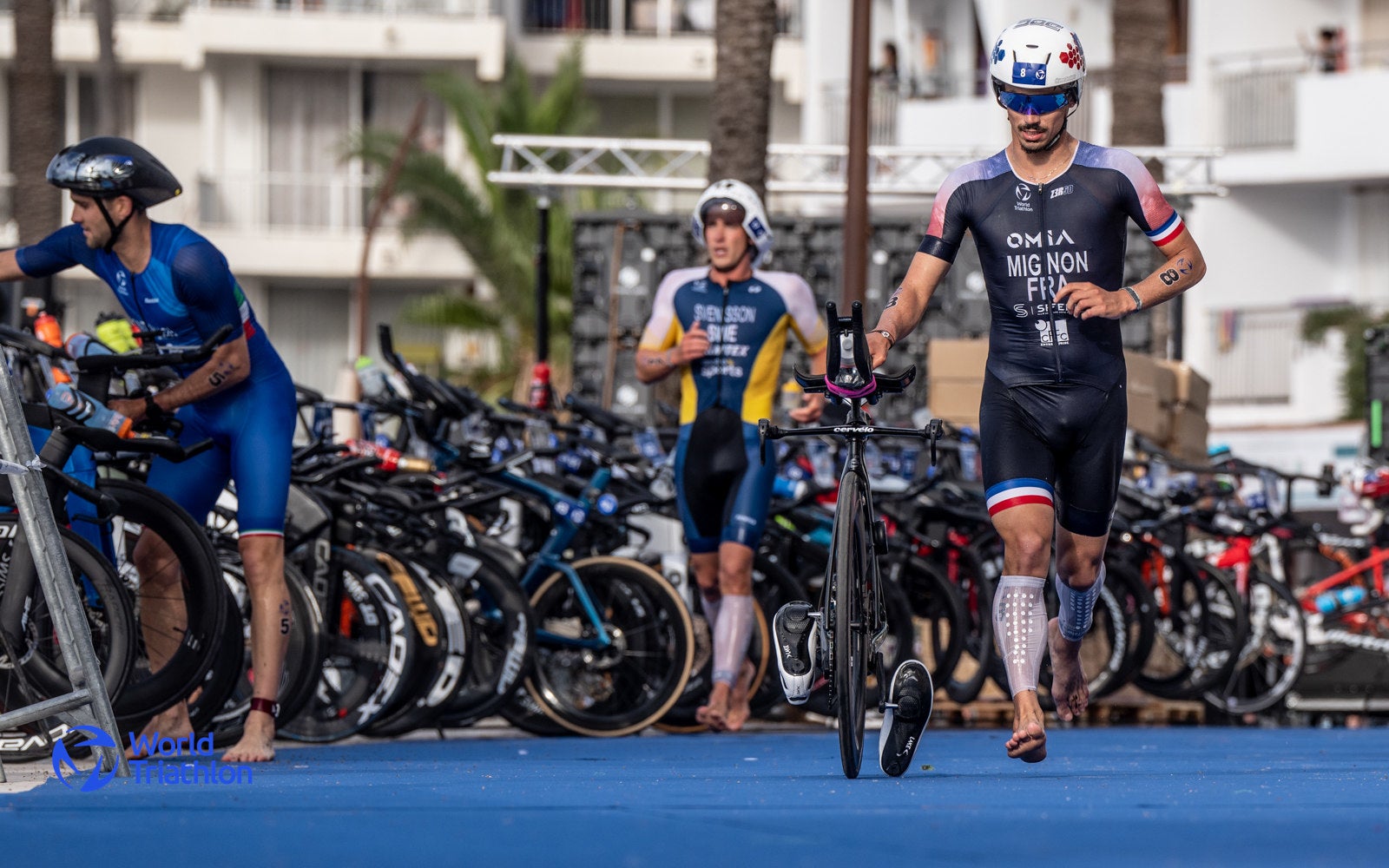 | | |
| --- | --- |
| Swim | ★ |
| Bike | ★★★ |
| Run | ★★★★ |
| Overall | ★★ |
| Podium odds | 5% (20 to 1) |
| Kona 2022 | 9th (after bike penalty) |
At 24 years of age, Clement Mignon is one of the youngest qualifiers for Nice 2023. So far, the youngest male Ironman World Champion is Scott Tinley who was 25 years old in February 1982 – well before Mignon was even born! Mignon is one of eight French pro athletes—the most represented of any country at World Championships, for the first time. Mignon has already won a World Championship title this season (at the 2023 World Triathlon Long Distance Worlds in Ibiza). He is also the winner of Ironman France 2023 on almost the same course, and a win at the Alpe D'Huez Triathlon in 2021 shows that he can climb well, too. Can he become the first French Ironman World Champion?
RELATED: How to Watch the Free Men's 2023 Ironman World Championship Livestream