2009 Aflac Iron Girl Atlanta Women's Triathlon To Air On NBC This Weekend
Heading out the door? Read this article on the new Outside+ app available now on iOS devices for members! Download the app.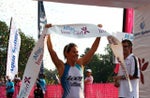 The third annual Aflac Iron Girl Atlanta Triathlon will be televised nationally on NBC Sports on Sunday, August 2, from 2 to 3 p.m. ET. The telecast will showcase a highly competitive professional field as well as a diverse group of athletes varying in age and fitness level.
"The partnership with NBC will highlight tremendous athleticism alongside stories of incredible personal achievement," said Jeff Charney, Aflac senior vice president and chief marketing officer. "Viewers will be inspired by these amazing women and will find their own motivation to live healthier lives."
The broadcast was shot on location on June 28, 2009, 45 minutes northeast of Atlanta, Georgia, at Lake Lanier Islands Resort, situated on the shores of Lake Sidney Lanier. Featuring a 1/3-mile swim, 18-mile bike and 3-mile run, the sold-out event had nearly 1,000 finishers ranging in age from 16 to 68 years old and in fitness level from beginner to elite.
A competitive field of professional athletes included the following top finishers:
Mirinda Carfrae, 28, AUS, (1:13:55): Carfrae is a multiple Ironman 70.3 champion, as well as the winner of the 2007 Ford Ironman World Championship 70.3.  In 2008, Carfrae won the inaugural Aflac Iron Girl Las Vegas Triathlon.
Pip Taylor, 29, AUS, (1:14:56): With a swimming background, Taylor has earned top placements at well-known events such as the Iron Girl Columbia Triathlon, Eagleman Ironman 70.3 and the Aflac Iron Girl Las Vegas Triathlon.
Michellie Jones, 39, AUS, (1:18:06): An Olympic silver medalist, Jones has mastered a variety of distances. Boasting top Ironman and 70.3 finishes, she placed second in her debut at the Ford Ironman World Championship in 2005 and returned the following year to win the title. In 2007, Jones won the title at the inaugural Iron Girl Atlanta Triathlon.
Samantha McGlone, 29, CAN, (1:20:11): The 2006 Ford Ironman World Championship 70.3 titleholder, McGlone has earned multiple Ironman 70.3 victories, as well as a second place finish at the world's most challenging endurance event, the Ford Ironman World Championship.
Kate Major, 31, AUS, (1:21:41): Major's talent at both the Ironman and 70.3 disciplines, coupled with her natural athletic ability, make her a formidable opponent. With multiple titles, and three Ironman World Championship podium finishes on her race resume, Major is often deemed part of "triathlon's next generation."
The Top Five Age-Group Finishers:
Kristine Kester, 44, of Duluth, Ga. (1:24:50)
Rebecca Villers, 37, of Nashville, Tenn. (1:25:04)
Katherine Tindol, 41, of Suwanee, Ga. (1:25:41)
Katie June, 16, of Roswell, Ga. (1:27:09)
Marni Rakes, 27, of Jacksonville, Fla. (1:27:32)
"The team at NBC is excited to televise the Aflac Iron Girl Atlanta Triathlon and is happy to continue growing its relationship with World Triathlon Corporation and Ironman Productions," said Jon Miller, NBC Sports' executive vice president. "We are pleased to add this exciting event to our telecasts that also include the Emmy-award winning Ford Ironman World Championship and the Foster Grant Ironman World Championship 70.3."
The broadcast will also feature participants racing in support of pediatric cancer research, the Aflac Iron Girl National Event Series charitable cause for 2009. Participants are raising funds to be donated to the Aflac Cancer Center, located in Atlanta.
"Iron Girl is an example of ordinary women accomplishing extraordinary things through events," said Judy Molnar, the vice president of Iron Girl. "Our athletes include not only those whose livelihood depends on performance, but also those women who may be your mom, neighbor or sister.  Their passion and dedication exemplifies the mission of Iron Girl."