Meet the Pros Leading the French Triathlon Revolution
French triathletes' names might not ring a bell in North America, but it's time to start learning about some of the fastest pros across all tri distances.
Photo: George Wood, Tom Pennington, Patrick McDermott, World Triathlon
Heading out the door? Read this article on the new Outside+ app available now on iOS devices for members! Download the app.
France has long been one of the great triathlon nations and while San Diego is widely regarded as the modern birthplace of the sport, Les trois sports roots go back more than a century to the Paris suburbs of Joinville-le-Pont.
It continues to this day. Anyone who tuned into last weekend's World Triathlon Championship Series race from Sunderland witnessed a French one-two in both the men's and women's elite races before they caped it off with victory in the mixed team relay, underlining the nation's powerhouse status as they prepare to host the biggest show of all: the Olympic Games in Paris next summer.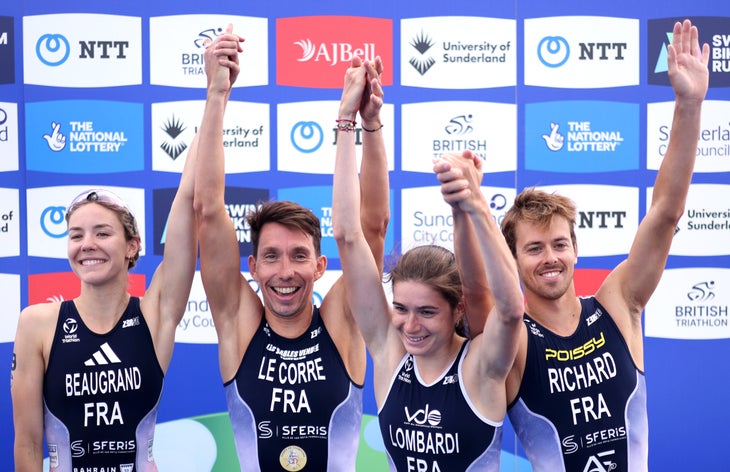 Yet on the biggest of stages, the French have also been the les grands sous-performants—the great underachievers—with just one Olympic medal, a bronze from the mixed relay in Tokyo, and no Ironman World Championships; their only podium performances in Hawaii are the second places of Isabelle Mouthon in 1995 and Sam Laidlow in October last year.
This is despite having a conveyor belt of top talent to call upon and a competitive French Grand Prix racing circuit that has been the envy of tri nations throughout the world. Look at the number of world junior, Under-23, team mixed relay titles (four straight from 2018) and even World Triathlon Long Distance titles France has won, and it's clear it has the all-round skills and abilities to mix it with the very best. They have even landed three of the past four world titles on the men's World Triathlon Championship Series. It just hasn't yet happened at the sport's two most coveted events.
But times might be changing, and with the added boost of a home advantage in the men's Ironman World Championship in Nice this September and the Paris Olympics next summer, we could finally see the Tricolore flying higher than ever before. Certainly, the signs are more promising than they've ever been, with the French not just having strength in depth but triathletes with experience of standing on podiums at every distance of triathlon. We should see more proof at the upcoming Paris test event on August 17-18, but to whet your appetite, here are the ones to watch.
Section divider
French pro triathletes: Short course
Leo Bergere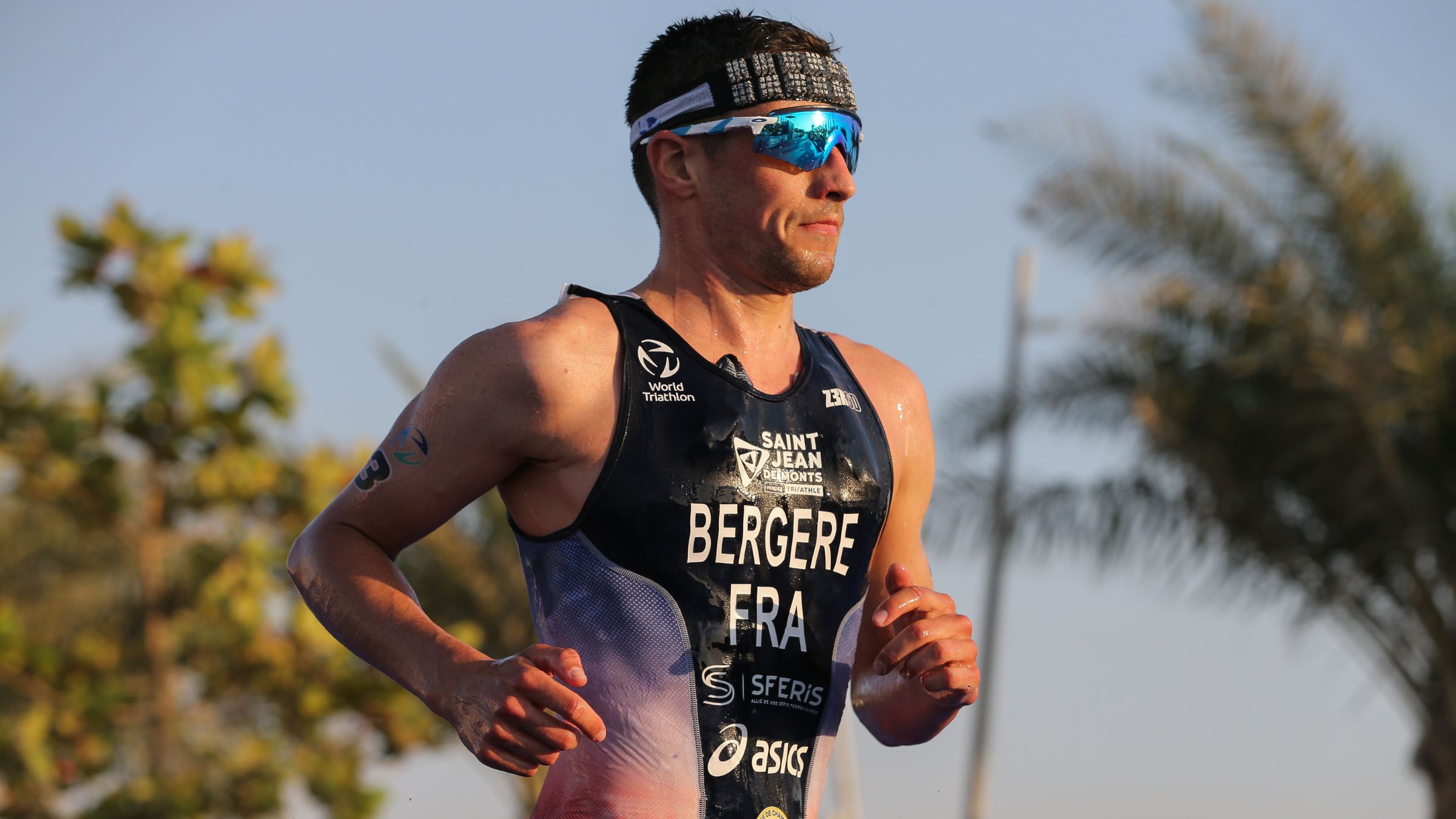 We have to start with the reigning World Triathlon world champion Leo Bergere, who not only won his first World Series race in Abu Dhabi in November, but with it the overall crown. Known as a humble student of the sport, Bergere has improved year-on-year, is without weakness, and not fazed by any opposition. That could be seen when he traveled to Ironman 70.3 Oceanside in April, controlled the race from the start and beat a star-studded field. It's full focus on draft-legal racing for now, though, and qualifying for his second Olympics after finishing 21st in Tokyo.
Vincent Luis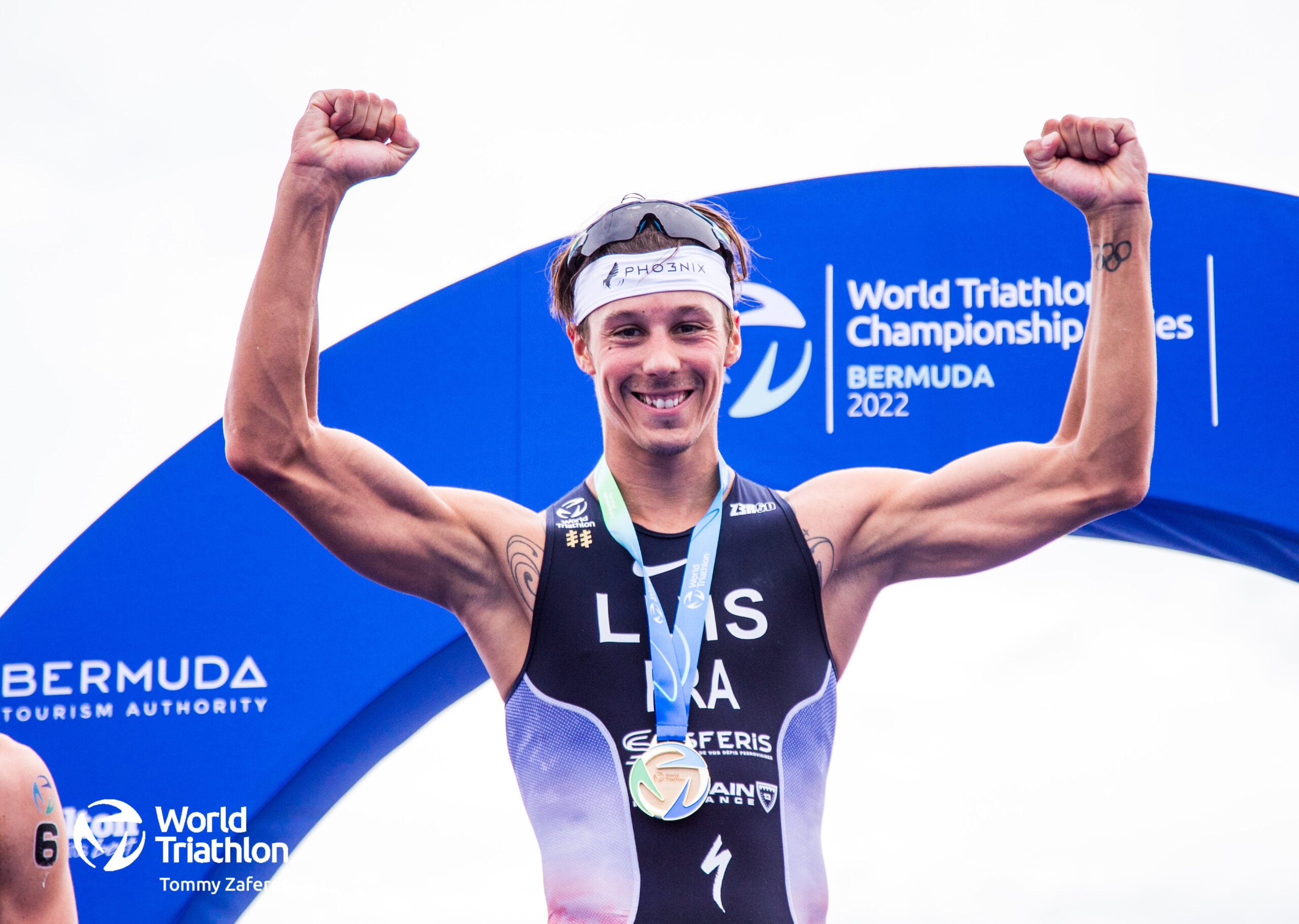 The two-time World Triathlon world champion and three-time Olympian has been plagued by health issues in recent years, including requiring a heart procedure last summer. Yet Vincent Luis remains one of the most explosive performers in the sport. Following in the wake of David Hauss and the late Laurent Vidal, who placed fourth and fifth in London 2012, Luis remains the talisman of French triathlon. A former national cross-country champion, now 34, lower leg injuries may have curbed his run speed, but few can live with him on the swim and bike, and he showed he still has the ability to win at the top level, breaking away in Bermuda in November to hold on for an emotional World Series win.
Dorian Coninx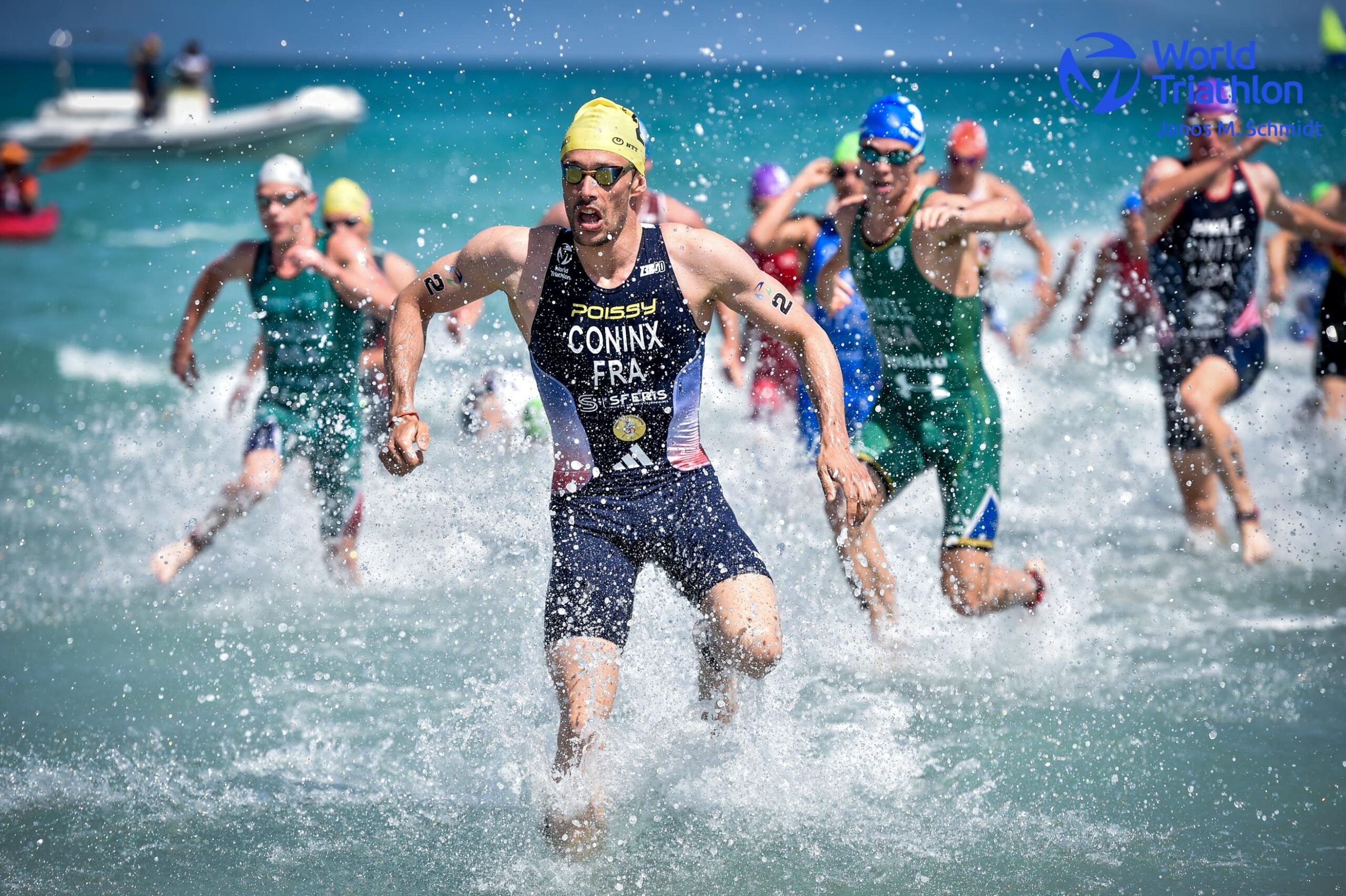 Dorian Coninx rarely gets the recognition he deserves, despite being a junior and Under-23 world champion plus a two-time winner on the World Series.
The most recent of those successes was in 2021, where he led an all-French podium ahead of Luis and Bergere in a super sprint eliminator in Montreal a fortnight after being part of the quartet that won Olympic mixed team relay bronze in Tokyo. This year he's continued to be a model of consistency, with three top five finishes on the World Series in three starts.
Pierre Le Corre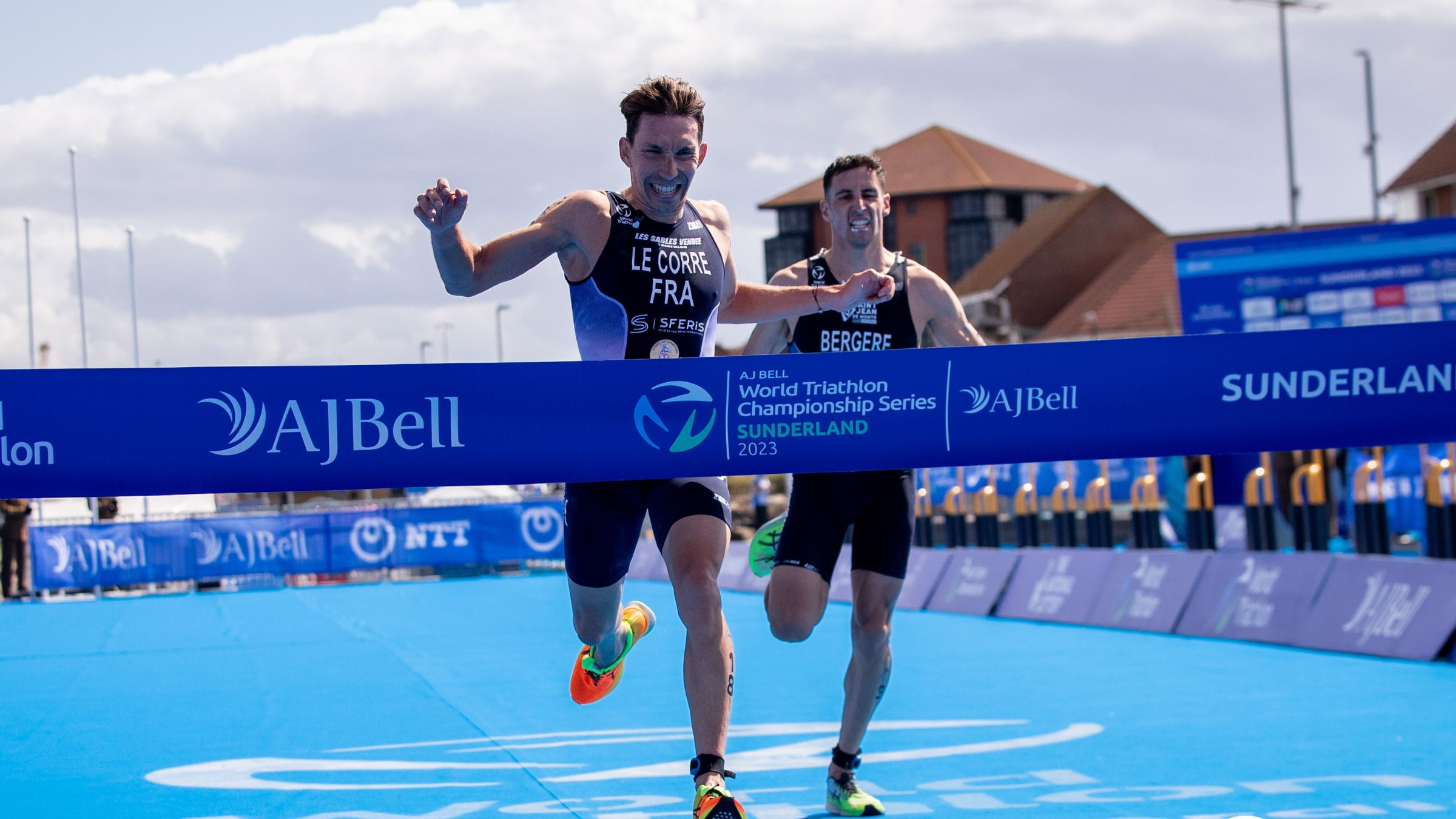 If he doesn't make the Olympic team, then Pierre Le Corre might be the most talented triathlete not racing in Paris. Now aged 33, it's a level he's shown many times over the years. A former world Under-23 champion in 2013, a European title in 2018 and even a World Triathlon long distance world title in Slovakia in 2022. Like so many of his counterparts, Le Corre – who hails from Vannes in the west of France, – doesn't have a weakness. Having missed selection for the Tokyo Olympics despite finishing eighth in the test event, he'll be looking for one last shot. He'll head to the Paris test event in fine form too, having won his maiden World Series race in Sunderland at the weekend.
Cassandre Beaugrand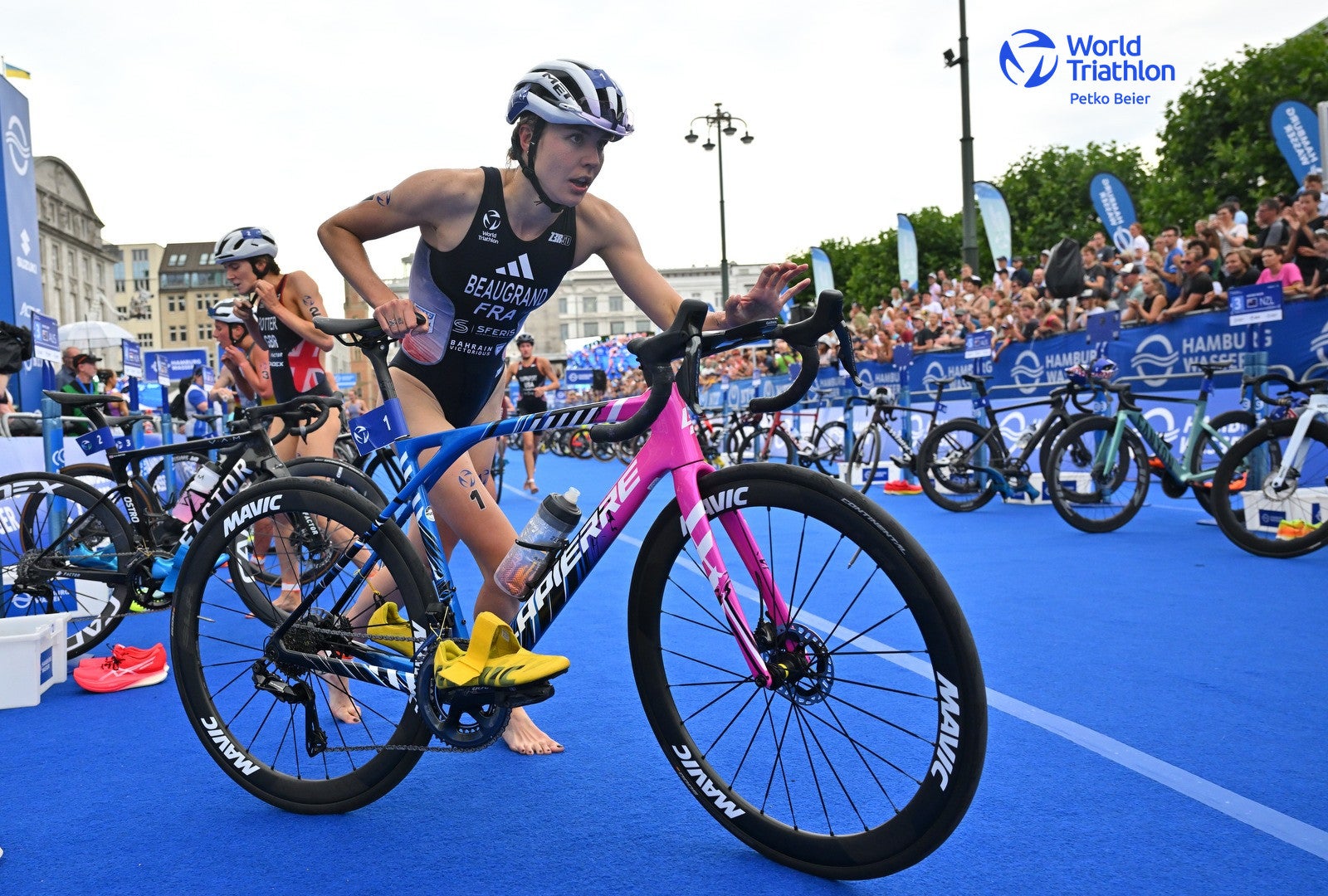 Serenely speedy would be the apt definition for the elegant Cassandre Beaugrand, who glides away from rivals on both the swim and run while barely breaking a sweat. Beaugrand will likely head to Paris as France's main hope for women's individual Olympic gold—and the trump card on the anchor leg in the mixed relay. Having moved to Loughborough in the UK to train last year, the 26-year-old has four World Series wins to her name, including back-to-back successes in Hamburg and Sunderland in the past few weeks. It's worth noting that all those victories have come in the sprint or super sprint format and questions remain over her ability at Olympic distance—especially her cycling prowess if she comes under pressure from the best in the sport such as Flora Duffy, Taylor Knibb and Georgia Taylor-Brown.
Leonie Periault
Leonie Periault has been a regular on the top tier World Triathlon Series for the past six years and with her fifth place in Tokyo can claim to be the highest placed French woman ever at an Olympic Games—backing it up four days later by leading out her country's mixed relay team as they gained bronze. Periault was twice runner-up in the world Under-23 championships in 2015 and 2016, and has placed second three times in World Series events, including to USA's Knibb in the championship finals in Edmonton in 2021. With her formidable run legs and growing confidence it surely can't be long before the 28-year-old achieves that elusive top step on the podium.
Emma Lombardi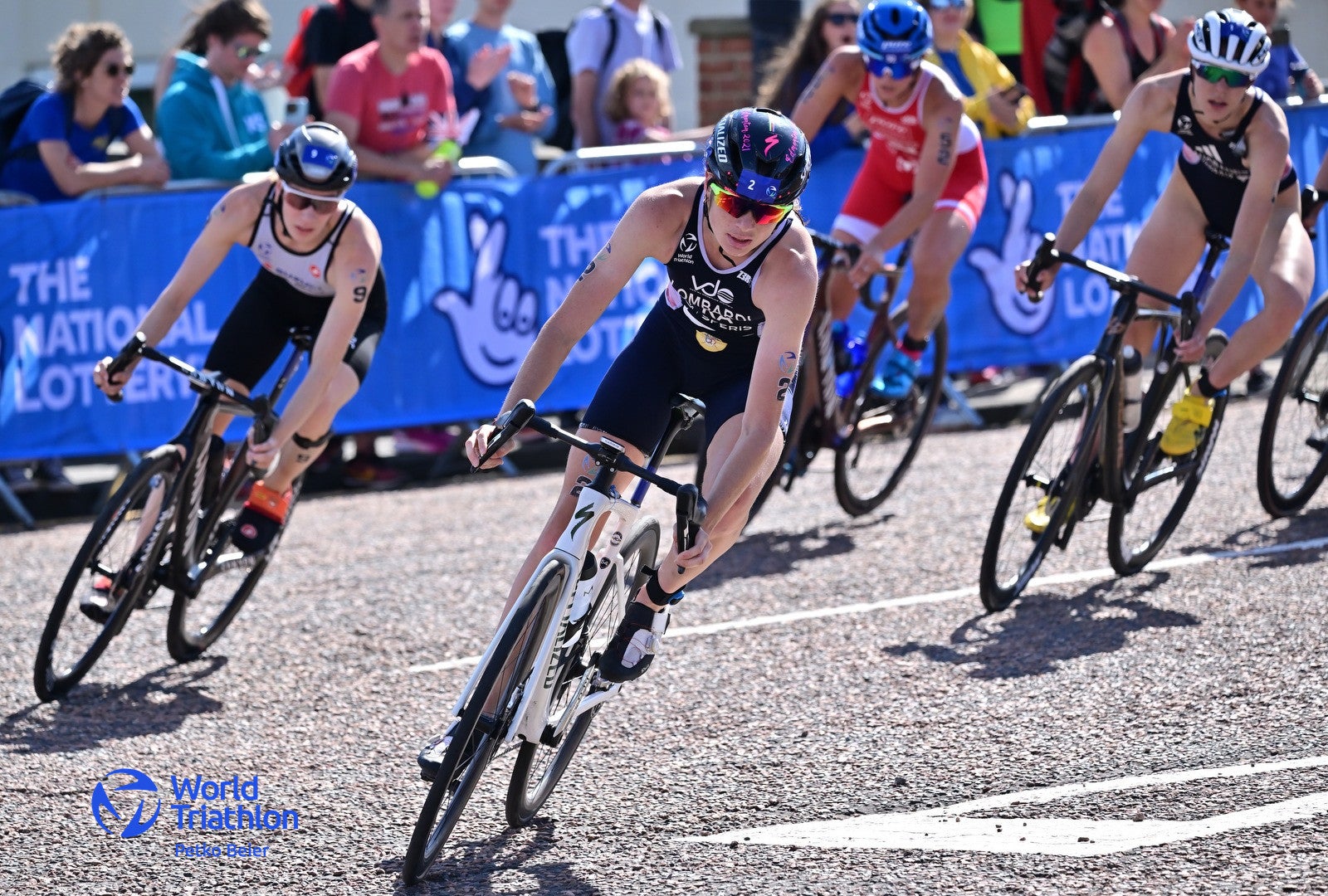 Continuing France's pedigree for producing triathletes, Emma Lombardi is yet another World Under-23 champion, that victory coming in her first Olympic distance race in Edmonton in 2021. The 22-year-old has kicked on from there and hasn't missed the top 10 in her past six World Series starts, including three runner-up spots, the latest at the weekend in Sunderland where she couldn't quite hold on to Beuagrand's coattails. Her emergence alongside Periault and Beaugrand, means France can send a trio of women to Paris as one of the strongest female teams, with options—and tricky selection decisions—for the mixed team relay.
The names above aren't the only French talent in contention for Paris spots and the strength in depth is shown by the number in the top 100 of the World Triathlon rankings. On the women's side, Sandra Dodet (39th), Audrey Merle (48th) and Mathilde Gautier (54th) all have top tier experience, with Merle beating Periault to the world Under-23 title in Cozumel in 2016. More top talent is emerging too, with Ilona Hadhoum being crowned junior world champion in Hamburg in July, with fellow teenager Manon Laporte in third. The men also have an additional trio in the top 100 of the rankings, with Tom Richard at 31, currently sitting higher than Le Corre, with Maxime Hueber-Moosbrugger in 61st and Paul Georgenthum ranked 100th. There is more talent coming through too. While the French women placed first and third in the junior world championship race in Hamburg, the men were second and fourth through Nils Serre Gehri and Thomas Hansmaennel.
RELATED: Meet the Contenders for the Paris 2024 U.S. Olympic and Paralympic Triathlon Teams
Section divider
French pro triathletes: Long course
It's not only short-course triathlon where the French are making their mark. Over the longer distances more contenders are coming to the fore and with the carrot of the Ironman World Championship in Nice in September, the men in particular are starting to rival any other nation in the world for talent.
Sam Laidlow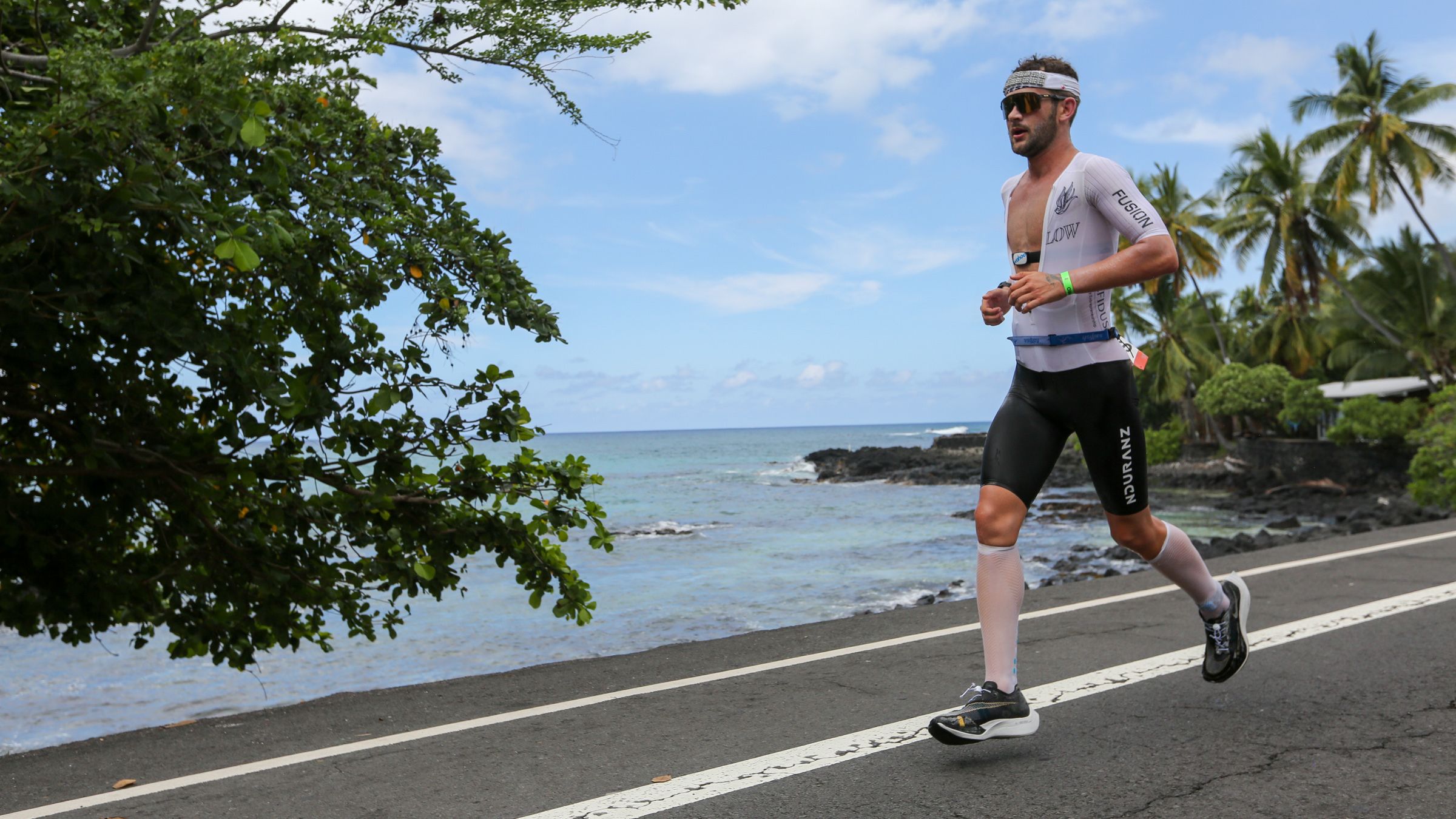 We've got to start with Ironman World Championship runner-up Sam Laidlow, the Kona bike course record holder who destroyed Cam Wurf's existing mark by clocking 4:04:35 on the Queen K before holding it together on the marathon to split the Norwegians for a podium surprise. Drama follows Laidlow wherever he races, be it blow-ups on the course (cramps in the PTO Canadian Open, a punchdrunk DNF in Ironman Lanzarote, or a pulled calf in Challenge Roth) and blow-ups off it (see also: smack-talking Sam Long in the 2022 Collins Cup). The 24-year-old moved to France from the U.K. with his family as a child, and the PTO-ranked No 6—despite never having won an Ironman-branded race—will head to Nice (a course that should suit him) as one of the favorites.
Clement Mignon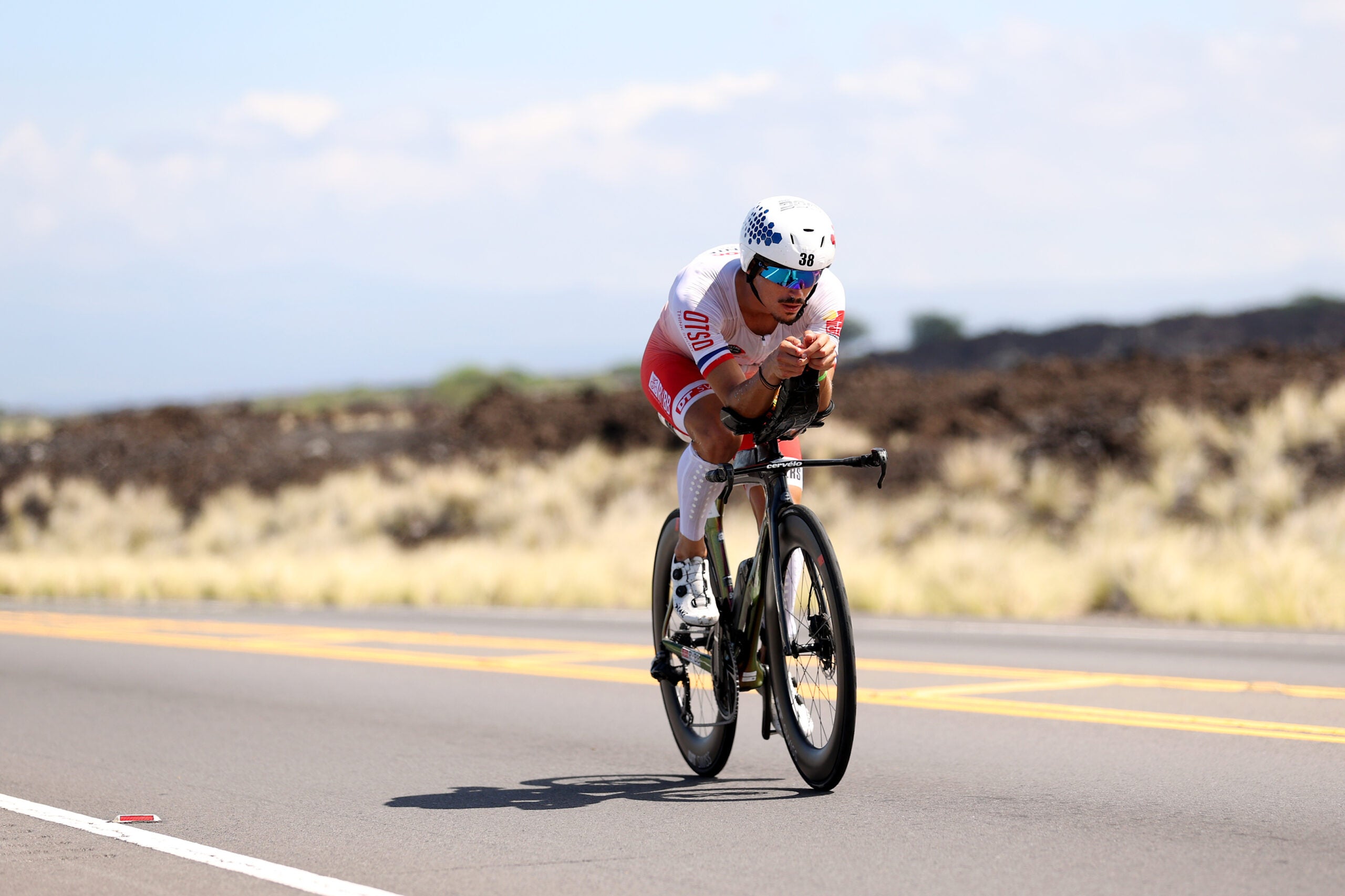 Only one month younger than Laidlow, Clement Mignon is proving to be a smart racer, not just with tactics, but choice of event too. Rather than race the PTO European Open in Ibiza in May, he justified the decision to opt for the following day's World Triathlon Long Course World Championship by taking the tape and continuing a strong tradition that has seen nine French winners in the past 16 years at the event. It shouldn't have come as a surprise: Mignon broke eight hours to finish ninth at Kona in October, and was just one place lower in the Ironman 70.3 worlds three weeks later. The omens for this year's Ironman worlds were made even more promising when he won Ironman France in June, racing on chunks of the course that will be used for the Big Dance next month.
Leon Chevalier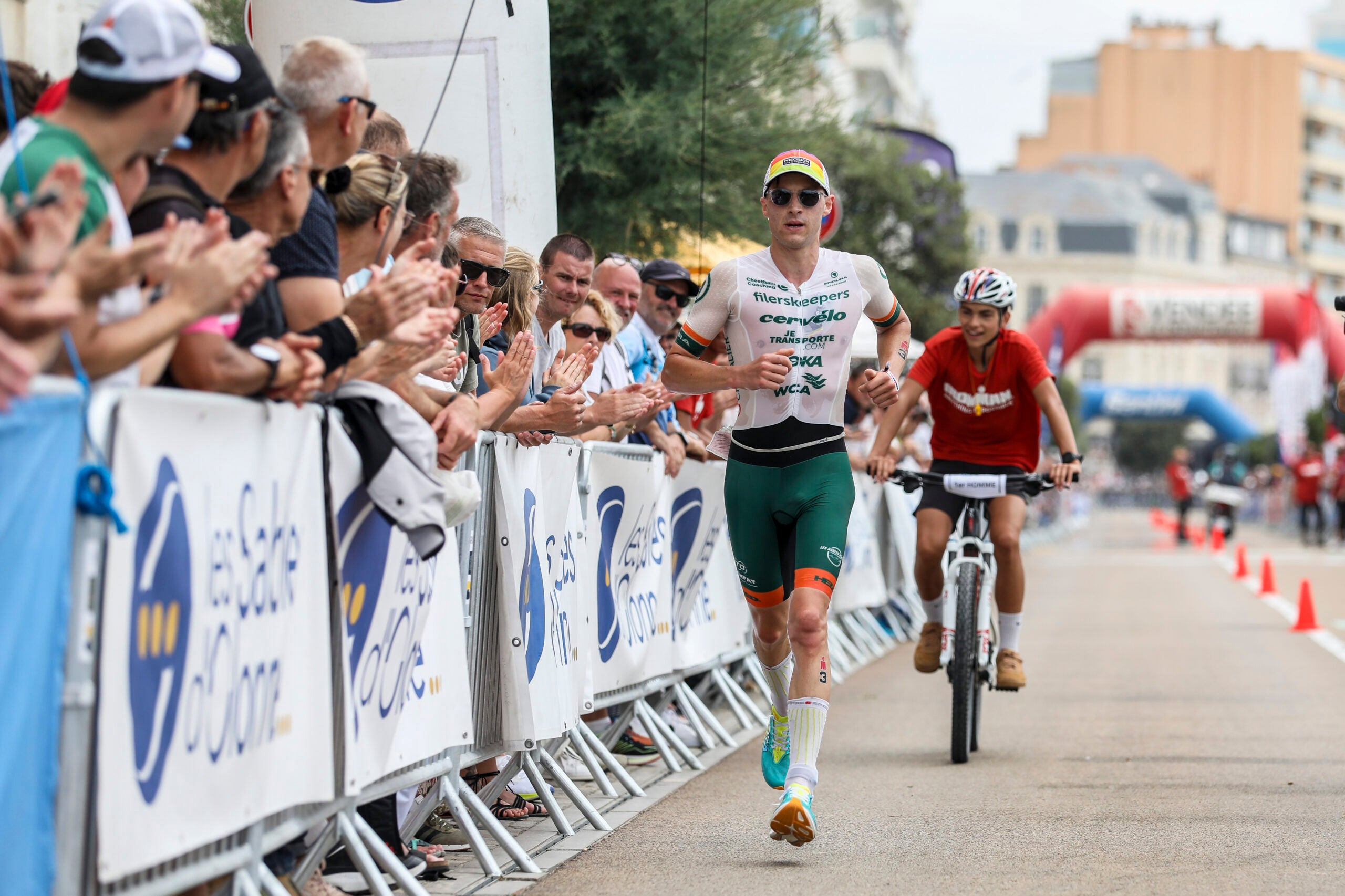 British-based long course ac Leon Chevalier could be considered as much of a threat for long course honors as either Laidlow or Mignon. A comparative veteran at 26, he's only focused on long course racing in the past couple of years and already has a spring of impressive results to his name. A lover of gnarly courses, he won the Alpe d'Huez Long Course race last year and the notoriously attritional Embrunman in 2021. At Ironman there has also been success. Last year he placed sixth in the World Championship in St. George and seventh in Hawaii. With a second M-Dot victory coming in South Africa this March, Chevalier's cycling and running ability mark him out as an athlete who gets stronger as the race runs longer.
Marjolaine Pierre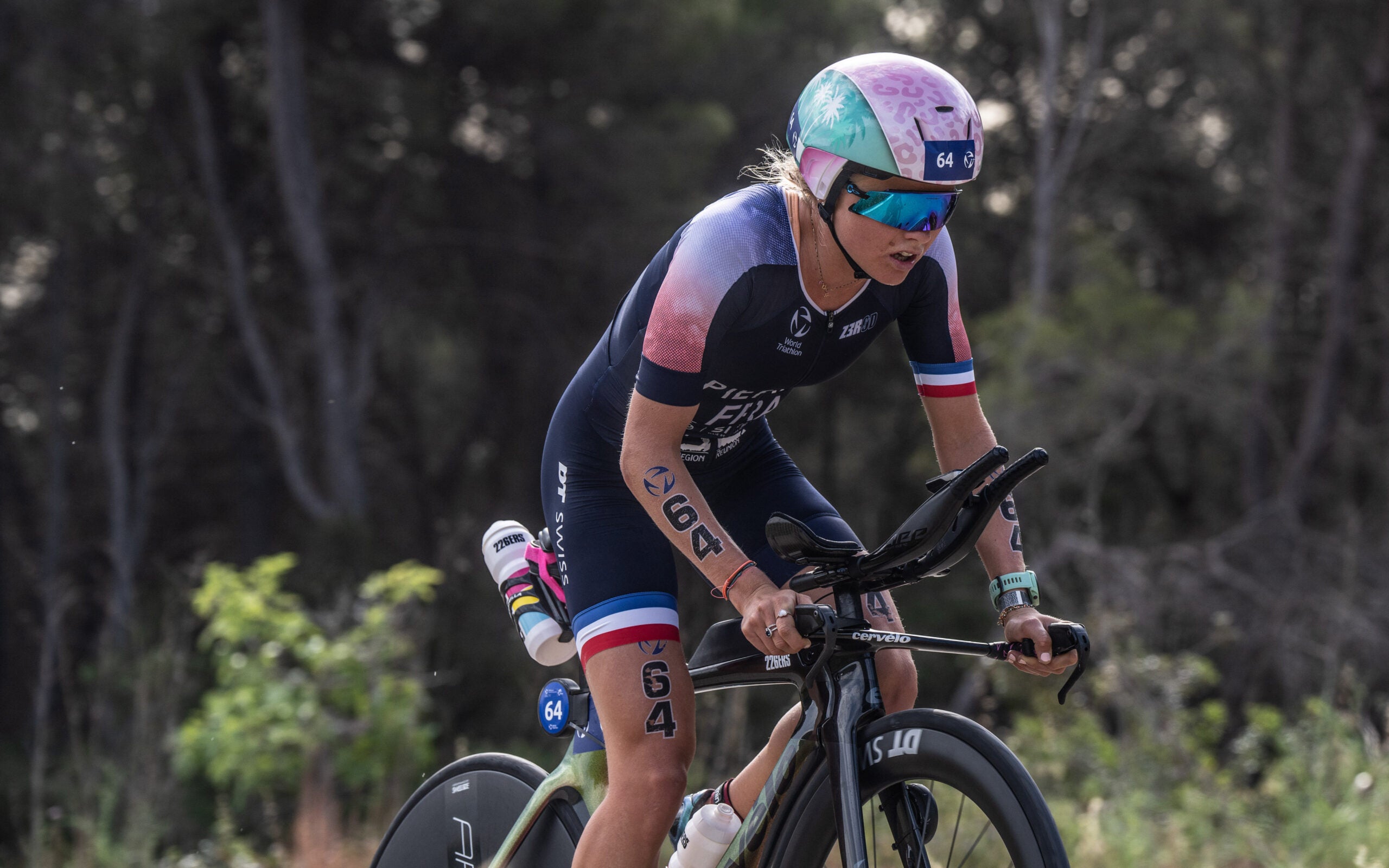 When Marjolaine Pierre took victory in the World Triathlon Long Course World Championship in Ibiza in May, there was extra cause to party on the White Island. With her partner Mignon already celebrating his own success, it meant a memorable double triumph, not just for France, but the Mignon-Pierre household. Previously recognized as one of the fastest runners in non-drafting racing, Pierre had added the necessary bike strength to challenge for the win. Having won a first Ironman 70.3 title in Portugal aged just 21 in 2021, there was another success in Bahrain in December before the world title in the Balearics. Next stop is the PTO U.S. Open on Saturday, where she'll face the might of the world's best middle distance talent as the latest test in a fast-evolving career.
As with the short course racers, there is a wealth of talent outside the main protagonists, particularly on the men's side. The experienced Denis Chevrot is PTO-ranked No 22 and has won a number of big Ironman races, including this year's European Championship in Hamburg in June where he posted a 2:31:38 marathon. One place below in the standings is the in-form Mathis Margirier who has won his past two races, the Challenge Championship in Samorin and Challenge Salou after four consecutive runners-up finishes. Former Ironman Wales winner Arnaud Guilloux also finished second in Alpe D'Huez last Thursday behind countryman Nathan Guerbeur, with Clement Grandy making it an all-French podium in third. While the women's side has less strength in depth, Jean Collonge also won on Alpe D'Huez last week having finished third in Ironman Lanzarote in May. Having stepped up from draft-legal racing, Emilie Morier, along with Alexia Bailly, Charlene Clavel and Justine Guerard are all ranked in the PTO top 100, and Justine Mathieux, who was the youngest female pro in Hawaii last year, has suffered with DNFs and DSQs in 2023 but made our list of athletes to watch at the turn of the year.