Linsey Corbin on Her Year of "Don't Think, Just Do"
After three years of setbacks, Linsey Corbin gets back to the top of an Ironman podium.
Heading out the door? Read this article on the new Outside+ app available now on iOS devices for members! Download the app.
After three years of setbacks, Linsey Corbin gets back to the top of an Ironman podium.
It's been three years since Linsey Corbin won a race. During those three years, she's had a rough go—first, it was a bacterial and viral infection, followed by a stress fracture in her femur. After eight weeks of forced rest, Corbin returned to the course, only to deal with a barrage of bad luck: hypothermia at one race, a broken bike at another, penalties in back-to-back races.
Rather than giving up, the eternally optimistic Corbin forged ahead, hopeful that the next race would be the breakthrough she needed. Last weekend, Corbin finally and definitively slammed the book on one of the most challenging chapters of her professional career with a commanding win and new course record (9:17:12) at Ironman Canada. We caught up with the exhilarated champion on her way home from the race in Whistler.
Triathlete.com: How does it feel to be back on the top step of the podium?
Linsey Corbin: Awesome! To add my name to the list of legends, people I have looked up to in the sport, that have won the iconic Ironman Canada is a day I won't forget anytime soon.
Triathlete.com: Was there anything different about your preparation for this race?
Corbin: I have taken a different approach to both training and racing this year in that I am racing more frequently which in turn has kept me a bit more motivated, focused on the recovery and consistent with my training. With the short blocks of training between races I don't have time to overanalyze my sessions or dig myself into a hole (which I have a good track record of). It's been a year of "don't think, just do" when it comes to training. I know I have limited time between races so I have maximized my recovery as well as kept my training consistent as I know the next event is right around the corner.
I was disappointed after the outcome at Ironman Brazil, where I finished fifth after receiving an unfair penalty. I had a fire lit within me and I wanted to go race an Ironman event that really challenged me physically with a hard bike course, and I'd have to back it up with a strong run. This really motivated me the past 4-6 weeks.
Triathlete.com: How did you feel on race morning? Did you have a sense something big was on the horizon?
Corbin: Race morning was the usual pre-race nerves, let's get the show on the road! We did travel to Whistler a week before the event so I felt a bit at home in the mountains and familiar with the course.
I had no idea how I would feel in the race, Ironman is a long day. During my taper I felt a bit "blah" and that I wasn't firing on all cylinders. I try not to read into stuff too much when tapering, as each race lead-up is different. I did know I had done the work in training and have had almost no missed sessions all year, so I knew I was in a good place physically.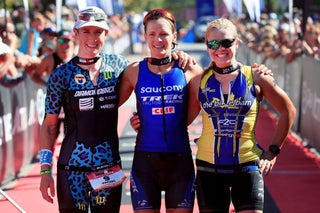 Triathlete.com: At what point in the race did you know the win was a lock?
Corbin: There is only one out and back on the run-course and it's at mile 8 and mile 22. At mile 22 I saw my lead was up to 6 minutes and I thought, "phew, I can relax just a little bit, let's not do anything stupid here." Ironman is so crazy though, anything can happen, so I didn't really believe it until that banner was up in the air.
Triathlete.com: You've had to deal with a lot of setbacks in the last few years. What's kept you going?
Corbin: Two things have kept me going. First, I love the sport of triathlon: I like the grind, I love the process of chasing goals, I love racing, I love pushing my limits and being right on the edge.
Also, days like Sunday are what have kept me going. I am motivated by winning, getting the most out of myself and putting it all on the line. Sure, I have had my fair share of setbacks: race-day bad luck, injuries, illness, falling short of my goals… and as much as those times have not been fun, they have also built my character and made me appreciate days like yesterday all the more. When the win was within reach yesterday, I knew I didn't want to waste the opportunity as you just never know where life is going to take you and when you will get another shot at being an Ironman champion. I guess I have a greater appreciation for the good days having gone through the tough days as well.
Triathlete.com: What's next for Linsey Corbin?
Corbin: Recovery, a little break and summer fun. Then a 70.3 in September, followed by Ironman Hawaii in October.