Nice's Oldest Competitor Ryuji Nakagawa Is (Nearly) Invincible
A hit-and-run accident nearly killed the septuagenarian, but the pull of Ironman World Championships kept him alive.
Heading out the door? Read this article on the new Outside+ app available now on iOS devices for members! Download the app.
The following is a translated version of Mike Tokairin's story, originally written in Ryuji Nakagawa's native language of Japanese. Read the original Japanese piece here.
Seventy-nine-year-old Ryuji Nakagawa's four-decade history as a triathlete has taken him to Kona five times, but like anyone's path to Ironman World Championships, it hasn't been easy. Seven years ago he was hit by a truck while training on the bike and seriously injured, but against the odds he made a complete recovery and was back in 2019 to finish Kona again. This year the unbreakable masters athlete heads to Nice for the World Championships as the oldest competitor in its field.
About 40 years ago, Nakagawa was flipping through the channels when he came across Ironman Hawaii on TV. He was captivated by the scene of a line of triathletes on bikes along the highway against the panoramic backdrop of a lava field extending as far as you could see. "I thought triathlon looked like an incredibly cool and elegant sport," he remembers. "It looked great, and I wanted to give it a go too. This was back in a time when nobody in Japan really knew the sport existed."
Nakagawa had started running when he was 35, and when he got to the point where he could finish a marathon in three hours he was hungry for a new challenge. He started researching whether there actually were any triathlons in Japan, and found out about the Kaike Triathlon in Tottori. Founded in 1981, Kaike was the country's first, and remains its oldest. He was just a good runner with no swim experience at that point, but without any hesitation Nakagawa immediately signed up to do the long-course event for his first tri—a 3 km swim, 130 km bike, and 42.2 km run, and brilliantly finished it off of only a year of training.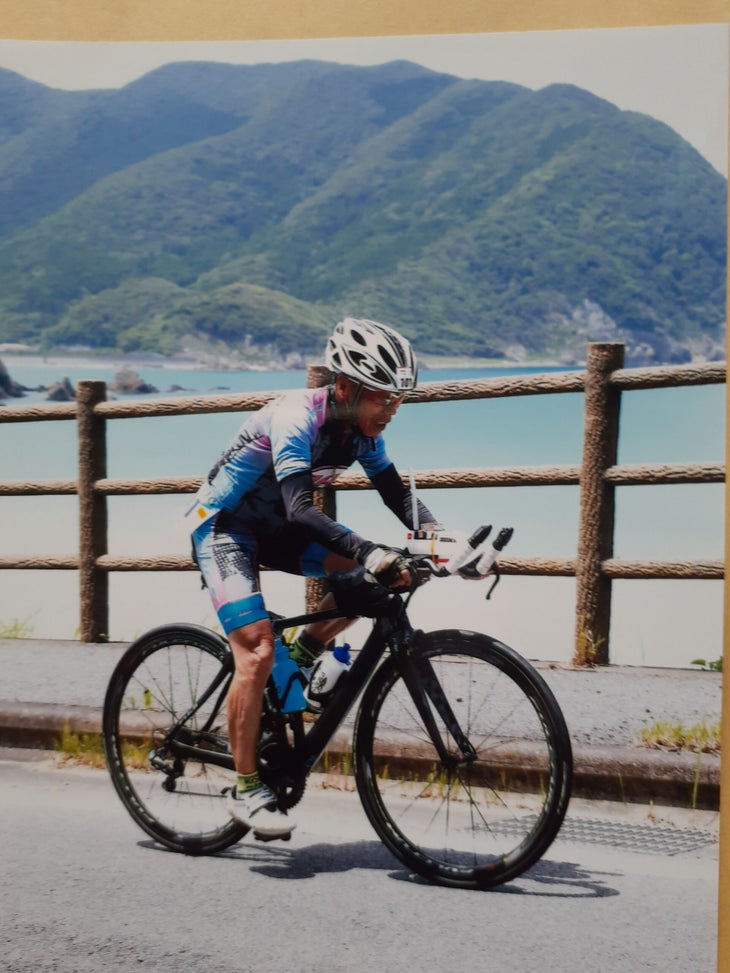 His first Ironman came in 2006 in Malaysia, where he earned a slot at Ironman Hawaii later that year. It was just like he had seen it on TV. Despite being buffeted by the Kona winds, he finished not only in 13 hours, 23 minutes, but also as an instant Kona addict. Its pull has taken him back another four times.
"There's no better triathlon experience than Kona," he says. "The pride of being there on that hallowed ground of the sport, and above all the atmosphere. Running through the dark into the roar of the crowds, the heat and excitement of the finish area. It's addictive. If you do it once, there's nothing you want more than to go back."
That magnetic pull of Kona literally helped keep Nakagawa alive: While on a bike ride in 2016, he was hit by a truck, a hit-and-run that shattered his left shoulder blade, broke all the ribs on the left side of his body, and damaged one lung. He was hospitalized for two months and spent another year in rehabilitation.
"They told me that I'd never be able to do triathlons again," he says. "I was already in my 70s, but I was determined to show everyone I could make a comeback. I walked as much as I could while in the hospital and climbed its stairs to prevent my body from deteriorating. The nurses got mad at me, though," he laughs.
The thing that kept him going the most was the support from his triathlon friends. To show them his gratitude for helping him while he was down, he was determined to make his return in a long race. With that in mind throughout his rehabilitation, in 2018 he finished the Nagasaki Goto Triathlon, a 3 km swim, 154 km bike, and 42.2 km run. All his friends were there at the finish line to celebrate his incredible recovery against the odds. "I remember thinking that at last, I could do the thing I loved the most again, the triathlon. To me, the long course is the true spirit of the triathlon, so I was incredibly happy to be able to make a comeback in a long course event."
The next year Nakagawa earned another slot in Kona, finishing in 16:27:52 on the Big Island. In 2022 he went on to win his age group at Ironman Malaysia to secure his place in Nice. It will be his first time going to Europe, let alone Nice; his first time on unfamiliar ground and an unfamiliar course. "I haven't done this course before, so I don't know how far I'll be able to go, to be honest. I've heard the climbs on the bike course are brutal. I think if I can make it 90 km then I'll be able to get through it somehow," he laughs again.
Next year Nakagawa turns 80. "Honestly, I never thought I'd still be doing this at this age. I'm surprised I'm still going, and that my body is letting me. At this age every year is a race against time. When this year's race is done then I'll think about what next year might bring." Whatever it does, it will be another new page turning in the history of Nakagawa's long-lasting career as an athlete.
Vive la France! Visit our Nice Central hub for news, analysis, history, photo galleries, and so much more – new stories added daily from our team on the ground at the men's 2023 Ironman World Championship.