In English: The Story Of Doug Friman
Heading out the door? Read this article on the new Outside+ app available now on iOS devices for members! Download the app.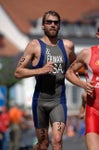 Coach Cliff English shares the story of Doug Friman, a triathlete who raced around the world in pursuit of the Olympic dream.
At the end of June 2008, an unopened bike box sat in a Tucson condominium. It signified not only the end of the road but also the end of a career and perhaps even an era. After more than 20 years of training, racing, traveling around the world and living out of a suitcase, Douglas Friman had completed his final Olympic trials and was hanging up his running shoes for good.
Doug was an unsung hero of our sport who for the last decade raced around the world in pursuit of the Olympic dream. Known by all on the ITU World Cup circuit as a man with a big heart and a tiny Speedo, Doug was perhaps the most underrated triathlete the U.S. has ever produced.
Quiet and unassuming, Doug was never one to self-promote—he just worked hard and got the job done. He was a blue-collar triathlete: short on fancy gear but long on hard work and self-discipline. His results speak for themselves, as this brief resume will attest:

2003 U.S. Pan Am Games team member
Four Elite Triathlon World Championships teams
Two-time alternate for 2000 and 2004 Olympic teams
Three Olympic trials
Four ITU Continental Cup wins
10 ITU Continental Cup podium finishes
Six top-10 finishes at the ITU World Cup

Yet it isn't just about the racing.
The last 10 years of Doug's life were spent in pursuit of one dream: making the U.S. Olympic triathlon team and going to the Olympic Games. We have all heard this story before—these days it seems that every kid with a bike is an "Olympic hopeful." While many athletes dream of the Olympics, Doug went after that dream. He left his home in the U.S. for many years and traveled to every continent to race and train under the guidance of some of the best triathlon coaches in the world. To say that he went outside of his comfort zone is an understatement: Doug clawed and scraped his way to success. As the product of a training system as famous for destroying athletes as for producing champions, Doug thrived under rigorous training, massive volume and Spartan living conditions. Having been a standout collegiate swimmer for Cornell University, he molded his 6-foot-5-inch, 185-pound frame into that of a 31-minute 10K runner. Despite being the ultimate underdog, Doug was always one to rise to the occasion. The harder the course and the tougher the conditions, the more people would count him out. Those were the races that Doug lived for. Had he been a gambling man, that's when he would have doubled-down.
A personal favorite Doug Friman story comes from the 2003 ITU World Cup in Cornerbrook, Canada. The race was notoriously hard, with an icy-cold swim, impossibly steep hills on the bike and one of the toughest run courses in triathlon. Doug had the fastest 10K run of the day, besting the likes of Olympic medalists Hamish Carter, Simon Whitfield and Beven Docherty, giving him a third-place finish overall. Always humble, Doug downplayed the enormity of that placing, which just makes you like the guy even more.
Athletes of Friman's caliber share many common traits, as their achievements would not be possible without passion, desire and a strong work ethic. Doug had all that and a commitment to the pursuit of excellence that not many of his contemporaries had. What was impressive about Doug was that he always innately held himself to a higher standard. While most pro athletes were working on their websites, schmoozing at the expos or blogging, Doug was out running a three-hour-long run (wearing his favorite warm-up pants in 90 degree weather) in some remote village in South America with no water. Yes, you heard correctly: no water, as that for Doug Friman might be conceding a weakness.
On and off the race circuit the stories are legendary. His professional triathlete peers, as well as many an international coach, will attest to his physical attributes, but he is remembered even more for the person he is. To say he is a stand-up person is an understatement. In an athletic world constantly overshadowed by politics, Doug never changed from the good-natured person he was when he entered the sport. He is incredibly loyal and honest, almost to a fault. Never one to mince words, his child-like candor is a constant source of entertainment and is refreshing in a world of posturing and bravado.
Doug is a true scholar of the sport. If you wanted to know the winner and splits of the 1994 IronKids National Championships, Doug would be the one to ask.
Sport really can bring out the best in people, and for Doug it certainly did.
His undying belief in his ability to do what no one thought was possible is all too rare in today's sport culture of multi-million-dollar endorsement deals and pampered professionals.
Doug's life story can go in many entertaining and interesting directions, and unfortunately 800 words is hardly enough to do it justice. This is but a small attempt to properly pay tribute to one of our sport's true gentlemen and hardest workers.
Cheers, Doug, and thank you. You made our sport better.
Coach Cliff English has more than 15 years of experience coaching athletes ranging from age-groupers to Olympians, first-timers to Ironman champions. For more on his coaching services or 2009 training camps visit Cliffenglishcoaching.com.