I'm A Triathlete: Chris Harrison
"The Bachelor" host trains year-round—whether at home or on location in a tropical paradise.
Heading out the door? Read this article on the new Outside+ app available now on iOS devices for members! Download the app.
"The Bachelor" host trains year-round—whether at home or on location in a tropical paradise.
Written by: Adam Elder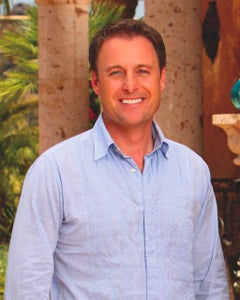 Each week he emcees the nation's most popular televised courtship. But away from the cameras and millions of viewers of "The Bachelor" and "The Bachelorette," host Chris Harrison quietly trains in the Santa Monica Mountains in preparation for the nearby Nautica Malibu Triathlon, which takes place on the road and ocean below.
"I kinda got addicted to it," says the 39-year-old of the annual star-studded race.
Former "Bachelor" contestant Andy Baldwin, an eight-time Ironman finisher, led Harrison to triathlon. "Most things happen because of the people you run into, and I run into some amazing people," says Harrison. "The more we talked, the more he talked me into it."
Triathlon wasn't a monumental athletic leap for the Texas native. Harrison "ran like crazy" playing soccer from childhood through college, which he continues to play in Los Angeles. And he was comfortable on a bike and in the water.
Training-wise, working for Disney (ABC's parent company) has lesser-known perks. The company has its own triathlon team, which works particularly hard on helping people overcome newbie jitters. "Even for a guy who's used to getting up in front of millions of people and talking, it's intimidating when you do something like this."
Intimidation aside, his primary memory of his first race was how much fun it was. "I love the event—I was really surprised at how addicting it is."
For someone who's on the road or hosting a variety of events so frequently, it's a wonder Harrison still finds time to train—that is, until you consider his training grounds.
"We travel to so many exotic places," Harrison says. "We were just in Fiji, for example, wrapping up 'The Bachelorette.' My wife loves to swim, and that's our morning routine when we're on the road. We use it as a training tool."
When he's home in L.A., he'll either ride the race course itself, the Pacific Coast Highway or the mountains right outside his front door. For runs, he sticks with the same mountains, or a 4-mile loop around a nearby lake. Leading up to the race, he does the full swim once a week but also incorporates brick workouts.
"When I'm working out I feel better," Harrison says. "I try to stay as fit as I can because I'm on TV and that's kind of part of my job. … But working out isn't my life, either. I do it so I can live, be healthy and play with my kids."
But he always makes time for what's become his home course—especially in 2011. "Malibu's always on my calendar. I turn 40 this summer, so I'm putting a little pressure on myself this year."
Go to the next page to see some of Harrison's workout faves.
Harrison's Workout Faves
Favorite training spot: "In Bora Bora, we would literally walk out our door, dive into 30 feet of crystal-clear water and swim as far as the eye could see. Talk about spoiled—we did two or three swims a day."
Favorite pre-race meal: "My wife's goulash. Pasta, turkey sausage, beans—high protein, high carbs."
Favorite training music: "It varies—from U2 to Eminem to Jay-Z."
Favorite post-race meal: "Usually it entails margaritas and Mexican food."
Favorite post-race hangout: "We spend most of the day there. After the race they have a little brunch, the kids do a fun run and the families hang out at the beach. You're in Malibu, California—where else would we go?"