How One Age-Grouper Finds Inspiration in the Art of Triathlon
With training and racing as her muse, artist Cynthia Wells paints to portray the beauty in the sport.
Heading out the door? Read this article on the new Outside+ app available now on iOS devices for members! Download the app.
Cynthia Wells grew up in Southern California, not far from the birthplace of triathlon. But it wasn't until her 60th birthday that she called herself a triathlete. For most of her life, her main title was "artist."
Attending the California Institute of Arts in the 1980s, Wells began her work as a character animator, eventually working at Disney and other studios. While working for Warner Bros. Studio on "Quest for Camelot," she was the first woman ever to be nominated for an Annie Awards for Best Short Film and Best Animation.
Wells pivoted to work independently in her illustrating, and now paints and works digitally at her home in New York. Most recently, Wells' paintings are inspired by her adventures in triathlon.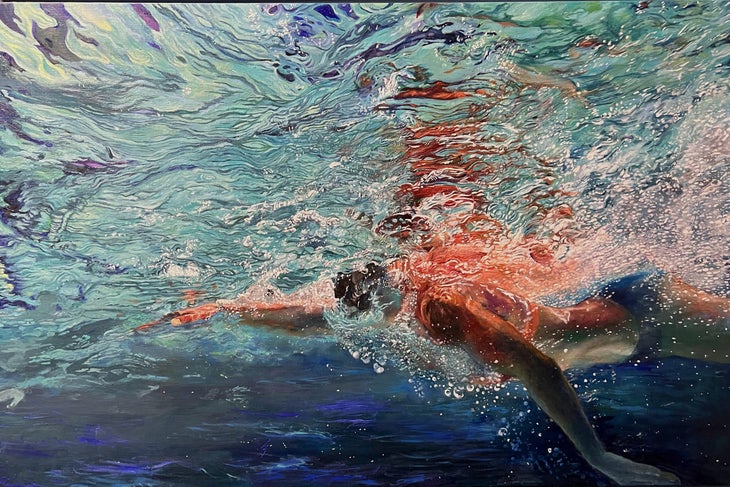 "I have always enjoyed figuring things out," Wells says. "Like when does your foot go down on the bike, when are you breathing in the water? It's not unlike figuring out how to animate anything, because there are lots of steps to figure out how to do it. That really captured me as well. It felt like a project when I started triathlon."
Wells' athletic journey started in her 50s with the introduction of running. But after competing in the NYC Marathon and NYC Half Marathon and feeling pretty beat up afterwards, Wells realized that endurance running was not for her and shifted her focus to triathlon.
"Triathlon just sounded exciting," Wells says. "Initially it sounded quite crazy, but I knew lots of people doing it so I thought I would give it a shot."
Wells completed her first triathlon at the Jamesport Triathlon in 2017 on the North Fork of Long Island. Since then, she has competed in this event every year, most recently with a 2nd place podium finish in her age group.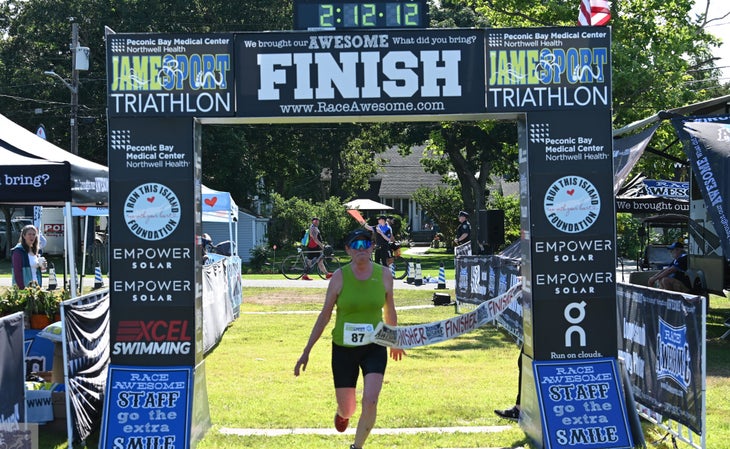 She continues to be amazed by all that she sees in her triathlon training and competitions, which has inspired a lot of her recent paintings.
"With my painting, TRISWIM, I wanted to express the visceral feeling of experiencing a triathlon swim start," Wells says. "The calm that floods over me the second I'm submerged into the foaming craziness of the swim focuses me on getting the race done. After the bumping, the flailing swimmers and the white splash with no visibility, I'm suddenly clear and know what I have to do to finish the race. The triathlon has begun."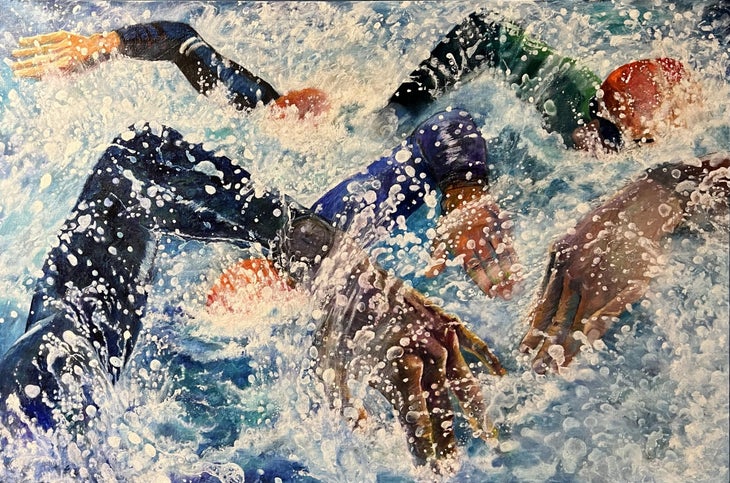 At 66, Wells enjoys the balance of her artwork and her training for triathlon. The frequent exercise and movement takes away a lot of the tension in her neck and back from painting. In this medium, Wells doesn't face any challenges in portraying the sport of triathlon, and prefers capturing the swim in all its complexity.
"Swimming changes positions so much with muscle changes and water movement," Wells says. "Catching a swimmer mid-stroke and seeing the light refracting up to the bubbles makes me think about my own swim stroke."
From artist to triathlete and triathlete to artist, Wells finds passion in both outlets, working constantly to be more creative and gain more understanding of herself, her artwork and the sport.
"I have found that the preparation for a tri is not that different from when I create a painting," Wells says. "Whether training for the swim with its unpredictable challenges, or the bike component dealing with the tight corners and uphills, or the run when there's nothing left to give – that is what goes into a painting I produce. After all the preparation and the energy is spent, there is space in my head that allows the creativity in."
RELATED: Meet the French Artist Transforming Tri Helmets into Masterpieces