For Gina Sereno, All Systems Are Go
Winning Super League Arena Games events, launching NASA spacecraft—all in a day's work for up-and-coming pro Gina Sereno.
Heading out the door? Read this article on the new Outside+ app available now on iOS devices for members! Download the app.
After a dominant performance at the 2023 Super League Arena Games Montreal on February 25th, Gina Sereno traveled home to Boulder, ready to use that momentum for the season ahead. But as exciting as a win can be to kickstart the season, something else has been on the 27 year-old's mind: the Psyche mission, a spacecraft set to launch in October.
While Sereno is committed to her training and growth as a professional triathlete, she is equally invested in her full-time job at NASA as a systems engineer. Sereno works in a jet propulsion laboratory for a Class B discovery mission funded by NASA, where she designs the autonomous action for a spacecraft that is set to launch to an astroid called Psyche.
"I want to see my mission all the way through from conception to launch," Sereno says. "There are so many interesting projects I want to work on. I really like the balance I have right now and it actually makes me look forward to training."
"I want to see my mission all the way through, from conception to launch. There are so many interesting projects I want to work on. I really like the balance I have right now and it actually makes me look forward to training."
Sereno's process is different from that of the average professional triathlete; she trains from 6-8 a.m., works remotely from 8:30 a.m to 5 p.m., and then trains again in the evening from 5:30-7:30 p.m. In the midst of these long days, she is grateful to share the journey with her boyfriend, Chase McQueen, who is also an up-and-coming professional triathlete.
"Chase is a big part of my day to day and it is awesome doing life together," Sereno says. "During our hard sessions we aren't swimming side-by-side or running side-by-side, but having that person that is always with you is a big thing."
Preparing to launch
Growing up, Sereno's best training buddy was her twin brother, Jeff. Together in their hometown of Madison, Wisconsin, they participated in a variety of activities from a young age: ballet, swimming, skiing, soccer, and tennis. It was through this bond that Sereno developed her competitive nature.
"I learned how to challenge myself and be competitive growing up with a twin brother," Sereno says. "I was always comparing myself to him and we were very competitive kids."
Sereno took this drive to the University of Michigan, where she was a walk-on to their D1 cross country and track and field programs. She wasn't in a position to be a scholarship athlete when she started. But by the time of her graduation in 2018, Sereno had earned honors as a 7x All-American and Big 10 Champion in the 3K, 5K, and 10K.
"Being around all the talent challenged me and brought out the best in me," Sereno says. "I wasn't really sure sure about my place on team initially, and wondered if I was good enough to run Division 1. But being surrounded by all those people really motivated me."
Toward the end of her studies at the University of Michigan, Sereno was recruited by Barb Lindquist into the USA Triathlon Collegiate Recruitment Program. Since she had already accepted a job offer at NASA, Sereno was unable to receive a scholarship through the CRP, but Lindquist still agreed to coaching her. They have been working together ever since, laying the foundation for what would prove to be a meteoric rise.
In a few short years of racing, Sereno has an impressive resume, including wins at the WTS Americas Cup in St. George in 2021, the Americas Cup in Long Beach in 2022. At the end of the 2022 season, she claimed her first WTS World Cup podium with a second-place finish at at Vina del Mar. She only got stronger in the offseason: At the recent Super League Arena Games in Montreal, she took the win, beating out the likes of Australian Sophie Linn and Canada's Dominika Jamnicky. Sereno, it seems, continues to thrive in the presence of great talent.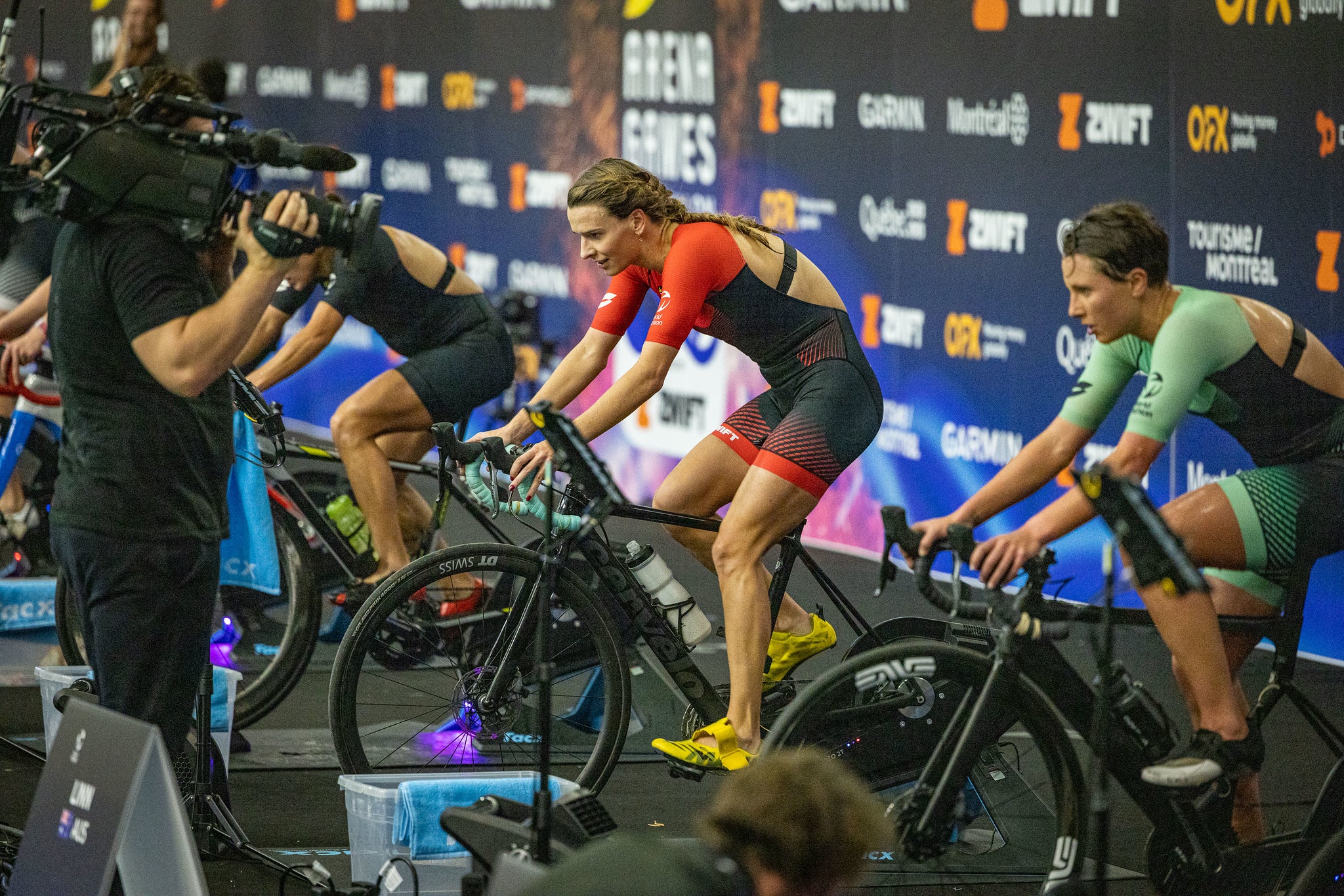 How Gina Sereno balances pro triathlon with a NASA career
Sereno is unable to train as much during the week due to the demands of her job, but through great communication and guidance from Lindquist, she has found an approach that works for her. With time constraints, Sereno has higher intensity training sessions during the week and then she uses her weekends to get in more volume.
"Gina is amazing what she can emotionally and physically balance with work and training," Lindquist says. "Because she loves her job, having that outlet allows her to feed both the athlete and engineer. It also takes the pressure off of the results of racing. She doesn't need to earn prize money for her next meal. But don't think she is soft because of that. She is as hungry as anyone to excel at this sport."
As Sereno continues to improve and become more competitive, many would wonder if she plans to fully commit to racing at some point.
"I don't have a black-and-white answer." Sereno says. "I will see where it goes. If I get to the point where I can be really competitive and I am vying for an Olympic spot, then that would be a decision I would have to reevaluate."
To make an informed decision, Sereno and McQueen recently moved to Boulder after obtaining approval to work remotely in her engineering job. They chose to live in a place that would elevate their training and process as athletes. It's a decision that has paid off so far: After a few short months of living and training at altitude, the couple shared the top spot on the podium at the Super League Arena Games Montreal.
"I just want to reiterate how proud of her I am – and how hard she works," McQueen says. "A lot of people only see the results, but I've seen the highs and lows of the road she's on, and it's really special to see it paying off."
RELATED: A Morning In The Minors