Andy Potts: You're My No. 1 Recruit
Heading out the door? Read this article on the new Outside+ app available now on iOS devices for members! Download the app.
Written by: Andy Potts
I've figured it out. No, I don't know the secret to life but I do know the best way for you to have the most enjoyable experience at your next race: Get your best friend(s) to join you!
Ever since I started triathlon in 2002, I have tried to get my friends to sign up for a race that I'm doing. I've been successful in my recruitment to the point that I had two college roommates do a triathlon with me, another one do a relay, and one more sign up on his own. It has extended into my family as well—my wife, mom, dad, brother, uncle, aunt, cousins and sister-in-law have all done a triathlon or a relay.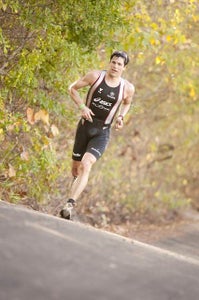 The stepping stones to recruiting start with getting a friend/family member to support you at a race. The progression then extends to getting them involved in a relay. Once they have seen and felt the festival atmosphere of triathlon, they might just get the bug.
Recruiting others for triathlon is very similar to recruiting athletes for college sports. When I was recruited as a swimmer coming out of high school in 1994, I remember the red carpet being rolled out for me when I visited college campuses.
My college recruiting process started with a phone call from the head coach. Along the way were weekly phone calls and mail (in the era before e-mail) to highlight the life at each university. When I decided to visit a school, the head coach and my host (one of the guys on the team) would pick me up at the airport. Every one of my college campus visits coincided with a major football game and campus activity so I got to see the height of campus fever I would experience if I decided to go to at their school. There were always other recruits on my trips, which made the bonding experience more memorable. During our time on campus we would go out to the best local restaurants with the coaching staff and our hosts to get a general feel for the city. There were a few items of business at every school—tours of the academic campus, the athletic campus, and sometimes auditing a class. However, a heavy part of my decision was based on the atmosphere and energy that was created by the team, staff and students at the university. This always trumped any curriculum, weather or location.
Now, you don't have to go to those lengths to recruit your friends into triathlon, but you certainly can learn some lessons from the process.
Lesson 1: Show your prospective triathlete how much fun triathlons can be. Get them to cheer for you at a race and then soak up the post-race euphoria with them. Sell them with the line, "This can all be yours if you do a triathlon with me!"
Lesson 2: Take them to some of the great local restaurants that showcase the flavor of the event. That could mean a dinner in San Francisco or a campfire cookout at a state park—whatever you think best sells the event. You could also show off other must-see landmarks or hot spots.
Lesson 3: Let them see the camaraderie and friendships that are created during triathlon. Strong bonds are formed during a common struggle, and although triathlon is an individual sport it can be easily shared with others.
Lesson 4: Go to a great post-race party and live it up. You put a lot of hard work into your race day and there are rewards for doing so, including a post-race party.
Lesson 5: The biggest selling point triathlon has is the lifestyle and health payoff, not to mention the sense of accomplishment, the people, the fun and the overall experience.
The recruiting process never stops. The main reason I keep inviting my friends and family to join me is because when they do, I have so much fun with them on race day and hearing about their experiences. I like to lend them some of my knowledge to help them get the most out of their race. It is a pleasure to hear that they not only found the race a big challenge and a thrilling experience but also that they want to do another one soon. Having friends and family race helps take some of the focus off of my performance and helps me to think about others. Also, in a selfish way, it is nice to know that I'm sharing the pain and suffering that go along with racing.
Every time I am joined by a friend or family member, I have a great time at the race.
In a way, I feel that you and I are responsible for growing our sport. If you are reading this article, then you are the captive audience I need to play a direct role in helping our sport grow. With growth will come better events, more complete experiences and more people living a healthy life. It is up to you to bring your friends and family out to the races to cheer for you, but also to get them to participate. Triathlon is contagious, too, so I hope they will pass it on!