This 13 Year-Old Will (Swim, Bike) Run Circles Around You
This weekend, the eighth-grader aims to set a record of four triathlons in two days.
Heading out the door? Read this article on the new Outside+ app available now on iOS devices for members! Download the app.
This weekend, the eighth-grader aims to set a record of four triathlons in two days.
At 13 years old, Braxton Bokos often finds himself in a strange no-man's land of triathlon: Technically, he's young enough to still compete in the kids' division at most races; but technically, he's also old enough to compete as an adult. Which race should he choose?
For Bokos, the answer is simple: All of them. At this weekend's Chicago Triathlon, the young triathlete will attempt a unique Quad Challenge, in which he'll be the first triathlete ever to race a Kids' Triathlon, Super Sprint, Sprint and Olympic race in one weekend. In total, he'll cover 64.09 miles of swim-bike-run over the span of two days.
Bokos is no stranger to unique challenges. Born to parents who own a triathlon shop in the Chicagoland area, Bokos has been surrounded by multisport since the day he was born. He entered his first race at age 5, and it was clear triathlon was in his blood:
"The feeling after crossing the finish line was a feeling I can't describe," says Bokos. "It made me feel so good and made me want it more and more for the next time."
When he was 8, Bokos heard the youngest person to do an Olympic-distance triathlon was 10 years old. Bokos immediately wanted to break that record, and expressed this interest to his parents, who were supportive, but cautious. "I said I wanted to be the youngest Olympic distance finisher, and my parents told me that if I wanted to do it, I needed to train for this event for at least a year."
Bokos trained under the careful supervision of his father, and at age 9 achieved his goal. Now he's got his eye set on another record with the Quad Challenge, which he'll also use as a platform for helping others: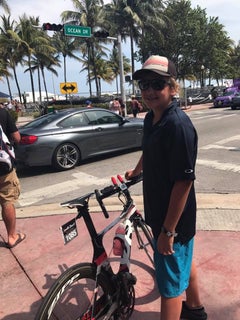 "I wanted to set another record while raising money and awareness for a foundation. I chose the paratriathlon group DARE2TRI, because I am inspired by these paratriathletes and feel I can help them out," says Bokos. "This inspiration will keep me going for the 64.09 Miles."
The training for this challenge has been different than anything he's encountered before. For one, his parents have employed the services of a triathlon coach in order to ensure the training is safe and appropriate for their young son. Bokos is also prioritizing different things than his friends who don't do triathlon: an early bedtime, for example, or good nutrition.
"I can't go to the snack bar anymore at the pool," Bokos laughs. "My diet is more proteins and unfortunately less junk food."
After this weekend, the eighth-grader simply wants to keep going. Though only in middle school, he's got a clear plan for what he wants to be when he grows up, and it involves his multisport passion:
"I want to be a professional triathlete that designs and tests parts for SRAM," says Bokos. "I like the bike the best. I love speed. The feeling of going fast and the adrenaline rushing as you are working hard is the best."
To donate to the Braxton Bokos campaign for DARE2TRI, visit his fundraising page.