12 Stories for Young (and Young-At-Heart) Triathletes
These children's books will inspire a love of swim, bike, and run.
Heading out the door? Read this article on the new Outside+ app available now on iOS devices for members! Download the app.
These children's books will inspire a love of swim, bike, and run.
Everyone loves a good book, but it's likely your kids don't share the same enthusiasm for The Triathlete's Training Bible as you do. Looking to inspire your young (or young-at-heart) triathlete? Start with these great children's books about the swim, bike, and run.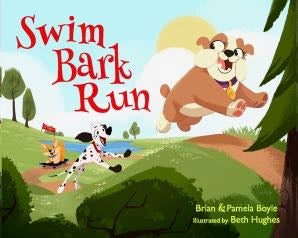 Swim Bark Run
Brian Boyle, Pamela Boyle, Beth Hughes
$12.50, Amazon
Daisy the Bulldog has gone to every one of her owner's triathlons. She's proud of his athletic accomplishments and is always there to greet him at the finish line. Daisy wonders if she could train and compete for an event like that. So she gets her doggy friends, Rascal the Dachshund, Atticus the Corgi, and Hobie the Dalmation to make their own dog-athalon.
---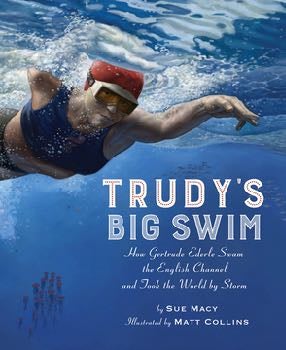 Trudy's Big Swim
Sue Macy
$13.56, Amazon
On the morning of August 6, 1926, Gertrude Ederle stood in her bathing suit on the beach at Cape Gris-Nez, France, and faced the churning waves of the English Channel. Twenty-one miles across the perilous waterway, the English coastline beckoned. Lyrical text, stunning illustrations, and fascinating back matter put the reader right alongside Ederle in her bid to be the first woman to swim the Channel—and contextualizes her record-smashing victory as a defining moment in sports history.
---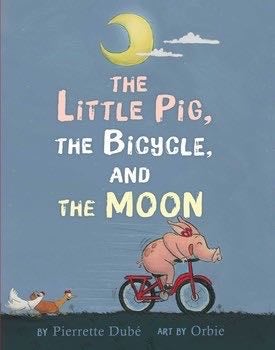 The Little Pig, the Bicycle, and the Moon
Pierrete Dube
$17.99, Amazon
Rosie is a little pig who has everything she needs right on the farm: a mud bath to play in, plenty of food to eat, and a deliciously smelly pigpen. But then she sees a small, ugly animal with two feet and no tail riding a bicycle and she thinks "That's easy. I could ride a bike too."
It is only when she sneaks out at night to try to ride the bike herself that Rosie realizes it's not as easy as it looks. First you have to learn to pedal…but you also need to know how to balance, and braking is very important, too. Every night, watched over by her friend the moon, she tries again and again, and after each failure, she learns something new: to give a push, to wear a helmet, to ask a friend for help. And so every night she tries again, because she knows that if she could just learn how to ride a bike, why, she could travel to the other side of the world…or maybe even farther. 
---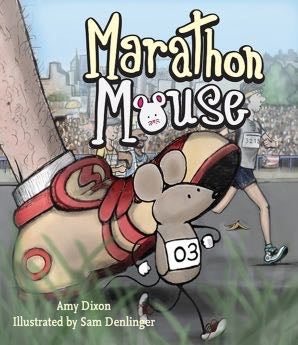 Marathon Mouse
Amy Dixon
$11.08, Amazon
The mice of New York City dread the day of the New York City Marathon more than any other—the crowds, the large shoes, the noise. All of them, that is, except for Preston. He and his family live underneath the starting line on the Verrazano Bridge and every year Preston has dreamed of joining all the other runners in the marathon. This year, Preston is determined to make his dream come true, even though his family tells him that mice are not fit to run marathons. He trains hard leading up to the big day and when the race starts, he successfully dodges sneakers and crosses the finish line, showing his family that mice can do much more than just scurry.
---

Saturday is Swimming Day
Hyewon Yum
$16.99, Amazon
Swimming lessons are on Saturdays, and every Saturday one little girl has a stomachache. When she gets to the pool it's loud, the floor is wet and slippery, and her swim cap is too tight. Her swimming instructor, Mary, says it's OK to sit by the edge if she doesn't want to get in the water this week. The next Saturday the girl has a stomachache again, but with Mary's gentle encouragement, she eventually manages to make it into the pool to practice her kicks. Little by little, the girl's confidence grows — until one Saturday comes around when she has no stomachache at all! In a charming and relatable story about trying something new, author-illustrator Hyewon Yum shows that sometimes a little bravery and a lot of patience are all you need to face your fear.
---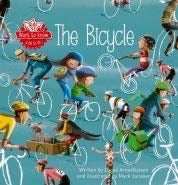 The Bicycle
Lucas Arnoldussen
$16.95, Amazon
Do you want to know all about the bicycle? What did the first bike look like? How many kinds of bikes are there? How can you choose the best bike for you? What kinds of cycling sports are there? Who are the most famous racing cyclists? These and many more subjects are discussed in this book. You will also find fun rhymes, a large fold-out page and a mini-quiz, and you learn how to repair a flat tire. By the time you finish this book you'll be a real expert on bicycles! 
---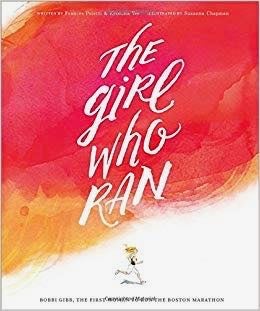 The Girl Who Ran
Frances Poletti & Kristina Yee
$16.95, Amazon
"She said she would do it, she wasn't a liar; she'd show them by running like the wind in the fire." When Bobbi Gibb saw the Boston Marathon her mind was set she had to be a part of it. She trained hard, journeying across America to run on all kinds of terrain. But when the time came to apply for the marathon, she was refused entry. They told her girls don't run, girls can't run. That didn't stop Bobbi.
This picture book tells the true story of how she broke the rules in 1966 and how, one step at a time, her grit and determination changed the world. Created in collaboration with Bobbi Gibb and the perfect gift for would-be runners, kids of all ages, and everyone out there with a love of sport.
---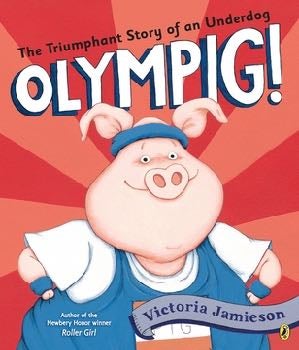 Olympig! The Triumphant Story of an Underdog
Victoria Jamieson
$7.19, Amazon
Boomer the Pig has been training hard for the Animal Olympics, so when he loses his first race, he shrugs it off and cheerfully moves on. One event after another, Boomer keeps losing, and the frustration begins to get to him. But even after coming in last in every sport, there's no getting this Olympig down. It's just great practice for the Winter Games! This encouraging and hilarious story is for every kid who's ever been told "you can't win 'em all."
---

Tri With Mom
Rachel Brenke
$14.99, Amazon
Children watch their mothers do extraordinary things throughout their lifetimes. Sometimes, they get inspired by the greatness they see. Triathlete moms are a special breed of moms who demonstrate strength, unwillingness to give up and dedication to following through a challenge. 
---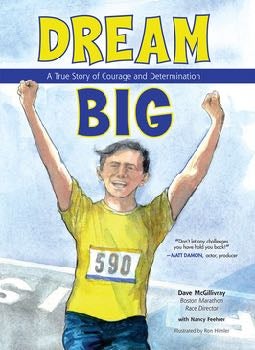 Dream Big
Dave McGillivray
$14.07, Amazon
In Dream Big: A True Story of Courage and Determination, Dave is a small kid who wants more than anything to be a professional athlete. But there's one problem. You have to be tall to play basketball. You have to be big to play football. And Dave? He's little, but his dreams are BIG. He turns to running, because you don't have to be big to be a marathon runner! But you do need to train. And Dave doesn't do much training before he crosses his first starting line of the Boston Marathon. Which is probably why he doesn't quite cross the finish line on his first attempt at the famous race. But his Grandpa believes in him, and that's enough to make Dave train hard for the next Boston Marathon. But will his Grandpa be there to see him succeed?
---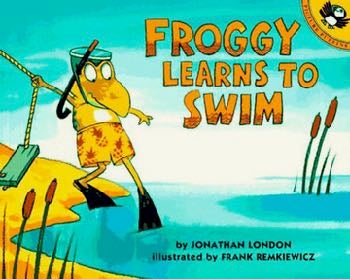 Froggy Learns to Swim
Jonathan London
$6.54, Amazon
Frogs are supposed to be great swimmers. "Not me!" says Froggy, who's afraid of the water. But with a little encouragement, some practice, and the help of a silly song or two, Froggy becomes an expert frog-kicker.
---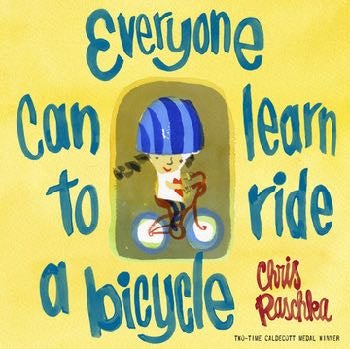 Everyone Can Learn to Ride a Bicycle
Chris Raschka
$13.48, Amazon
Learning to ride a bike is one of the most important milestones of childhood, and no one captures the emotional ups and downs of the experience better than Chris Raschka, who won the 2012 Caldecott Medal for A Ball for Daisy. In this simple yet emotionally rich "guide," a father takes his daughter through all the steps in the process—from choosing the perfect bicycle to that triumphant first successful ride. Using very few words and lots of expressive pictures, here is a picture book that not only shows kids how to learn to ride, but captures what it feels like to fall, get up, fall again…and finally ride a bicycle.