Jumping In: Key Triathlon-Training Guidelines For Beginners
Heading out the door? Read this article on the new Outside+ app available now on iOS devices for members! Download the app.
Over the next week Triathlete Magazine Senior Editor Matt Fitzgerald will provide six tips on jumping in to the sport of triathlon.
Written by: Matt Fitzgerald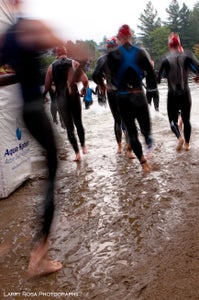 There are many good reasons to become a triathlete. One of the best and most commonly cited reasons include the physical and mental challenges the sport offers. It is human nature to enjoy a good challenge because we typically become stronger through the process of taking on the right sorts of personal tests.
Among the greatest specific challenges new triathletes face is learning how to train effectively. By virtue of the sport's composite nature, triathlon training is more complex than training for most other sports. Many new triathletes find it downright intimidating to contemplate how little they know about effective training methods compared to how much there is to know.
One can only compress this learning curve and accelerate the learning process so much. You're bound to make mistakes and find it necessary to correct your course as you go. The best way to minimize the number of errors you experience in becoming an effective triathlon self-coach is to learn and absorb the most basic core principles of effective training.
Over the next week, I will summarize the fundamental principles and the most effective methods of triathlon training in the form of six basic guidelines. These guidelines do not provide all of the specific practices you need to be familiar with to fully implement them. They represent a framework that will help you understand the big picture of physical preparation and steer your training with confidence. As such, these guidelines constitute not only a good primer for beginners but also useful review material for more experienced triathletes.
Day 1 – Jumping In: Balancing All Three Disciplines
Day 2 – Jumping In: Training At Various Intensity Levels
Day 3 – Jumping In: Training Progressively
Day 4 – Jumping In: Going From General To Specific
Day 5 – Jumping In: Obeying The Hard-Easy Rule