4 Ways To Use Butternut Squash
Loaded with vitamin C, antioxidants and other immune system boosters, butternut squash can help protect you against cold and flu season.
Heading out the door? Read this article on the new Outside+ app available now on iOS devices for members! Download the app.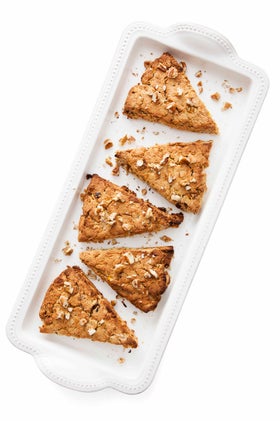 Butternut squash is one of the healthiest foods you can pile onto your plate. Loaded with vitamin C, antioxidants and other powerful immune system boosters, it can help protect you against cold and flu season. Butternut squash is also one of the few foods that contains all five B-complex vitamins, integral in regulating blood sugar. Spice up your menu with these inventive recipes.

Pecan, Date and Butternut Squash Scones
Add roasted butternut squash to this version of oat scones: First roast 1 heaping cup of finely diced butternut squash. In a bowl, mix together 1¼ cups rolled oats with ¾ cups (each) all-purpose baking flour and whole-wheat pastry flour, 1 tablespoon baking powder, ½ teaspoon (each) baking soda and salt. Toss together the butternut squash and ¼ cup chopped pecans, and 1/3 cup finely chopped dates and combine with the dry mixture. In a separate bowl, whisk together ½ cup plain non-fat yogurt, 1/3 cup melted coconut oil, ¼ cup agave syrup, 1 egg and 1 teaspoon vanilla. Add the wet mixture to the dry and gently fold together. Roll the dough into a ball and press out into an 8-inch circle on a lightly floured surface. Cut into 8 wedges and place on a baking sheet. Bake for 12 min at 425 degrees until top turns golden.
RELATED: Raspberry Lemon Scones Recipe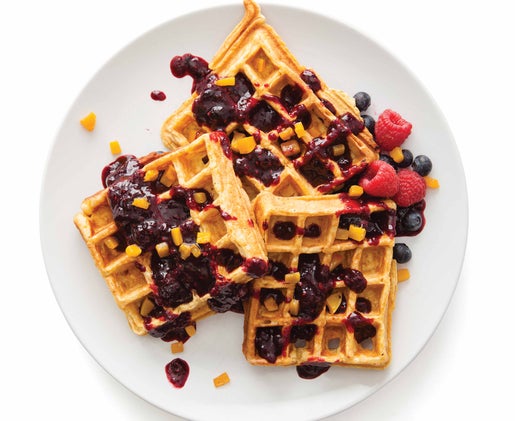 Baking substitution
Purée roasted or steamed butternut squash in a food processor and use it in place of oil or butter in baked good recipes. Use twice the amount of squash purée for the amount of fat replaced (example: 1 cup squash purée for ½ cup butter or oil). This swap also works great for pancakes and waffles, giving you a moist, flavorful breakfast with added nutrition.
RELATED RECIPE: Butternut Squash And Kale Strata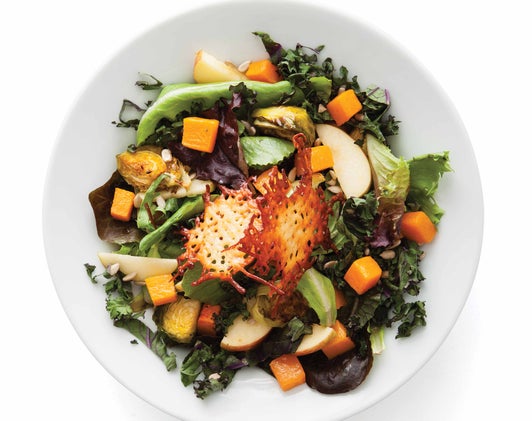 Butternut Squash Panzanella
Croutons are out, roasted butternut squash cubes are in! In a large bowl, toss together 4 cups of spring mix and 2 cups of chopped kale. Dress with juice from 3 lemons, 2 tablespoons olive oil, 1 teaspoon agave syrup, and a sprinkle of salt and pepper. Cut the meat from a small butternut squash into cubes and roast until golden. Roast 2 cups of quartered Brussels sprouts. Dice or slice up 1 Golden Delicious apple. Toss these ingredients, along with 2 tablespoons sunflower seeds, into the bowl with the salad mix. Serve with a sprinking of shaved Parmesan cheese or Parmesan crisps on top.
RELATED – One-Pot Wonders: 4 Hearty Recipes

Pasta additions
Grate ½ cup raw butternut squash into your favorite meatball recipe to give it a punch of extra vitamins and fiber. Or put a winter spin on your marinara recipe by exchanging butternut squash for the carrots. You can also replace the ground turkey or beef in your favorite lasagna or Bolognese recipe with finely diced butternut squash for a satisfying vegetarian version.
Recipes from Jessica Cerra.
Jessica Cerra is the owner of Fit Food by Jess, a private chef and catering company in Encinitas, Calif., and the co-founder of Harmony Bar. A former professional XTERRA triathlete, Cerra now races for Twenty16 Women's Professional Cycling Team.