We tried it: GU Roctane Chocolate Raspberry
I may have just eaten one at my desk as an afternoon pick-me-up snack. Is that weird?
Heading out the door? Read this article on the new Outside+ app available now on iOS devices for members! Download the app.
When it comes to nutrition products, I start to glaze over the specific benefits when I read words like "histidine," "citrates" or "isoleucine." All I really care about is: 1) Does it taste like tar? 2) Is my stomach going to be cool with it?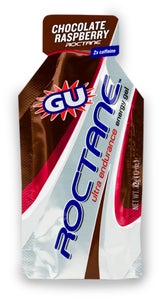 Note: Because nutrition is such a personal thing due to stomach sensitivity and taste preference, I'll remind you to do what works for you.
I had some in-office testers try out the latest GU Roctane flavor Chocolate Raspberry during their workouts. There are some differences between GU and GU Roctane that you can read on your own, but one important one is that, compared to original GU, Roctane boasts almost 3 times more sodium and 20 more mg of potassium, two major electrolytes lost through sweat. It also has 35 mg of caffeine—15 more mg than regular GU.
Some of the taste test responses:
"Chocolate Raspberry GU: A Haiku
Just before mile 9
Ripped off the top, slammed the GU
Chocolate/Raspberry—yum
Think I like this GU
Not too sweet, a new fav flav?
Thanks, GU with caffeine, held pace"
"I have been mixing berry with chocolate gels for a while now. Great to see GU doing the work for me. Not too sweet and not too chocolaty, great consistency. It's a gel I would actually look forward to eating."
"It's like your boyfriend bought you fancy chocolates, except more thoughtful because you can take GU on a long ride without getting chocolate on your jersey."
"It's definitely going to satisfy my chocolate cravings, even when I'm not training. Who needs fro-yo when you can have Chocolate Raspberry GU?"
"I may have just eaten one at my desk as an afternoon pick-me-up snack. Is that weird?"