Kona Nutrition: Avoiding Hyponatremia
In the early part of this decade "hyponatremia" suddenly became a buzzword in endurance sports after the condition caused the deaths of a few marathon runners.
Heading out the door? Read this article on the new Outside+ app available now on iOS devices for members! Download the app.
Ten years ago, few triathletes had heard of hyponatremia. But in the early part of this decade "hyponatremia" suddenly became a buzzword in endurance sports after the condition caused the deaths of a few marathon runners.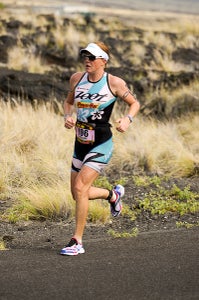 Hyponatremia, or water intoxication, results when the sodium concentration of the blood falls too low due to prolonged sweating combined with excessive fluid consumption.  Symptoms include dizziness, muscle cramping, confusion, and stomach bloating.  Severe cases can lead to seizure, coma, and even death.
It is widely believed that hyponatremia has become more common in recent years for two main reasons.  The first reason is that hydration authorities, spurred on by the sports drink industry, have given athletes bad advice to "drink as much as possible" during exercise.  The second reason is that the explosive growth in marathon and triathlon participation has been fueled primarily by an influx of less competitive athletes who take longer to finish races and are therefore more susceptible to hyponatremia.
Hyponatremia occurs most often during marathons and long triathlons, when athletes are exercising longer and drinking more than they do in training.  Along with slower athletes who take longer to complete races and therefore tend to sweat and drink more, smaller athletes are also more susceptible because they have a lower blood volume that is therefore easier to dilute.
The simplest way to avoid hyponatremia is to not drink excessively. One study found that marathon runners who did not become hyponatremic drank 18 cups of water, while those who did drank 33 cups—enough to actually cause weight gain over the course of the event. In a recent review of the scientific literature on hyponatremia, Australian researchers stated, "There is clear evidence that the primary cause of exercise-associated hyponatremia is fluid consumption in excess of that required to replace insensible losses."
The Marathon Medical Directors Association now advises marathon runners to drink according to their thirst during events, and the same guideline applies to triathlons. While endurance athletes who drink according to their thirst typically replace only about 70 percent of their sweat losses, contrary to what most triathletes are taught, there is no scientific evidence that drinking by thirst compromises thermoregulation or performance, and it reduces the risk of hyponatremia and gastrointestinal distress.
Many researchers now believe that maintaining blood sodium concentration is more important than maintaining full hydration (as this is exactly what the body tries to do through sweating), and during endurance events it is actually necessary to become mildly dehydrated to maintain a normal blood sodium concentration. For example, in the marathon study cited above, researchers calculated that runners needed to lose 3 kg on average to maintain normal blood sodium levels in completing a marathon.
Sports drink makers encourage athletes to believe that consuming sodium-containing sports drinks helps prevent hyponatremia, but this idea doesn't make any sense, because the sodium concentration of all sports drinks is significantly lower than that of sweat, so the more you drink, the more you dilute your blood sodium concentration, no matter what you drink.
Triathletes often choose to boost their sodium intake during races by consuming salt tablets, but even this measure will do little to reduce the risk of hyponatremia if you drink too much. Studies from the University of Cape Town, South Africa, and the University of Auckland, New Zealand, found that sodium supplementation during an Ironman had no effect on blood sodium concentration or blood plasma volume.
Some individuals appear to be more susceptible to hyponatremia than others due to inappropriate secretion of the hormone vasopressin, which decreases the body's ability shunt excess fluid to the bladder. More women than men have this issue, and non-steroidal anti-inflammatory medications such as ibuprofen exacerbate it.
But the one and only rule for avoiding hyponatremia during endurance events is the same for everyone: Don't force yourself to drink more than your thirst demands.