How Do I Choose The Right Sports Drink?
Staying hydrated is the greatest concern for an athlete looking to optimize performance, so it's key to find a drink that works for you.
Heading out the door? Read this article on the new Outside+ app available now on iOS devices for members! Download the app.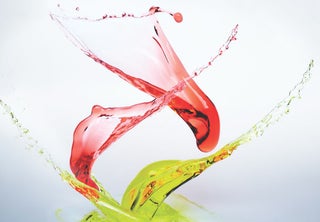 Staying hydrated is the greatest concern for an endurance athlete looking to optimize performance, so it's important to find a drink that works for you. Here are my recommendations for different fueling needs.
Heavy/salty sweater?
Do your workout clothes end up crusted with salt? All sports drinks contain some sodium and electrolytes, but think about supplementing with a little extra (note: adding too much makes the drink unpalatably salty). Also experiment with salt supplements and/or include salty foods as part of a pre-race or mid-race fuel.
Try: Clif Shot Electrolyte or E Load endurance drink for their higher-than-average sodium plus other electrolytes; Nathan Catalyst or Nuun (when fuel needs are low but electrolyte needs high).

Need more calories?
Depending on your size, fitness and race demands, you are aiming for 30–90g of carbohydrate per hour. If you're at the higher end of this spectrum, consume a blend of sugars (such as fructose, sucrose, maltodextrin or glucose—most sports drinks contain two or more). This will speed uptake into active muscles whereas single-sugar sources will slow gastric emptying and increase risk of GI problems.
Try: Gatorade's G Series Pro Prime as a pre-race top-off (82g carb per 12-fluid-ounce bottle). Then use mixed sugar sports drinks, such as PowerBar Ironman Perform or Carbo-Pro Pure Complex Carbs (a flavorless 100 percent carbohydrate powder designed to be added to regular sports drinks).

Cold weather.
Not thirsty? In cold weather your fluid requirements may decrease as your sweat rate drops, but you still need the calories and carbohydrates. Concentrate your sports drink mix slightly more than usual to get the fuel you need without excessive fluid. Or swap your sports drink for gels or chews, which will give a more concentrated hit of energy, washed down with adequate water.
Try: Clif Shot Bloks, EFS Liquid Shots or Jelly Belly Sports Beans

Hot weather.
Really thirsty? If your need for fluids outpaces your carbohydrate needs, either dilute your sports drink slightly, or take your fuel source (sports gels, chews) with plenty of additional water (or water plus low-carbohydrate electrolyte replacement tablets).
Try: Powdered drink mixes that you can tweak, such as GU Brew or Cytomax Performance Drink; or lower-calorie sports drinks with electrolytes such as Accelerade Hydro or Gatorade G2.

Fading late in the race?
Try a sports drink with protein. This extends endurance, delays fatigue and prevents or slows muscle breakdown. Look for drinks that utilize whey protein instead of soy for improved protein efficiency.
Try: Accelerade with its 4:1 carb-to-protein ratio (also available with caffeine) or PureSport Workout.

Weak stomach?
Drinking while on the move is not easy. But just as you train other muscles for competition, your stomach and digestive system can also be trained to tolerate race-day fuel. Experiment with different drinks and flavors until you find one that works for you.
Try: Infinit—with its custom nutrition mix you can dial down the flavor and adjust everything from carbs to caffeine, based on how sensitive your stomach is.

Need an extra kick?
Caffeine has been proven to boost endurance performance for many athletes. Test it in training and don't go overboard—excessive caffeine and possible side-effects such as GI distress, jitters or anxiety will only derail performances.
Try: 2nd Surge gels or Clif Shot Turbo—each has a concentrated 100mg of caffeine. Also try EFS Pre Race powder mixed into your favorite sports drink (at 200mg per tiny scoop, it's powerful stuff).
Have a nutrition question you'd like to see answered in Triathlete magazine? E-mail fuel@competitorgroup.com.